Russell thrilled with 'best race I've had in F1' after Williams make major strides in Portugal
A satisfying result in Formula 1 doesn't always have to earn trophies or points, as George Russell testified, after what he believed to be his best performance so far in Portugal - even though he finished 14th, and carried on a streak of 33 point-less F1 finishes.
Williams have been competitive on numerous occasions in qualifying this season but often faded from contention in races, and it looked like a similar situation might unfold at Portimao where Russell pulled out an excellent qualifying result to start from 14th place. He would finish in the same position, but with only one car retiring, that was a sign of a competitive afternoon for Williams and one the British driver said he was proud of.
TEAM RADIO: Verstappen, Gasly, Norris and Hamilton star in the best cuts from the Portuguese GP
"[I] Really enjoyed it, probably the best race I've had in F1 to date," Russell said. "It's just typical that when we have our best races almost everybody finishes and there's not a fortunate Safety Car at the right moment. If there was a Virtual Safety Car or Safety Car at that phase we'd probably have finished in the points; who knows?
"But you know I was really pleased as a whole, this weekend's been great. I'm getting more and more confident race by race, racing other drivers, racing other cars, good battles with [Esteban] Ocon at the start, with Alex [Albon], [Antonio] Giovinazzi and [Sebastian] Vettel later in the race. All in all, it was positive."
While there is some frustration in not being rewarded with points after such a strong race – where he finished comfortably ahead of Giovinazzi and both Haas drivers – Russell said Williams have to maintain this approach rather than taking risks just because points are rarely on offer.
READ MORE: Acting Williams boss Simon Roberts dodges questions on the team's 2021 driver line up
"We'd have probably been in the points had this race been [like] the Nurburgring, when you had five cars in the top 10 retiring, as we'd have come home P9 – for example.
"I'm just pleased the car was feeling great, yesterday, overall probably the best weekend I've had in Formula 1 as a whole, moving forward in the race, getting stuck in with cars I shouldn't be battling, with Ocon for one who definitely did some questionable defensive driving but nevertheless, the day will come for us.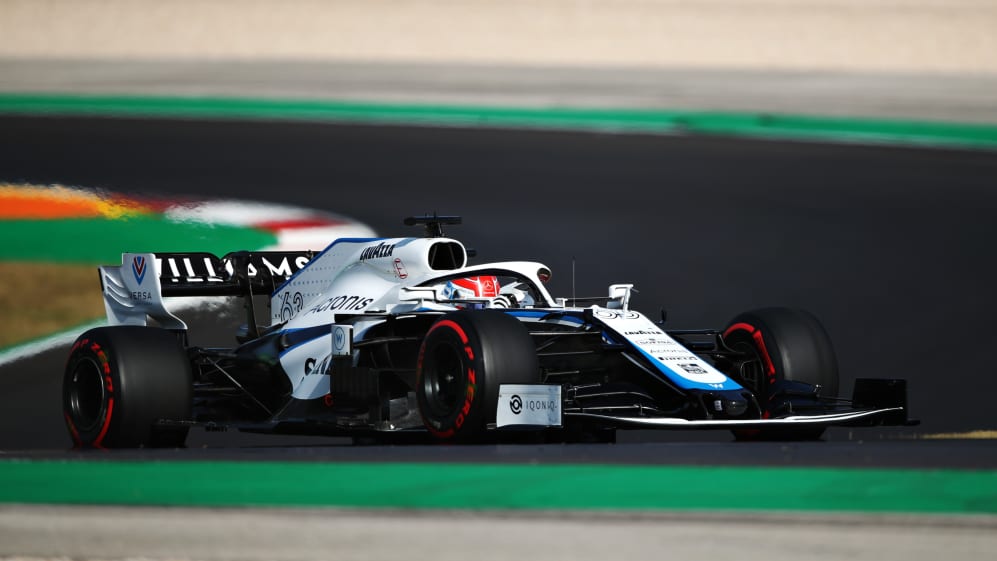 "Perhaps we need to gamble more to capitalise on some unique circumstance but ultimately we're not here to roll the dice week in week out, we're here to get the best result possible on merit and that's what we race for. If we turn up to every single race weekend just rolling the dice and hoping for the best you're just going to lose motivation as nine times out of 10 it won't go your way."
And Russell added that he believed recent races have shown Williams not to have the slowest car on the grid, even if they are yet to score any points.
READ MORE: DRIVER MARKET – Williams? Haas? Red Bull? Where's Perez's likely landing spot in 2021?
"[I think we're] on par with Alfa Romeo and I'd say Haas are slightly behind us at the moment. But I think our race team often get it pretty nailed and I think that's what's helping us at the moment."
Next up is the Grand Prix at Imola, Emilia Romagna, where Williams last won in 2001 thanks to Ralf Schumacher. This time around, they'll be happy with a points finish.