Russia penalty led frustrated Magnussen to produce 'best laps of weekend'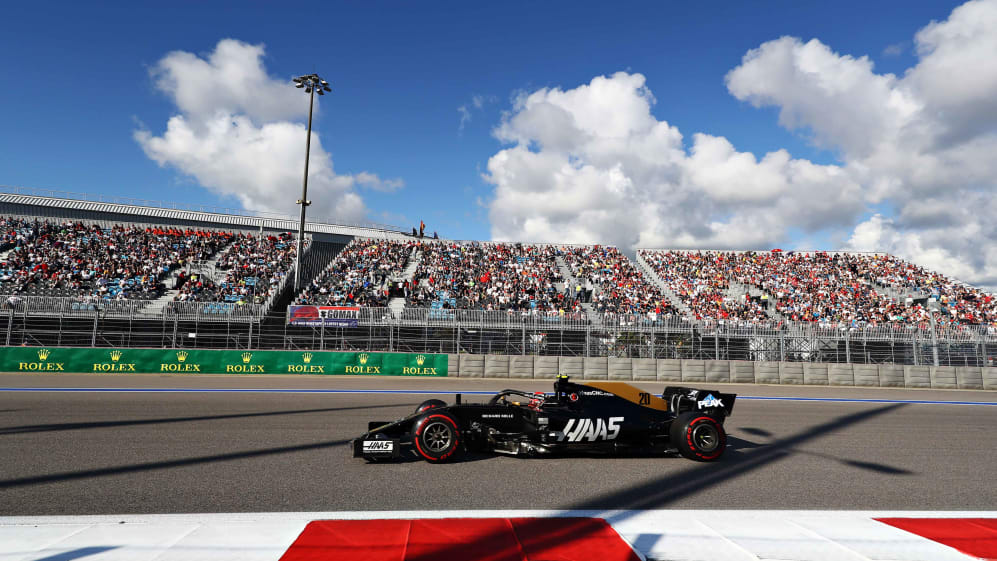 Emotions can run high immediately after a race finishes, and Haas's Kevin Magnussen was struggling with conflicting ones after the closing laps of his afternoon in Russia, having received a five-second penalty that dropped him to ninth.
Magnussen delivered a strong drive to be in the mix for points and benefitted from the Virtual Safety Car period, when Sebastian Vettel retired, to pit and emerge in sixth place. After dropping to seventh, Magnussen was defending from Racing Point's Sergio Perez when he went off track at Turn 2, and he was handed a five-second time penalty for not following instructions when rejoining.
READ MORE: Grosjean 'wants to punch walls' after early exit in Russia
He had already lost the position to Perez, but news of the penalty during the race spurred Magnussen to produce a "perfect" stint in an attempt to open up a five-second advantage over the cars behind.
I think I was hard done by, no doubt about it
"Absolutely I just had six of my best laps this weekend in a row," Magnussen said. "I got told I had that penalty, they said 'we need everything from you now', they gave me maximum engine power, used way more than we should have, they timed it perfectly so I could use all my energy and on top of that I had to do six qualifying laps and I absolutely nailed all of them. I obviously had the car to do it as well, everything was perfect for that scenario."
Ultimately, Magnussen was unable to pull a big enough margin against McLaren's Lando Norris and dropped to ninth place in the final standings once his penalty was applied – a move that frustrated him.
"I am happy! I am really happy about the race, satisfied with the performance today, but it's quite overshadowed by this… I can't say disappointment. I feel let down.
"I think I was hard done by, no doubt about it. This is *******. We have this Turn 2 which is a crap corner, it's just stupid, just put gravel there or something.
"I'm not a safety expert and never will be, but I think the way it happened was I missed that corner, when through a load of crap off-line on the run off, lost a hell of a lot of time, and got penalised by my own fault. The FIA didn't have to do anything. It wasn't black and white, and yet they choose to give me a penalty."
'The trust is unchanged' says Leclerc of Vettel
While Magnussen will bring the incident up during the driver briefing at the next race in Japan, he says the most he can expect to happen is the Stewards rule differently on similar matters in future.
"What can I do? I'm sure they will see it after, I have a feeling that they've made a mistake and that they're going to see that and do a better job next time. They're human as well so they can make mistakes but I hope they see they've made mistakes."