Podcast
Sabine Kehm on life in Michael Schumacher's inner circle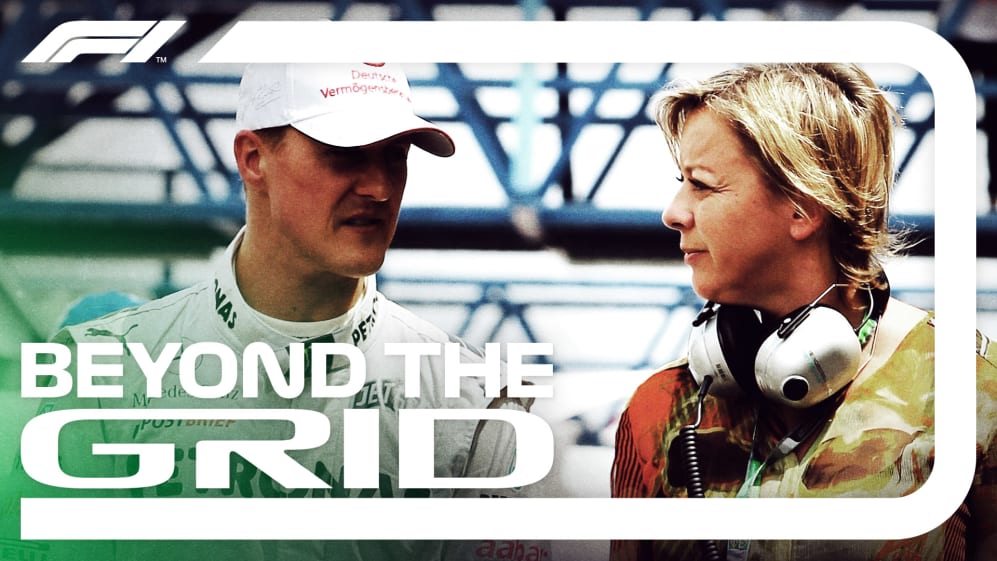 From the outside, Michael Schumacher could seem cold, aloof and at times even a touch haughty. And yet to those who worked alongside him – who tightened his seat belts, designed his cars, bolted on his tyres or served him his morning coffee – he inspired fanatical loyalty, love and devotion.
One person who understood that enigma more than most was Sabine Kehm. Kehm was a 29-year-old journalist when she first interviewed Schumacher at the 1994 German Grand Prix. Six years later, she was pulled right into the centre of Schumacher's inner circle after accepting an offer to become his press officer - and today she still manages his affairs. What she discovered, as Schumacher was beginning a run of five consecutive seasons as Formula 1 world champion, was a man totally at odds with the steely racing driver persona he portrayed to the outside world.
"Michael has always been a very warm person," Kehm reveals in a special episode of the official F1 podcast Beyond The Grid, presented by Bose, "but he didn't want that to be seen to the outside because he felt that would kind of take away something of the competitiveness – at least in the outer perception."
Behind closed doors, however, Kehm was tasked by Schumacher with jobs like finding out the birthdays of all the personnel he worked with at Ferrari, as well as making sure they all received a well thought-out present from him at Christmas. "That was something that was really important to him," Kehm tells Beyond The Grid host Tom Clarkson. "He knew that he was demanding, but he felt like at least he wanted to reward them in a way."
Now, as the seven-time world champion celebrates his 50th birthday, enjoy a fascinating, eye-opening conversation with the woman who knew Schumacher better than almost anyone else, as Kehm reveals what it was like to be in the back of the garage during the dominant Ferrari years, what Michael was like away from the track, what inspired that 2010 comeback with Mercedes and much more.
Listen to the episode via the player above, or via Apple Podcasts, Spotify or your favourite podcast app – and don't forget to subscribe to make sure you don't miss out...
Click here to check out all the episodes of Beyond The Grid to date, including a special episode with Ross Brawn, the man who masterminded all seven of Michael Schumacher's world championships.