Sainz celebrates 'perfect day' in Suzuka after finishing fifth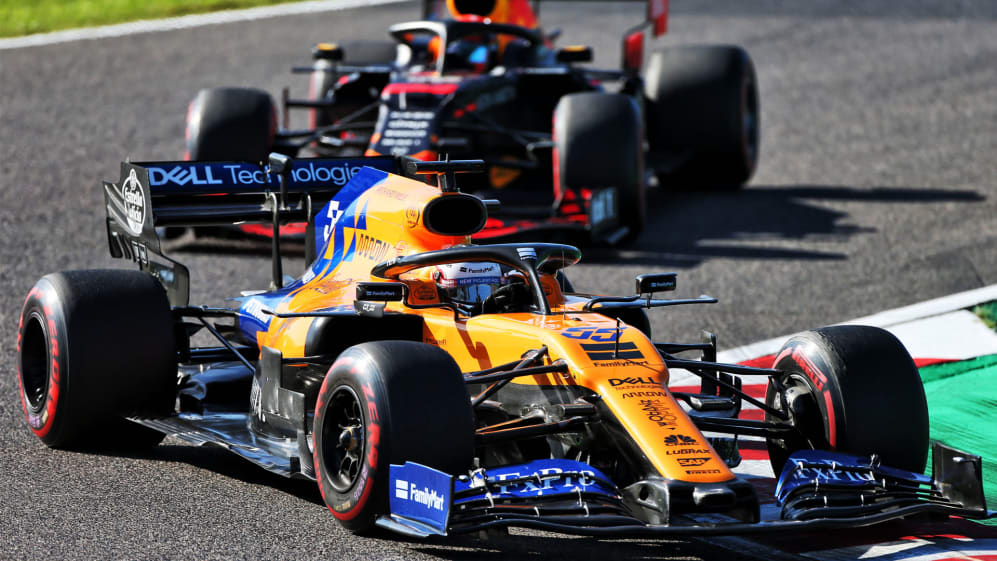 Super Sunday in Suzuka was especially super for McLaren's Carlos Sainz, as he converted seventh place on the grid on Sunday morning into his third P5 race finish of the year, over 30 seconds clear of his nearest 'midfield' rival, Renault's Daniel Ricciardo.
Sainz's initial getaway off the line was actually bettered by team mate Lando Norris, starting in P8, as both McLarens surged past the Red Bull of Alex Albon. But with Max Verstappen and Charles Leclerc tangling into Turn 2, Sainz was able to avoid the carnage and jump up to fifth by the time he got to Dunlop corner.
READ MORE: Verstappen blasts 'irresponsible' Leclerc after Lap 1 contact
Although Albon would later make it back past the McLaren driver to take fourth place, Sainz showed impressive pace in the final portion of the race, eking out the medium tyres that he switched onto on Lap 26 to come home fifth, ahead of the recovering Leclerc, who was eventually demoted to seventh following a post-race penalty.
To manage to match the pace of Leclerc and Albon for those laps was very special
"Honestly it's been a perfect day," said a delighted Sainz after the race. "Qualifying lap was clean, the start was clean and then the race, I managed to extend the first stint a lot, and that gave me opportunities to be strong at the end of the race with the medium tyre.
"When Albon and Leclerc pitted, one in front and one behind me, to manage to hold to their pace was probably the nicest surprise of the year, nicest surprise for the team, to manage to have that space, and to manage to match the pace of Leclerc and Albon for those laps was very special."
While Sainz had managed to neatly dodge Leclerc and Verstappen's collision at the race start, Norris was forced to get on the anchors to avoid it, before picking up some debris that blocked a brake duct and forced an early pit stop, meaning he only had the pace to recover to P13 by the race end.
"We had to box really early on," said Norris. "I didn't have a big enough delta to catch everyone back, make some moves and make the most of a different strategy. It was too early on. It was just in no-man's land, pretty much, so I did my best to come back through, but it wasn't enough."
Sainz's 10 points for finishing fifth – as Daniel Ricciardo was classified sixth following Leclerc's penalty, and Nico Hulkenberg 10th, meaning a combined score of nine for the Renault pair – meant that McLaren stretched their lead in fourth place in the constructors' championship to 36 points, with just four races left to run this year.