Verstappen blasts 'irresponsible' Leclerc after Lap 1 contact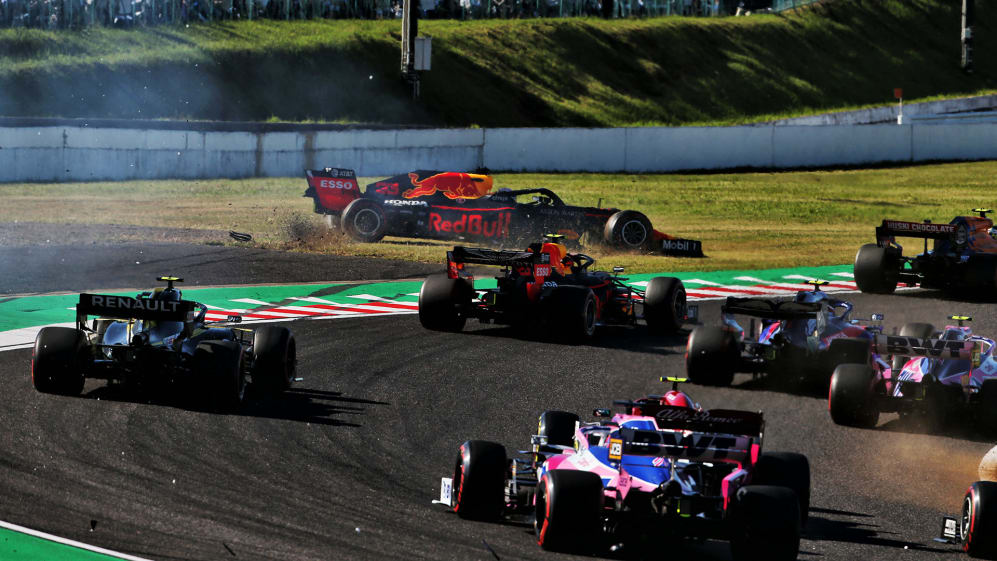 A fantastic start from Max Verstappen from fifth on the grid ultimately came to nought at the Japanese Grand Prix, after his Red Bull was tagged in Turn 2 by Ferrari's Charles Leclerc, causing damage that would ultimately see the Dutchman retire from the race. And, understandably, he was less than impressed when he faced the media after his DNF.
After slewing onto the grass at Turn 2, Verstappen managed to get underway again, but at the back of the field, with Red Bull eventually clearing a space in their garage and retiring the wounded RB15 on Lap 14. And no sooner had Verstappen got out of the car than he was venting spleen about Leclerc's actions.
READ MORE: Brilliant Bottas beats Vettel in Suzuka as Mercedes crowned constructors' champions again
"I like hard racing, but I don't think this was hard racing," said Verstappen. "This was just irresponsible driving into Turn 2.
"We had a really good start for once, so that was a positive, and then I just stayed on the outside. I felt like I was in third, but then suddenly into Turn 2, Charles just drove into the side of my car. From my side, I don't think I could have done anything different there.
"We all know that you lose downforce behind a car, so that was not an excuse," he added. "I mean, I think he's experienced enough to know that."
The stewards initially ruled that the contact was a racing incident, before deciding the review the collision after the race. They would eventually hand Leclerc 15 seconds' worth of penalty, five for the incident and 10 for continuing to drive with a badly damaged front wing. But the stewards' delay in investigating the incident had also irked Verstappen.
"For me, the weird thing is that, initially [the stewards] don't even investigate it," said Verstappen, before the decision was announced. "I mean, my whole car is destroyed, the whole side, there were just holes in the side of the car. Then they start to investigate it but now it's after the race. What more should he do to get a penalty?"
For his part, Leclerc eventually recovered to sixth in the race, making a strong recovery after he was forced to pit on Lap 3 with front wing damage, before eventually falling back to seventh following the penalty. He gave his side of the story after the race, following his drive back to the points.
I had fun overtaking, but sixth is not the place I wanted to finish
"Well obviously, I understeered behind Sebastian [Vettel] and Lewis [Hamilton], then we touched," he said. "I haven't seen the full situation from outside and this I need to look at. From the car it was just a tricky situation.
"After the first lap incident, then the race we knew it would be very, very difficult. I had fun overtaking anyway, but fifth, sixth is not the place I wanted to finish. It's disappointing but strategy-wise on our side I don't think we could've done much better."
Verstappen had one more gripe before he left Suzuka, meanwhile. That was against Ferrari's other driver, Vettel, who came close to jumping the start after creeping forward on the line, before the stewards ultimately ruled that his movement had been within acceptable tolerances.
"Just watching there the footage back from Seb's start," said Verstappen, "he moves, he stops and the rules say you cannot move and that's fine because he didn't gain an advantage, they said. I really don't understand what's going on today with the rules."
Verstappen's DNF and Leclerc's seventh place mean that both drivers mathematically fall out of the running to be crowned drivers' champion in 2019. But after contact and close fights between this pair in both Austria and Silverstone this year, Suzuka was yet another intriguing chapter in this developing rivalry.