Sainz encouraged by 'important' Saudi Arabian podium despite 'unlucky' start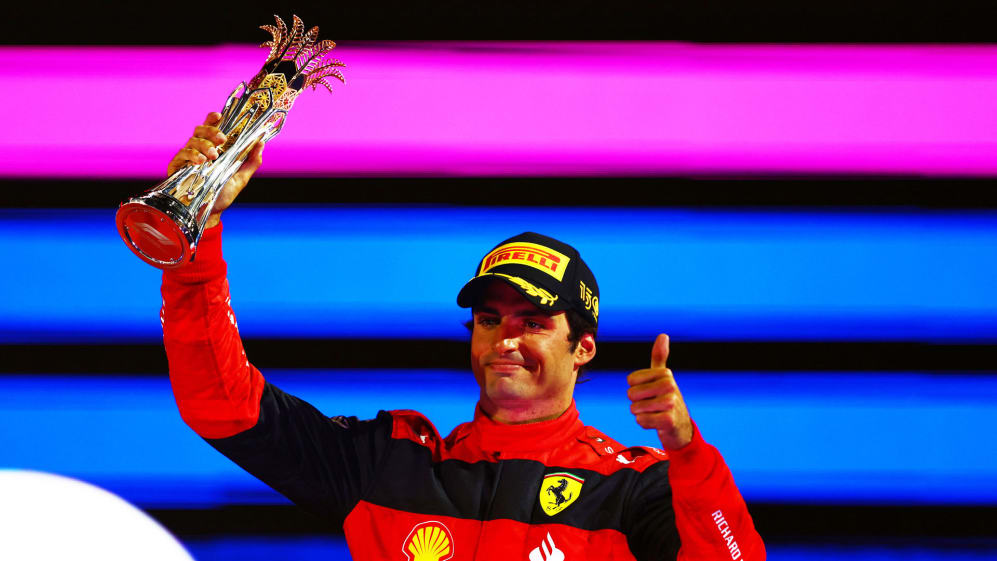 Carlos Sainz didn't end up troubling the frontrunners in Saudi Arabia but the Ferrari driver was pleased with the step he took towards the top, with a second straight podium after what he called an "unlucky" start…
Sainz finished second in Bahrain – a weekend he called his "most difficult" with Ferrari – but was in better spirits after finishing third in Saudi Arabia on Sunday. The Spaniard explained that he's closer to understanding how to wrestle the potential out of the F1-75 as he looks to enter the title fight.
READ MORE: Leclerc says 'every race should be like this' despite losing stunning Saudi Arabian GP to Verstappen
"I was happier than in Bahrain, definitely," he said. "There's been a bit of progress done from my side of the garage, with the feeling with the car.
"I felt like today we did a small step in the right direction and… well, while I'm still not 100 percent with the car, to keep bringing the points and the podiums is important until I will get back to 100 percent – and then it will be time to join these guys at the top for the fights."
Sainz qualified third on the grid – ahead of Verstappen – and had a great start off the line. Yet, he lost out to the eventual race winner going through Turn 1.
"Yes, it's a very narrow start here," explained Sainz. "So I had a very good launch out of the start. And then I was squeezed a bit in between Checo [Perez] and Charles, and I had to lift and this gave Max the opportunity to go on the inside, and pass me outside of [Turn] 2 with a better run.
READ MORE: How Verstappen solved the tyre puzzle to win in Saudi Arabia
"I was just basically a bit unlucky because I think I was just boxed in, due to my good start and I had to lift. The good thing is that it was a good start and they're going to be important for this year, those good starts – and we need to keep them up," he said.
With Australia on the horizon, Sainz did reflect on the ominous pace of the Red Bulls in the final 10 laps of the Saudi Arabian Grand Prix, which saw Verstappen pass Leclerc in a captivating duel for the lead and Perez threaten Sainz for the final podium place.
"The Red Bulls were super quick in the last 10 laps after the tyres cooled down on the Safety Car, on the Virtual [Safety Car]. They were flying and they were putting pressure on us.
"For me, this race was a bit of progress from Bahrain. I think I managed to find a bit more rhythm with the car. Still some tenths to find but I think I will end up getting there," Sainz concluded.