Sainz praises mechanics as he recovers from FP3 crash to help Ferrari lock out third row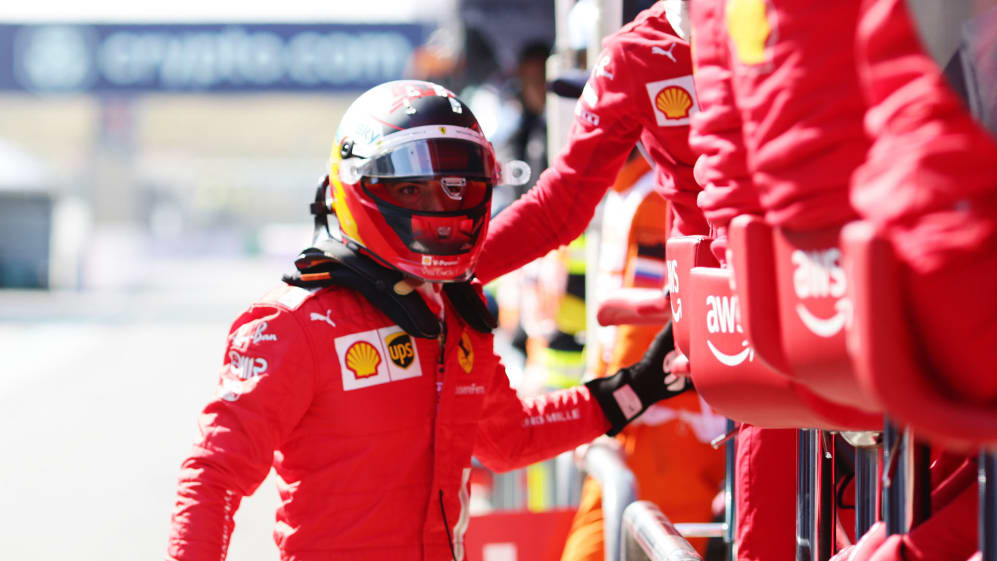 Qualifying at Zandvoort saw Ferrari's Charles Leclerc and Carlos Sainz claim P5 and P6 on the grid for the Dutch Grand Prix – with Sainz full of praise for his mechanics, calling their rebuild of his SF21 following his Free Practice 3 crash "one of the most impressive things I've seen as a racing driver".
Sainz had lost the rear end of his Ferrari coming out of Turn 2 in FP3, before smashing into the banked barriers at Turn 3, causing damage to the left side of his SF21. But with just minutes to go before qualifying started, Ferrari's mechanics completed the repair job on Sainz's machine and fired up the engine, with Sainz ultimately able to make it to Q3 before claiming P6, just 0.01s behind team mate Leclerc.
READ MORE: Verstappen delights home fans after edging out Hamilton to take thrilling Dutch GP pole
"It was crazy," said Sainz of the repairs. "To see the mechanics work at that pace to get me back out, it's one of the most impressive things I've seen as a racing driver. It was high tension but also you could see everyone was just focused on my car to try and get it back out, and they did it, so this one is for them.
"I honestly admire them a lot for what they've done today and I hope that I can pay them back tomorrow with a good result and already today with a good quali.
"It's a good result, especially after what I suffered in FP3," he added. "The crash obviously takes out quite a bit of confidence, the pressure in the minutes prior to Q1, not knowing if I was going to go out – it was probably one of the most challenging qualis of the season, and of my life really with all the pressure going on there.
"But we managed to recover well and in Q3, I missed by thousandths being able to be in the top five, so it was a strong recovery and I have to be proud of it."
READ MORE: Verstappen says technical issues prevented pole lap being even faster around 'incredible' Zandvoort
Sainz might have been happy, but team mate Leclerc admitted he'd been left wanting more, with the Monegasque – who topped FP2 and Q1, before going second fastest in Q2 – believing a set-up change had allowed AlphaTauri's Pierre Gasly to sneak ahead of him in Q3 and claim P4.
"With the lap, I'm quite happy," said Leclerc, who earlier in the day had watched brother Arthur take the Race 1 win in the Formula 3 series.
"But the thing is that we maybe exaggerated a little bit with the front wing for the last run and lost a little bit the rear on that lap. But overall it was a good lap. Shame to miss the P4 though.
"We are starting on the clean line so hopefully we can take the benefit from that," added Leclerc of Sunday's race. "But it's going to be tight, AlphaTauri is very quick this weekend too, so it's going to be a nice race."
READ MORE: Hamilton and Wolff planning to put Verstappen under 'massive pressure' with split strategy in Dutch GP
The good news for Ferrari was that they comfortably out-performed rivals McLaren on Saturday, with Daniel Ricciardo McLaren's leading driver in P10, as Lando Norris took P13 – with third-placed McLaren currently leading Ferrari by 3.5 points in the constructors' standings.