Sainz says P7 in Sprint helped rebuild confidence after 'weird' FP2 crash at Monza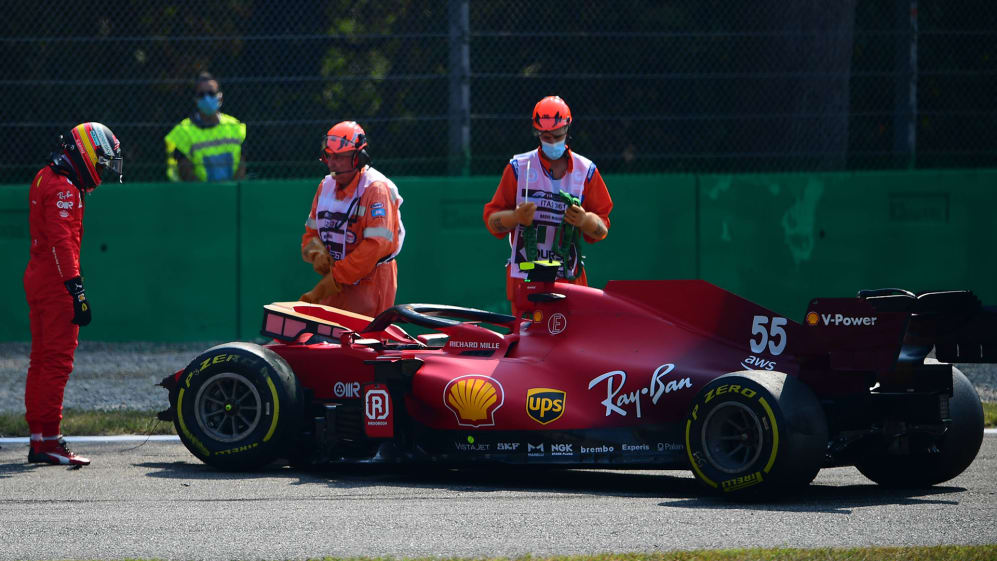 Carlos Sainz has admitted that his confidence heading into the Monza Sprint had been sapped by his second Saturday morning practice crash in a week – with the Spaniard then using his run to P7 in the Sprint, one place behind team mate Charles Leclerc, to build himself back up again.
Having crashed in Free Practice 3 at Zandvoort a week ago, Sainz was circulating at Monza in Saturday's FP2 session when he lost the car at the Ascari chicane, forcing Ferrari into their second rapid rebuild of his SF21 in seven days – and with Sainz admitting that his confidence had taken a knock from the crash, before he drove to P7 in the Sprint.
READ MORE: Verstappen set for pole position for Italian Grand Prix as penalty-hit Bottas wins Monza Sprint
"A great job by everyone to get the car back out, and I managed to complete the Sprint," said Sainz. "Obviously my confidence level was not very high after what happened in FP2, which was a very odd crash – I didn't expect what happened and wasn't really even pushing, so this type of crash takes away quite a lot of confidence because when you're not even pushing and you lose the car, it's a bit of a weird one.
"So I took the Sprint quali with this, bedding in a bit myself, and managed to regain a bit of confidence as the Sprint quali went on, and I think now I'm ready for tomorrow."
Leclerc and Sainz are due to start P5 and P6 for the Italian Grand Prix – played out in front of a 50% capacity crowd of tifosi – with the pair bumped up the grid by a penalty for Valtteri Bottas.
READ MORE: Ricciardo promises 'full attack' in Italian Grand Prix as he clinches front-row start at Monza
And asked what he expected from the race, Sainz predicted that the Ferraris could find themselves in no-man's land on pace.
"It's not like the people in front are reachable," said Sainz, who'll start behind a Max Verstappen's Red Bull, the two McLarens of Daniel Ricciardo and Lando Norris, the Mercedes of Lewis Hamilton, and Leclerc. "But the people behind, we seem to have them under control, so hopefully we can pick up a couple more positions at the start. But in terms of pace, that's more or less where we are."