Giovinazzi happy to hold off Perez in Sprint, as Kubica says rally experience helped recovery from Tsunoda spin
Antonio Giovinazzi's future at Alfa Romeo may be in doubt – but the Italian put in a strong performance in Monza's F1 Sprint, holding off the Red Bull of Sergio Perez as he claimed what's set to be P7 on the grid for a second consecutive race.
Starting P10, Giovinazzi got a good start to jump past Perez, before benefitting from the Lap 1 retirement of Pierre Gasly to claim the P8 that he'd hold to the flag – with Giovinazzi eventually crossing the line just 0.591s ahead of Perez.
READ MORE: Verstappen set for pole position for Italian Grand Prix as penalty-hit Bottas wins Monza Sprint
That P8 is set to become P7 for Sunday's Italian Grand Prix, as Sprint winner Valtteri Bottas takes on new power unit elements and starts from the back of the pack – with Giovinazzi delighted with his second P7 grid slot in a row, having taken the same position at Zandvoort last week.
"It was again a positive day," said the Italian. "We saw already this morning [in FP2] that the race pace was there. I focused on the start, gained a position there and gained a position to Perez and after that, it was just keeping the position. It was not easy in the end of the race to keep Perez behind, but really happy. Tomorrow we start P7 and let's see what we can do from there.
"I'm pretty happy actually with the speed on the straight," added Giovinazzi of his race prospects. "In Monza, it's important so for sure we have pace. So tomorrow, if we take another step it will be mega."
Team mate Robert Kubica, standing in for a second weekend for Kimi Raikkonen after the Finn testes positive for Covid-19, had a less fortunate start, meanwhile, getting tipped into a spin on the opening lap by AlphaTauri's Yuki Tsunoda – with Kubica relaying how he'd twice used his rally experience on Lap 1 of the Sprint, before finishing P18.
READ MORE: Ricciardo promises 'full attack' in Italian Grand Prix as he clinches front-row start at Monza
"It started very badly," said Kubica. "I don't know what happened at the start. Probably I did something wrong but I didn't manage to pull away completely, so I lost a lot of metres, space.
"But actually it gave me an opportunity to have an overview of what was going on and I placed myself very well into the first chicane, where I gained one or two positions. And then, I did a bit of rally-style move into the second chicane, where actually I gained two positions.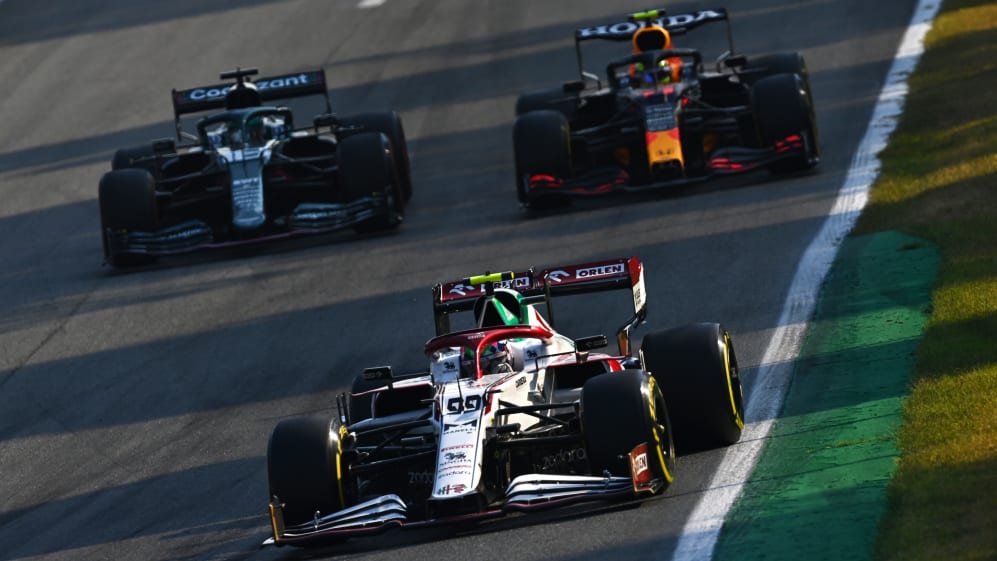 "I managed to find my way in the middle of other cars, but then I was hit by Tsunoda, and got stuck," he went on. "And when I was nearly switching off everything, I said, well, I'll try my rally experience a bit and try another time to get out of the gravel. Don't ask me how but I managed.
"But unfortunately later in the race, I had massive oversteer on the right-hand corners. I didn't understand why, and then when I jumped out of the car I understood. I had damage on the rear floor from the impact of Tsunoda, so it explained my balance issues."
READ MORE: Binotto in favour of Alfa Romeo keeping Giovinazzi – but Vasseur tight-lipped on shortlist
Giovinazzi will be keen on a strong performance in Sunday's Italian Grand Prix, meanwhile, with his future at Alfa Romeo in doubt as the team assess options of who to run alongside Valtteri Bottas next year – with Team Principal Fred Vasseur admitting on Friday that Chinese F2 racer Guanyu Zhou was one of the drivers in the frame for the seat.