Report
Scintillating Vettel seals stunning Suzuka pole as Ferrari lock-out front row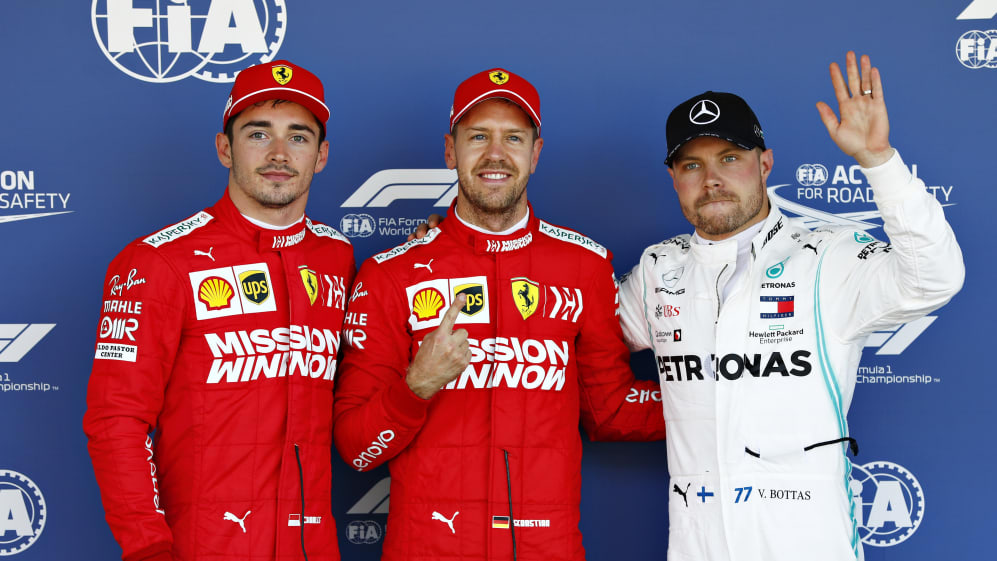 Mercedes appeared to be the team to beat after Friday practice at Suzuka, but Ferrari's Sebastian Vettel caused a shock as he delivered a lap so sweet, he chose to tell his team how good it was on the radio as he secured pole position in a delayed Japanese Grand Prix qualifying session…
The pressure was on for the entire grid after third practice was cancelled and qualifying rescheduled for Sunday morning courtesy of the impending arrival of Typhoon Hagibis. While the conditions weren't as bad as anticipated, as the typhoon changed course late on, the heavy rain did wash off all of the rubber laid down during Friday practice.
It meant conditions were tricky in qualifying, with the sun out but strong gusts blowing across the circuit, with Robert Kubica and Kevin Magnussen both caught out and crashing early on. But when it got down to the sharp end, it was Ferrari – rather than Mercedes – who impressed, with Vettel delivering the goods on the track he calls his favourite.
The four-time world champion nailed a cracking lap on his first run and then went one step better on his second to clock a 1m27.064s, to secure his first pole position since the Canadian Grand Prix – incidentally the last he outqualified team mate Charles Leclerc – and give Ferrari their fifth successive pole position.
Leclerc ended up 0.148s adrift, as Ferrari locked out the front row for the first time at Suzuka since 2006, with Valtteri Bottas outperforming Mercedes team mate Lewis Hamilton as they finished third and fourth respectively.
Max Verstappen was fifth quickest, with Alex Albon clocking the same lap time but classified sixth as he set his time after his Red Bull team mate. Carlos Sainz edged out Lando Norris as McLaren ended up best of the rest in locking out the fourth row.
Pierre Gasly was a strong ninth for Toro Rosso, making three Honda-powered cars in the top 10 at the Japanese firm's home race, while Romain Grosjean completed the Q3 set for Haas.
But the morning was all about Vettel, who was just "too quick" according to team mate Leclerc. It continues a remarkable turnaround for the German, who has been in a rich vein of form since the Singapore Grand Prix. Can he convert in a few hours time?
FORMULA 1 JAPANESE GRAND PRIX 2019
Japan
2019
Qualifying results
POSITION
TIME

1

Sebastian

Vettel VET

Ferrari

1:27.064

2

Charles

Leclerc LEC

Ferrari

1:27.253

3

Valtteri

Bottas BOT

Mercedes

1:27.293

4

Lewis

Hamilton HAM

Mercedes

1:27.302

5

Max

Verstappen VER

Red Bull Racing

1:27.851
AS IT HAPPENED
Q1 – Kubica and Magnussen crash, while Ricciardo gets knocked out
Gloriously sunny but gusty conditions greeted the drivers as F1 returned to Suzuka after a rare day off on Saturday courtesy of Typhoon Hagibis, with qualifying rescheduled for 10am local time on Sunday morning.
The session was just a few minutes old when Robert Kubica got a couple of wheels on the grass as he exited the final chicane, which spat him into the barriers and caused significant damage to his Williams.
The red flag was called into action, as the stricken Williams was removed, with the team facing a race against time to get his car ready for the race later on Sunday. Qualifying restarted, but just a few laps in, Kevin Magnussen lost his Haas at the final corner and clattered into the barriers.
The Dane managed to engage reverse and get going again, but he did so with a broken front and rear wing and failed to return to the track. When the session resumed, there was a flurry of cars that headed straight out as only seven drivers has so far set a timed lap.
Charles Leclerc set the pace for Ferrari, with Mercedes duo Lewis Hamilton and Valtteri Bottas needing second laps on their first set of tyres to get as they went second and fifth, split by Red Bull's Max Verstappen and McLaren's Lando Norris.
It wasn't such good news for Renault, who looked slow across Friday practice, with Daniel Ricciardo the highest profile driver to get the boot in the opening segment. That Q1 exit was Ricciardo's second of the year and first time at Suzuka since 2011.
Racing Point's Sergio Perez, whose best lap was just 0.02s quicker than Williams' George Russell, also got knocked out, as his team mate Lance Stroll out-qualified him for only the second time this year.
Knocked out: Ricciardo, Perez, Russell, Magnussen, Kubica
Q2 – Renault's woes continue as Mercedes show speed
Vettel edged out Ferrari team mate Leclerc by a fraction to set the early pace, but they were no match for Lewis Hamilton as the championship leader dipped down into the 1m27s to go 0.348s clear.
Not for the first time this season, Verstappen bemoaned "no power, no power" as he headed down the back straight, but the Red Bull driver's time was still good enough for sixth.
His team mate Alex Albon impressed with his second run late on as he went third, behind the two Mercedes, who swapped positions after their second runs, with Bottas the quicker of the two by 0.138s.
Antonio Giovinazzi missed out on Q3 by a tenth in 11th, but the Italian did at least out-qualify team mate Kimi Raikkonen, as the Alfa Romeo duo sandwiched Racing Point's Lance Stroll.
Toro Rosso's Daniil Kvyat also exited, as he ended up eight tenths behind Pierre Gasly who made it three Honda-powered cars in the top 10, along with Nico Hulkenberg, who suffered hydraulic pressure loss, which led to him being stuck in gear.
Knocked out: Giovinazzi, Stroll, Raikkonen, Kvyat, Hulkenberg.
Q3 – Ferrari deliver when it matters, with Albon impressing
Having stepped up their game in Q2, Mercedes appeared to be living up to their tags as favourites for pole, but in gusty conditions, it was Ferrari's Vettel who blew them away with a staggering time on his first flying lap out of the box in the qualifying shoot-out.
Leclerc got close on his second effort, but behind him Vettel was going even faster and he crossed the line to smash the track record. Their Mercedes rivals were still both on hot laps, but they simply didn't have the pace across the first two sectors, with Bottas out-qualifying Hamilton for the first time since F1 resumed after the summer break.
Hamilton ended up an unusual fourth, a position he has not won from in over 10 years (Hungary 2009 was the last time) as Mercedes failed to end up one-two in Q3 at Suzuka for the first time in the turbo hybrid era.
Verstappen's fifth was his worst at Suzuka since he joined Red Bull in 2016, with Albon setting the exact same time to earn a congratulatory message from his team boss Christian Horner. Norris appeared to be the stronger of the two McLarens in the first two segments of qualifying, but Sainz delivered in Q3 to out-qualify the Briton for the fourth successive time.
Gasly driving the Honda-powered Toro Rosso reached Q3 for the first time since re-joining the team at Spa to the delight of the Japanese fans with Grosjean giving Haas something to smile about after team mate Magnussen crashed in the first segment of qualifying.
THE KEY QUOTE
"It was not easy. Obviously the conditions are very different to what we had on Friday but the main thing is that the sun is out, people are happy. I think we're quite surprised. We didn't expect to have the front row lockout. I really enjoyed it." - Sebastian Vettel