Sochi result 'hurts' says Leclerc after slick gamble doesn't pay off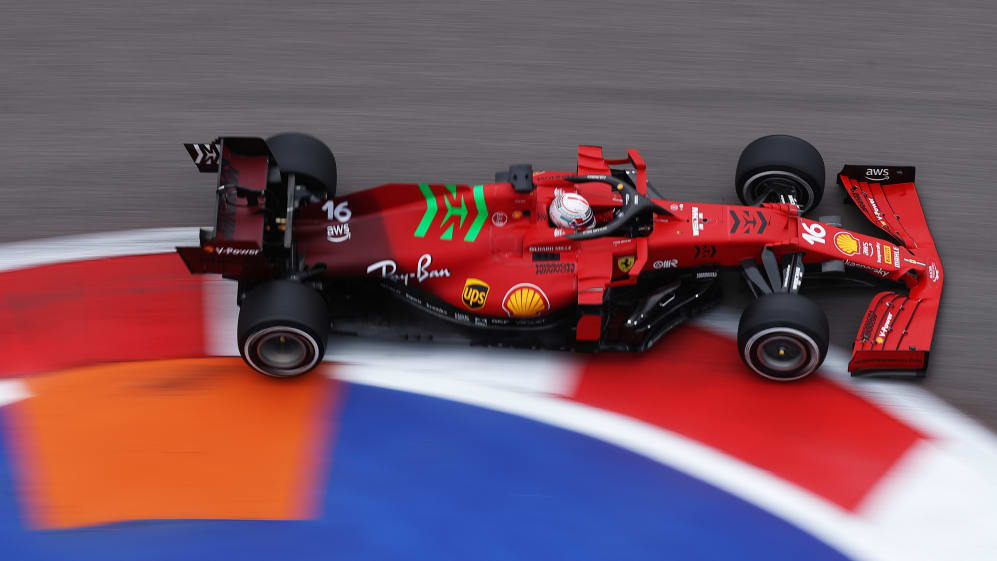 For some, the wet weather in the final few laps of the Russian Grand Prix transformed their race. For others, such as Charles Leclerc, it unpicked a lot of hard work, so it's no surprise the Ferrari driver was hurting after crossing the line 15th in Sochi…
Leclerc had it all to do after starting from the back in 19th, following a decision by his Ferrari team to fit a new engine – complete with upgraded hybrid system – that triggered a series of grid penalties. And he made a great start, making up seven places on Lap 1 to run 12th.
READ MORE: Ross Brawn on THOSE Sochi strategy calls, Norris's pain, and Hamilton's historic 100th win
He then showed strong pace on the hard and the medium compound tyres to rise into the points, but when the rain came, he decided to stay out. And when it intensified, he couldn't pit as team mate Carlos Sainz ahead of him was doing so – and had priority – so that committed him to a strategy that dropped him out of the points.
"It started to rain quite a bit at one point, and we were very competitive in those conditions," he said. "The third sector was dry, so what we were losing in the first and second with bit of rain we were gaining in the last one, so I decided to stay out.
"There was one lap where I doubted, but there was Carlos who was in front of me who was meant to stop that lap. I couldn't stop at the same time. The lap after was already too late so at that point, I knew my race was compromised, so I tried to stay on slicks hoping the rain decreased but it didn't happen.
READ MORE: Unpicking the six laps that turned the Russian GP upside down – and how Bottas played a key role in Hamilton's win
"I'm very disappointed with a race like this as the first part was looking extremely good. To finish 15th like this hurts."
Leclerc dropped behind Sainz – who went on to finish third and score his third podium of the year for Ferrari - in the drivers' standings was particularly hard on himself regarding his own performance after the race.
"I will analyse after this weekend to know what I could have done better... because I feel like I could have done a better job as a driver to help the team take the right decision and that's it," he said. "Obviously before that, it was a very, very positive race on my side, so it disappoints me even more to finish it that way. But it's the way it is now, and I will try to learn from it."