Feature
GALLERY: Ricciardo, Latifi, Leclerc and more sport special helmets for the Monaco Grand Prix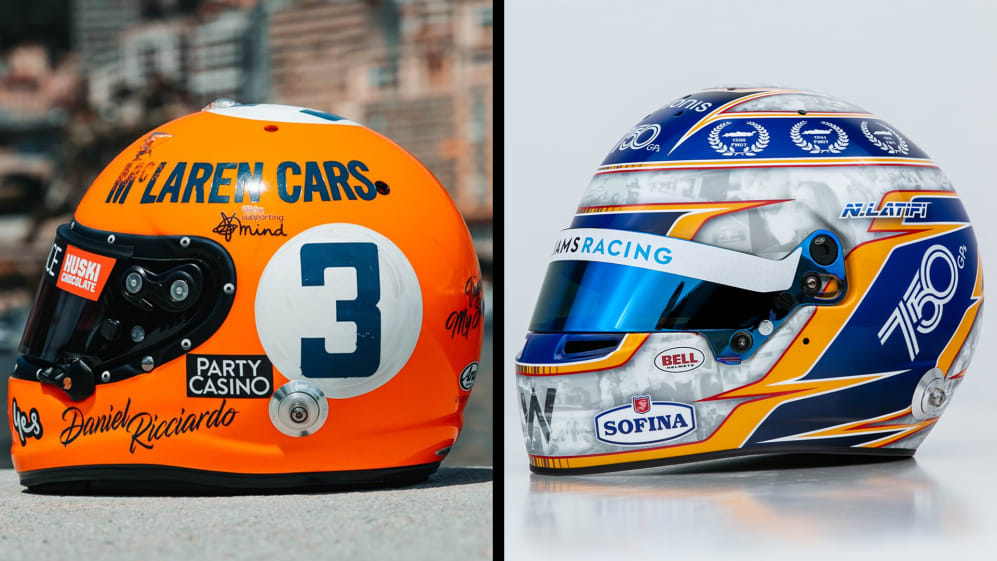 With the 2021 Monaco Grand Prix comes a swathe of special helmets as drivers relish the chance to race at this celebrated street track. Scroll down to see designs from the likes of Charles Leclerc, Lando Norris, Valtteri Bottas and Pierre Gasly for the first Monaco Grand Prix since 2019.
READ MORE: Will the tight confines of Monaco be the place Hamilton and Verstappen's rivalry bubbles over?
Leclerc's Louis Chiron tribute
Home hero Charles Leclerc is wearing a blue helmet at this round in tribute to fellow Monegasque racer Louis Chiron. Born on August 3, 1899, Chiron began racing in 1926 and won the 1931 Monaco Grand Prix for Bugatti from 11th on the grid - still the only Monegasque to have won the race. Chiron also raced for Maserati in the 1950 Monaco GP, finishing third at home in the very first World championship season.
McLaren go old-school
To match their one-off Gulf-adorned MCL35Ms, the McLaren drivers are sporting retro helmets for the 2021 Monaco GP. Daniel Ricciardo's headgear features the original McLaren Kiwi logo and Lando Norris's features printed goggles as a nod to the past.
After the race weekend the helmets will be given away in a raffle to benefit the team's mental health charity partner, Mind.
Oops! Error retrieving Twitter post
Latifi sports a classic Williams colour scheme
Blue, gold, white and red evokes the 1996 Williams FW18, the car in which Damon Hill won his first and only title. To mark Williams' 750th Grand Prix, Latifi's special helmet features championship-winning Williams around the top of the helmet and iconic images all-around the design.
Oops! Error retrieving Twitter post
Russell's 750th GP helmet
George Russell also celebrates Williams' 750th Grand Prix with a deep blue helmet featuring some of the team's most iconic cars including the FW14B, FW18 and FW07. The team also have a special livery this week, with a massive motif marking their 750th GP and the names of 100 fans across the halo of the car.
Oops! Error retrieving Twitter post
Vettel's chrome dome
What round-up of helmet designs would be complete without a Sebastian Vettel special? The Aston Martin driver has changed to chrome for Monaco, his shiny dome promoting a message of sustainability with team sponsor BWT.
Oops! Error retrieving Twitter post
Gasly goes for gold
Pierre Gasly's Monaco helmet has more than a touch of gold all over it. The Frenchman retains his tribute to fallen F2 star and dear friend Anthoine Hubert on the side of the helmet.
Oops! Error retrieving Twitter post
Bottas's 'banging' design
Valtteri Bottas's partner Tiffany Cromwell has designed this comic-book themed helmet for Monaco. "Hopefully not many bangs this weekend", quips Bottas in the video below as he explains the colourful design that retains his favourite blue hue.
Oops! Error retrieving Twitter post