Stewards hand out reprimand and fine to Hamilton after Qatar Grand Prix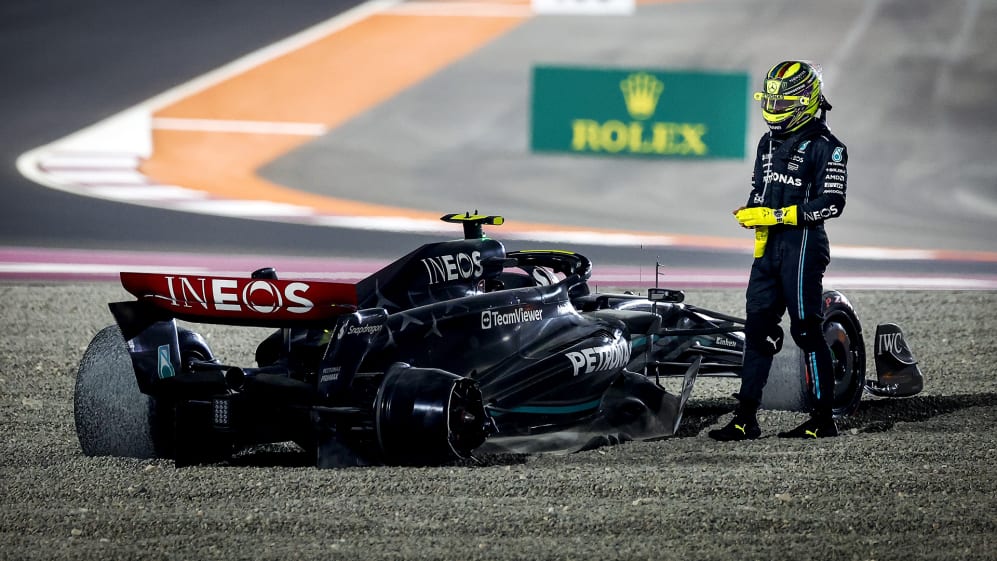 Lewis Hamilton has been reprimanded and given a fine by the stewards for crossing the track to return to the pit lane following his first-lap collision with Mercedes team mate George Russell at the Qatar Grand Prix.
Hamilton was attempting a move around the outside of Turn 1 when he made contact with Russell, who got sandwiched between the seven-time world champion and pole-sitting Red Bull driver Max Verstappen.
READ MORE: Hamilton takes full responsibility for first-lap collision with Russell in Qatar
With Hamilton out on the spot, TV cameras showed him walking over the live track to make his way back to the pits, something that caught the attention of the stewards and led to a post-race investigation.
After assessing the footage and hearing from Hamilton and a Mercedes team representative, the stewards dished out a non-driving reprimand and a €50,000 fine, €25,000 of which is suspended for the remainder of the 2023 season providing there is no further breach of similar nature.
A statement from the stewarding panel at the Lusail International Circuit read: "After crashing out of the race in Lap 1, the driver of Car 44 [Hamilton] abandoned his car in the gravel and ran back to the pits.
READ MORE: 'There's more we want to win' – Verstappen vows to keep pushing after title-winning Qatar weekend
"He thereby crossed the track that was live at this time and reached the inside edge of the track just seconds before Car 63 [Russell] arrived at high speed after exiting the pits. He then continued to walk alongside the track until finally exiting the track.
"During the hearing the driver of Car 44 was very apologetic and realised that the situation could have been very dangerous for him as well as the drivers approaching.
"The stewards reinforced the fact that crossing a live track can cause extremely dangerous situations and the drivers have to be very cautious about it."
READ MORE: Piastri and Norris revel in 'mega race' as McLaren score double podium finish in Qatar
The panel also looked into the clash between Hamilton and Russell at the first corner but after reviewing the various evidence available to them ultimately decided that no further action was required.