Stroll 'really happy' to score points despite gearshift, visor and brake issues at Imola
Lance Stroll's Emilia Romagna Grand Prix was filled with challenges – including flaming brakes, a foggy visor and a gearbox issue – and yet he still finished seventh on the road. Demoted to eighth overall thanks to a post-race penalty, the Canadian was still content with another points finish for Aston Martin.
Even before the race there was panic for Stroll as his brakes went up in flames on his way to the grid – 30 minutes before the formation lap. Then, his visor began fogging up in the wet conditions, hampering his vision, and the Canadian struggled with his gearbox towards the end of the race too with team mate Sebastian Vettel retiring thanks to a similar issue.
WATCH: Say What? Tsunoda, Raikkonen and Stroll all feature in the best team radio from Imola
But after the race, Stroll was full of praise for his team. "The guys did a good job in repairing the car," he said. "My brakes were on fire there in the formation lap. We came me home with P7 – so really happy with that.
"I had a problem with my visor at one point in the race and a gearshift problem throughout the race. we have to have a look at that; it was costing me a lot of laptime as well. We had some issues during the race but pulled it together and brought it home in seventh.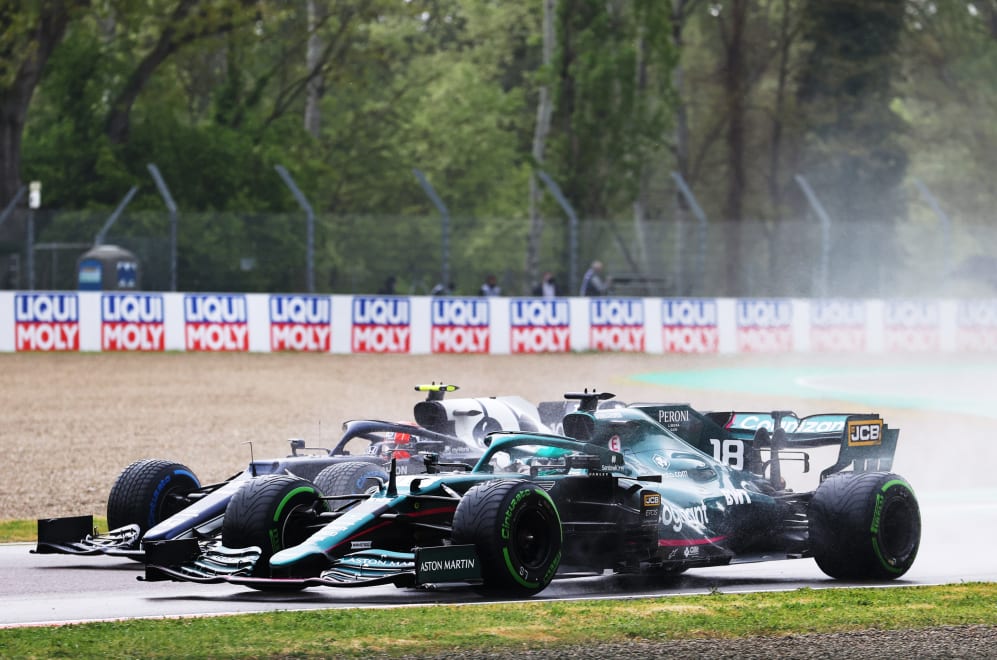 "I think we still have some work to do. You know, the competition's really strong. We just have to keep pushing," he concluded.
However, after the race he was demoted to eighth having passed AlphaTauri's Pierre Gasly off-track, receiving a five-second penalty and one penalty point on his licence thanks to the move at Turns 2-3. Regardless, Stroll managed to score four useful points that propped Aston Martin up to sixth in the championship.
LISTEN: Damon Hill explains why we saw so many errors in Imola on this week's F1 Nation podcast
Team Principal Otmar Szafnauer added that Stroll's performance "lifted the spirits" of the team after a difficult pair of weekends in which Sebastian Vettel crashed in Bahrain and then finished in the pits with a gearbox issue at Imola.
"After an Imola weekend that was challenging from a number of perspectives, Lance's hugely impressive drive to seventh place, under pressure all the way through, lifted the spirits of everyone in the team," said Szafnauer.
"Sebastian had a troubled run that ended in a DNF just one lap from the end, which was disappointing for him and the team, but he got a lot of very useful mileage in the car, which is a positive because he is still playing catch-up to some extent as a result of his lack of running in pre-season testing."
Aston Martin look forward to a trip to the Iberian Peninsula, with Portimao and Circuit de Catalunya hosting the next two races in a double-header beginning on May 2.