Stroll recounts 'insane journey' from hospital bed to P6 in Bahrain with a broken wrist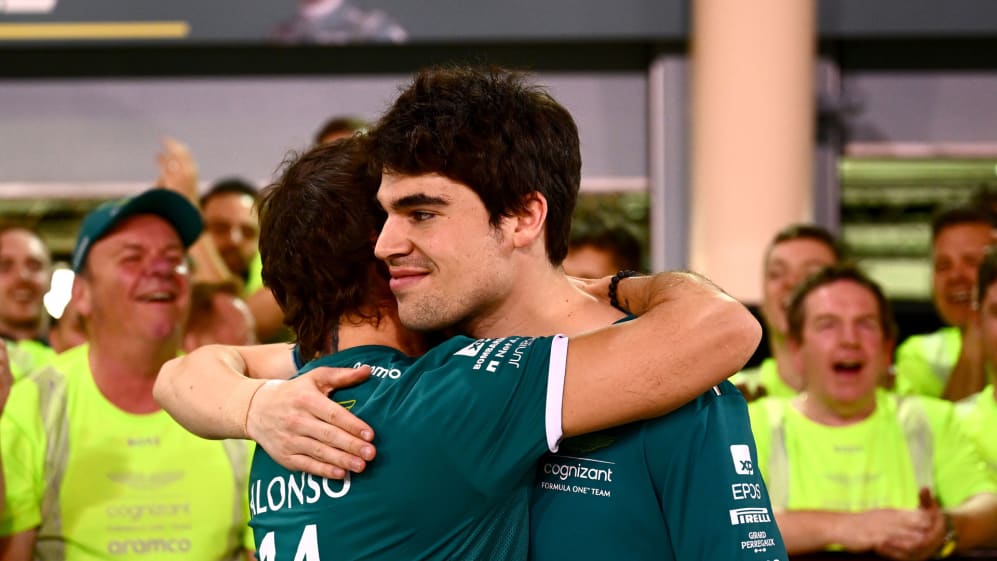 Lance Stroll has explained how he drove through the pain to finish sixth in Bahrain, just over two weeks after he broke his wrist and a toe in a cycling accident that left him in hospital and fearing he'd miss the opening races of the year.
Stroll qualified a solid eighth on Saturday in Bahrain, but very nearly lost it all as he slammed on the brakes and tapped the rear-right of team mate Fernando Alonso's car on the opening lap of Sunday's race. The Canadian fell back but soldiered on, and managed to pass Mercedes' George Russell late in the race for P6, while Alonso managed a stunning P3 on his Aston Martin debut.
READ MORE: Alonso says Bahrain podium 'a perfect start' to Aston Martin project as he recounts breathtaking moves on Hamilton and Sainz
After the race, Stroll explained it had been a battle to get to the end.
"Pain, [I was] in pain," he said. "But I was grinding it out at the end just thinking about picking up those points, it feels good. It's just been an insane journey. The last two weeks have just been the most insane two weeks of my life.
"Terrible time to crash on a bicycle, and doctors were telling me maybe [I'd return in] Australia, maybe Baku, and yeah, the light at the end of the tunnel was very difficult to see.
"But I had an incredible medical team that helped me along the way, my osteopath Henry [Howe] who was with me 10 hours a day, the surgeon in Spain, Dr [Xavier] Mir, who without him I wouldn't be here, it would be impossible to be driving, Rob Madden back in the UK… there's a list of people that I could name and without them I wouldn't be here so a huge thank you to them, so well done to everyone back at the factory for building this incredible car that's a pleasure to drive."
The 24-year-old also explained the "horrible timing" that led to his Lap 1 collision with Alonso.
FACTS AND STATS: Red Bull end a long wait for success in Bahrain – as does Alonso
"It was really terrible timing, I was down the inside of Russell trying to stay in front of him so braked late and then Fernando went for the cut back on Lewis so really stopped the car in the middle of Turn 4 and we just came together, so really horrible timing for all those things to happen with the really great car we had today. Very fortunately we both saved it and went on to score good points.
"He'll get over it, he finished on the podium," he quipped afterwards.
With the Saudi Arabian Grand Prix coming up after a week's break, on March 17-19, Stroll added that he's hoping his condition should improve significantly for Round 2 of the Formula 1 season.
"Absolutely, my right wrist is feeling more and more solid every day, getting more mobility in it, the one that I got surgery on, my left wrist, it's a couple of hairline fractures so it should just improve and the doctor said it should be stable for this weekend.
HIGHLIGHTS: Watch the action from the 2023 Bahrain Grand Prix as Verstappen and Red Bull start the new season in style
"And then it's just about managing pain and it should get better over the next couple of weeks so I'm hoping I'll feel a lot better in Jeddah and just try and stay off the toe."
After the 2023 Bahrain Grand Prix, Aston Martin head to Jeddah second in the standings.