Technical
TECH TUESDAY: Under the hood of McLaren's sensational Silverstone step change in pace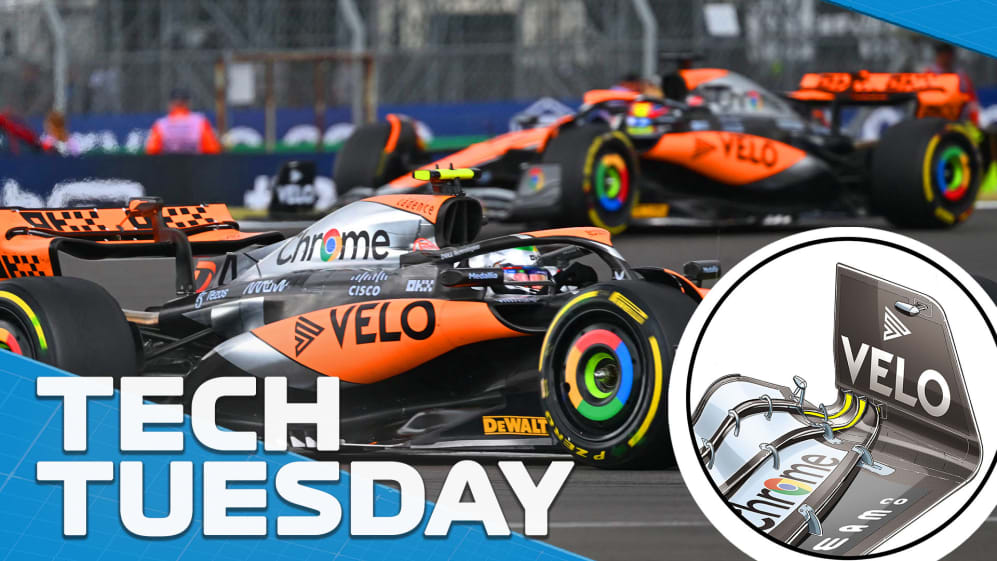 McLaren's starring role in last weekend's British Grand Prix was a great reward for the huge effort which has been made in bringing a major series of upgrades to the car. The first part of this was seen at the Red Bull Ring last week, with a very significant change to the sidepod, floor and diffuser…
The reshaping of the sidepod involved some re-engineering of the cooling components beneath. The next part of the same upgrade came with the new front wing introduced on Lando Norris's car at Silverstone.
READ MORE: Hamilton and Russell taken aback by McLaren after front-running pace 'comes from nowhere'
The elements of the wing are quite different in their profile across their span and around the nose. But perhaps the most significant change comes in the way these elements have been mounted, specifically where they join the endplate.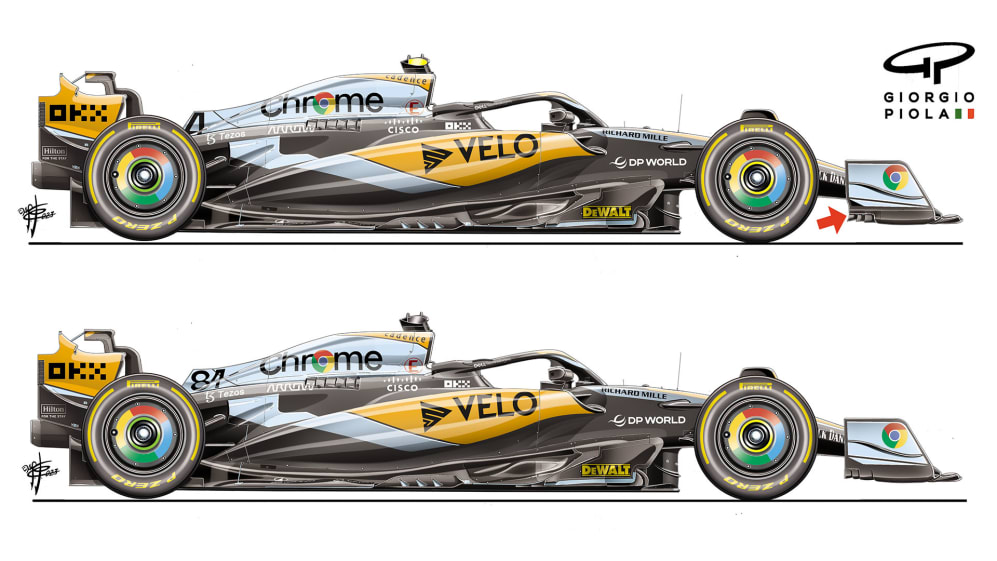 Whereas previously each of the wing elements merged fully into the endplate, now they curve up earlier and more sharply, creating a bigger gap for the airflow and a more powerful outwash to power the vortices down the side of the car. The gaps are bridged by slim attaching vanes across the top.
Out-washing is very much a theme of the changes to this wing, and we see another way that particular flow has been boosted in how the bottom element is mounted solidly to the footplate of the endplate. As with almost all F1 front wings, that footplate section almost certainly has some flexibility built into it to allow it to bend downwards as the forces upon it build with speed.
MONDAY MORNING DEBRIEF: How Norris pulled off Silverstone podium despite 'pretty terrible' McLaren limitation
Not only does this reduce drag on the straights, but it has the effect of slowing the build-up of downforce created by the wing as speed rises. Downforce generally squares with speed but through high-speed corners that can be troublesome, in that it can give the front too much bite, making the rear feels nervous.
Controlling that rate of downforce increase by inducing some stall in the front wing allows the car to retain stability in high-speed bends but still have good response in low-speed, reducing the understeer there.
That much is standard practice, and there are defined flexibility limits written into the regulations. But what the new mounting between the footplate and the lower element appears to be doing, in pulling that element down with it, is creating a bigger slot gap between that element and the one above it. Like the new design of transition between the elements and the endplate, this will create a greater volume of out-washing airflow.
READ MORE: 5 Winners and 5 Losers from the British Grand Prix — Who shone the brightest at Silverstone?
The greater the power of that out-wash, the faster the air can be induced to flow down the bodysides, boosting the car's downforce as it meets up at the rear of the car with the air exiting the diffuser.
The most powerful part of McLaren's upgrade is likely to be the hidden new underfloor – but the re-profiled sidepod and the extra out-wash from the front wing suggest that more is being extracted from it too.