Feature
We're streaming the 1996 Spanish GP – here's why you should watch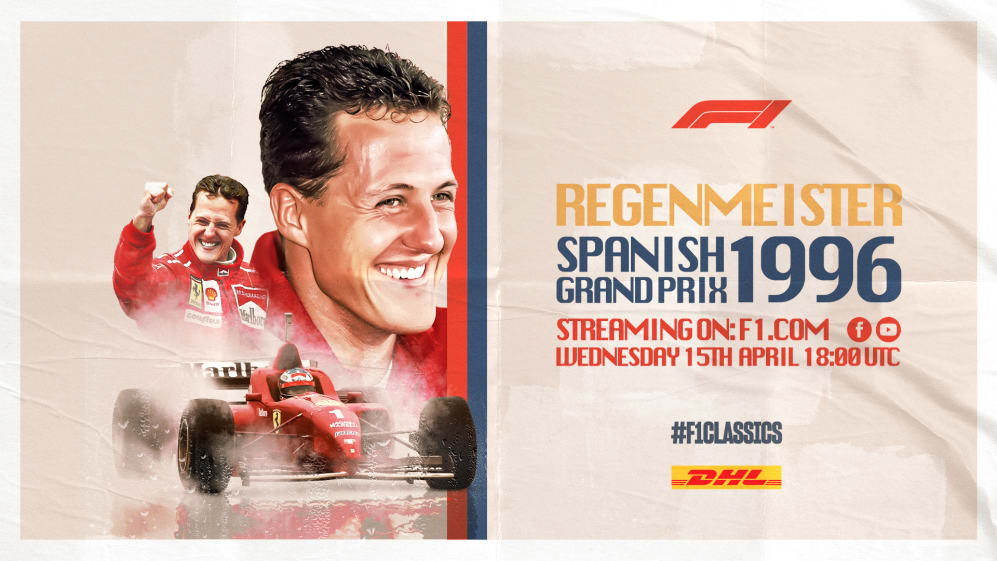 Your votes have been counted and on Wednesday, April 15 at 1800 UTC we'll be streaming the 1996 Spanish Grand Prix, one of Michael Schumacher's three wins from that season, and his very first for Ferrari. Find out why, of all of the German's 91 Formula 1 victories, this one ranks as one of the most special.
History has shown that the Ferrari F310 was not one of Formula 1's great racing machines. But on a rainy Sunday afternoon in Spain in June 1996, Michael Schumacher produced one of the great pieces of on-track alchemy in a car team mate Eddie Irvine would laster describe as "a piece of junk" – a wet weather performance that stands among the great drives in the sport's history.
READ MORE: F1's Best Drives #10 – Schumacher walks on water in Spain
How they stood before the race
By race seven of the 1996 season, the performance of the Williams cars of Damon Hill and Jacques Villeneuve had left little doubt that that year's title would be a team mate duel, with Hill having won four out of the first six Grands Prix (in Australia, Brazil, Argentina and San Marino), Villeneuve one at the Nurburgring, while Olivier Panis had claimed his outlier maiden win at a treacherous Monaco (which you can stream here, by the way).
Schumacher, though, campaigner that he was, had hauled his unfancied Ferrari to two second places and one third, to sit a distant P3 in the drivers' fight.
Standings before the 1996 Spanish Grand Prix
| Place | Driver | Team | Points |
| --- | --- | --- | --- |
| 1 | Damon Hill | Williams | 43 |
| 2 | Jacques Villeneuve | Williams | 22 |
| 3 | Michael Schumacher | Ferrari | 16 |
| 4 | Olivier Panis | Ligier | 11 |
| 5 | Jean Alesi | Benetton | 11 |
| 6 | David Coulthard | McLaren | 10 |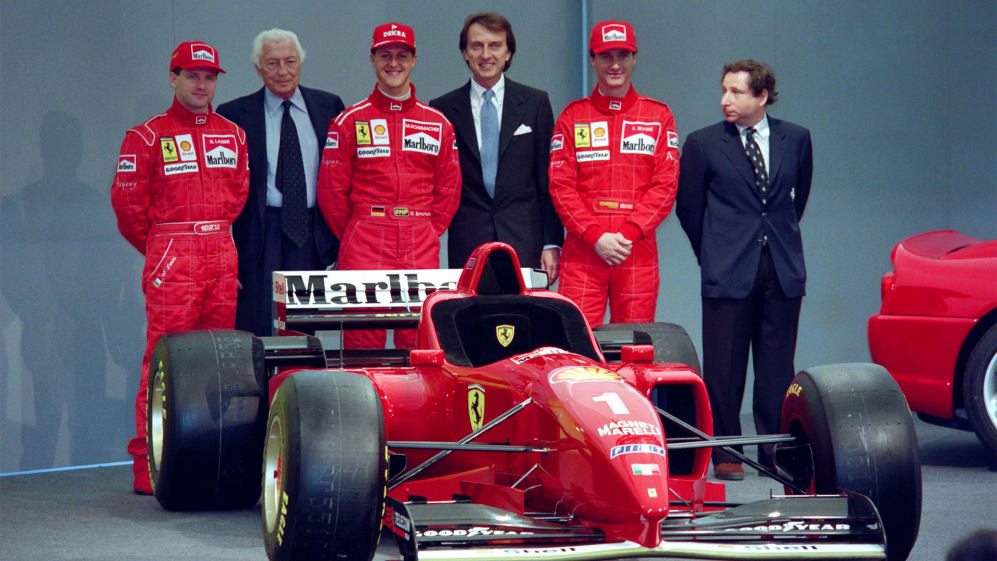 The background
If the Ferrari had shown itself to be no match to the Williams in the races so far in 1996, the brilliance of Schumacher had nonetheless put the car on pole at the two previous Grands Prix at Imola and Monaco.
But the dry qualifying session at the Circuit de Catalunya was a humbling experience, as Hill quite brilliantly put his FW18 on pole by a massive 0.434s from team mate Villeneuve, and nearly a second faster than Schumacher in third. But then, on Sunday morning the drivers peered out of their hotel windows to see heavy rain falling over Catalonia.
And cometh the hour, cometh the "Regenmeister"…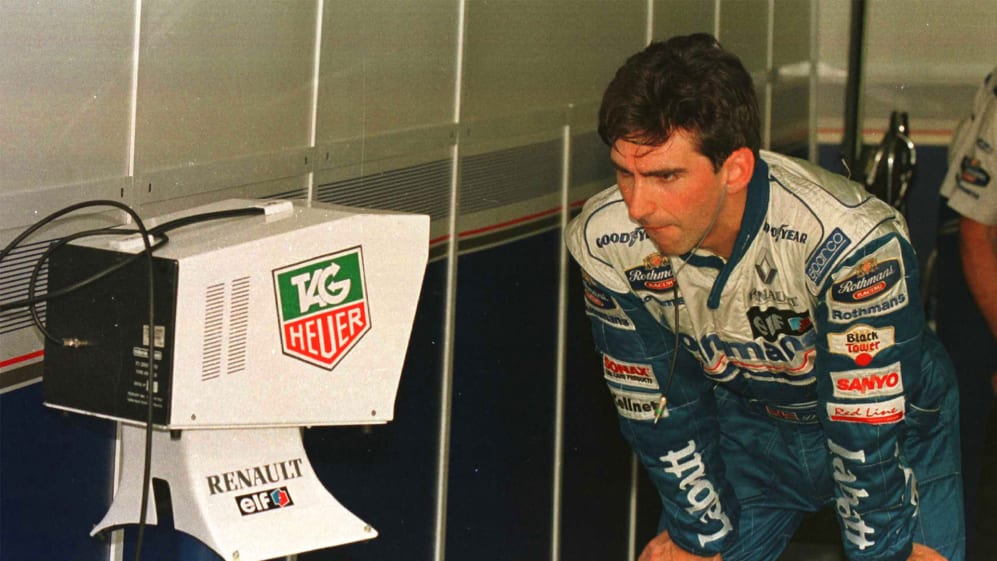 READ MORE: 10 moments of Michael Schumacher brilliance
What to watch for
So rain-filled were the hours leading up to the Grand Prix that there was talk of starting behind the Safety Car – while it's questionable whether the race would have even been allowed to start today.
In the event, a brief let-up in the downpour in the final hour before lights out called for a regular start. Hill had looked swift in the wet morning warm-up after lapping over eight-tenths faster than Schumacher, and was happy with his rain set-up – although significantly, Williams had gambled on the rain easing off towards the end of the Grand Prix, and adjusted Hill's car accordingly.
In the #1 Ferrari, meanwhile, Schumacher had gone all-in with his own wet weather set-up, to give him what should have been the perfect machine for the conditions. Meanwhile, the sopping wet track opened up the potential for surprises from the likes of Benetton, McLaren, Ligier and Jordan.
Still, with an all-Williams front row, and after a dominant qualifying, it looked very much as though we were heading for a sixth win out of seven for Sir Frank's team.
READ MORE: A topic-by-topic guide to the best races to watch on F1 TV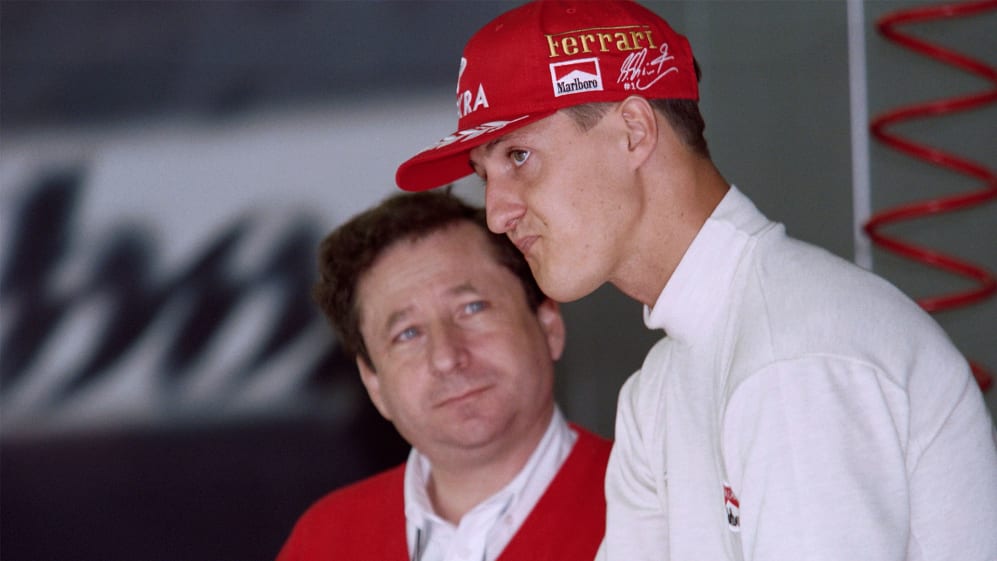 Four key moments
The start Both Schumacher and Hill fluffed their lines at the start, as Villeneuve took the head, with Jean Alesi's Benetton second and Hill slotting into third. Schumacher had fallen to sixth by the end of the first lap, behind Gerhard Berger and his own Ferrari team mate Eddie Irvine. All was not going well for the German.
Hill's weekend ends in disaster After his poor start, Hill's first 10 laps were a calamity. He went off the road twice in the appalling conditions, before spinning coming out of the final corner on Lap 11. His Williams ended up smashed into the pit wall, to mark his second retirement in as many races. "To be honest, with these conditions I am almost pleased to be out of it," Hill reflected, before scampering off to watch the race from the Williams pit wall. "I'm afraid it was a bit of a write-off today."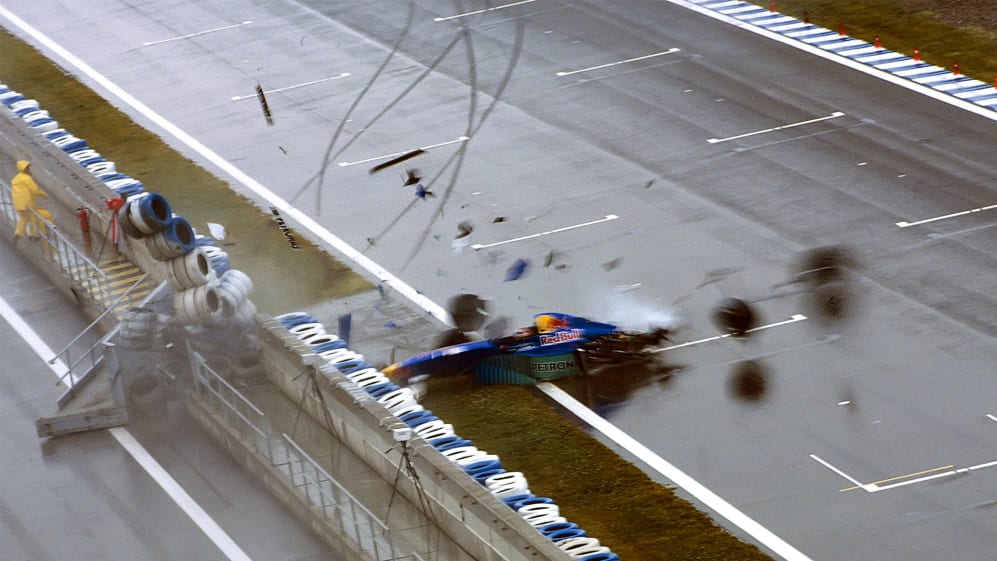 Schumacher on the move Schumacher's climb through the order was irresistible, and on Lap 12 he both took the lead and almost instantly established a three second gap over Villeneuve. Just three laps later, the gap had ballooned to nearly 15 seconds. That's right, Schumacher was lapping, on average, nearly four seconds a lap faster than his nearest rival.
A momentous day for Ferrari Despite suffering a misfire that saw his Ferrari's V10 engine lose the use of two of its cylinders at points, Schumacher was indomitable once he'd hit the front. He duly took his first win for Ferrari by a massive 45.302s from Benetton's Alesi, with Villeneuve third. There were just six finishers by the end, and only Schumacher's fellow podium occupants were on the same lap as him by the chequered flag. It was a masterclass – and truly, one of the great wet weather drives of all time. "It's amazing," said Schumacher in the press conference afterwards. "If anyone would have asked me what I would have bet on this, I wouldn't have even bet a penny."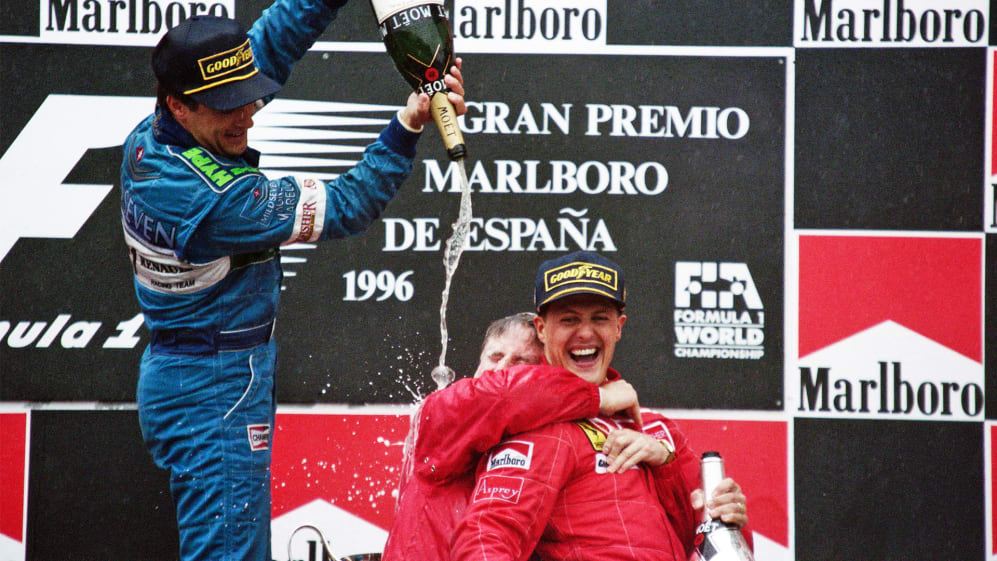 The headlines
Miraculous Schumacher Understandably, coverage of the Grand Prix centred around one man and one man only, with Autosport's headline reading: 'FERRARI'S MIRACLE MAN: Schumacher's storm warning for Damon'. Motorsport Magazine, meanwhile, posed the (probably fair) question of whether Schumacher was 'Man or Machine?'.
How to watch
Bed in for one of the finest wet weather drives in the 70 years of F1 when we stream the 1996 Spanish Grand Prix on F1.com, plus F1's Facebook and YouTube on Wednesday, April 15 at 1800 UTC.
And if you want to find out more about Schumacher's first Ferrari car, F1 tech expert Mark Hughes has an in-depth look at it right here.
Delve into F1 TV's archive: highlights of every race going back to 1981, with more than 1000 hours of on-demand content, including season reviews, on-boards, qualifying highlights and much more! It's all on F1 TV here.