'That's how it should be every weekend' says Verstappen, as he breaks point-less run with P2 in Sochi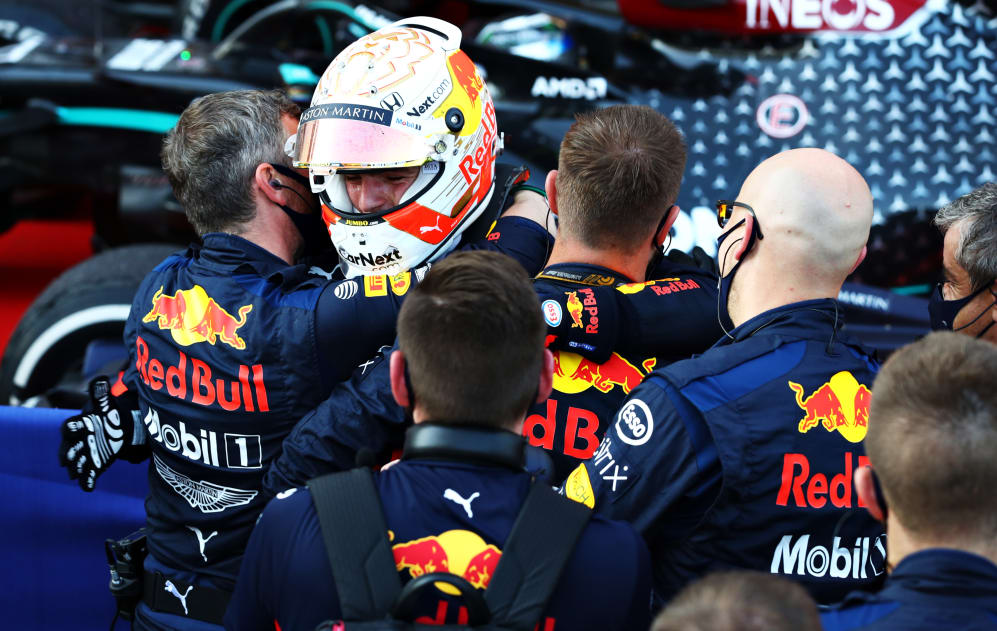 Max Verstappen netted Red Bull's first ever podium at the Sochi Autodrom at the 2020 Russian Grand Prix, splitting the Mercedes of winner Valtteri Bottas and Lewis Hamilton to claim second. And with Verstappen scoring his first points since the Belgian Grand Prix a month ago in the process, it was a welcome result for the Dutchman after a luck-less run of form.
Verstappen endured a point-less pair of races at Monza and Mugello, but looked primed for a good result in Sochi after qualifying P2 on the grid on Saturday, ahead of Bottas. But although Verstappen immediately fell to third behind the Finn at the start, a pair of five-second penalties for Hamilton allowed him to rise up to second, a position he hold onto to the flag, to record some much-needed points.
READ MORE: Bottas eases to Sochi win over Verstappen as penalty leaves Hamilton P3
"That's how it should be every single weekend!" said a relieved Verstappen, whose team mate Alex Albon came home P10, having start 15th after a gearbox-related grid drop. "Of course it was not good the last two weekends and I think now, to be back on the podium and in second, I think for us, is a great result on a track where normally we are not that competitive, and we never scored a podium before as well, so very happy with that."
Verstappen had briefly fallen to fourth on Lap 1, in fact, after he was passed by the Renault of his old team mate Daniel Ricciardo after running off at Turn 2 – before Verstappen got the Australian back a few corners later. But after struggling with his medium tyres in the early stint, a switch to hards improved the balance of his RB16 sufficiently to allow Verstappen to finish just 7.7s behind Bottas in the dominant Mercedes at the flag – and precisely 15s up the road from Hamilton.
"The start was pretty bad," said Verstappen, who was also voted Driver Of The Day by F1 fans. "It was just so low grip on the inside, the right-hand side, so it seemed like everybody had a really poor start... On the first lap I had a little bit of a battle with Daniel to get back into third, and I had a nice off-road experience through the bollards, so it was... nice!
DRIVER OF THE DAY: Second-place Verstappen goes one better in fan vote
"And from there onwards, on the medium tyres, I was just not having a great balance, a bit like I had in Q1 and Q2 yesterday where I just couldn't push the entries of the corners and I couldn't keep up with [the Mercedes].
"So I just tried to, of course, not lose too much time. And then once we pitted, put the hard tyres on, everything was a bit more stable and a bit better balanced, so I was pleased with that. The second stint was pretty okay, so very happy with second."
Asked, meanwhile, if he felt that the win had ever been on the cards today, Verstappen replied: "No, because [Bottas] was already too far ahead anyway. Once we pitted [his lead] was, like, 12 seconds or something, so that's very hard to close. And anyway, following around here on the same tyre, more of less the same pace, I think is very difficult."
WATCH: Sainz blames 'misjudgement' for race-ending opening lap crash in Russia
Formula 1 now heads to the Nurburgring for the Eifel Grand Prix – a race where the weather is expected to be dramatically colder than the 30 degree temperatures the drivers faced on race day in Sochi. But Verstappen said that, having been spoilt for warm races across the summer, he didn't mind the change…
"It's going to be a bit colder," he said. "But we had a good summer with a lot of nice, warm races so maybe now to have a very cold one – it's not such a bad thing."