Feature
The 5 key questions from 2023 pre-season testing in Bahrain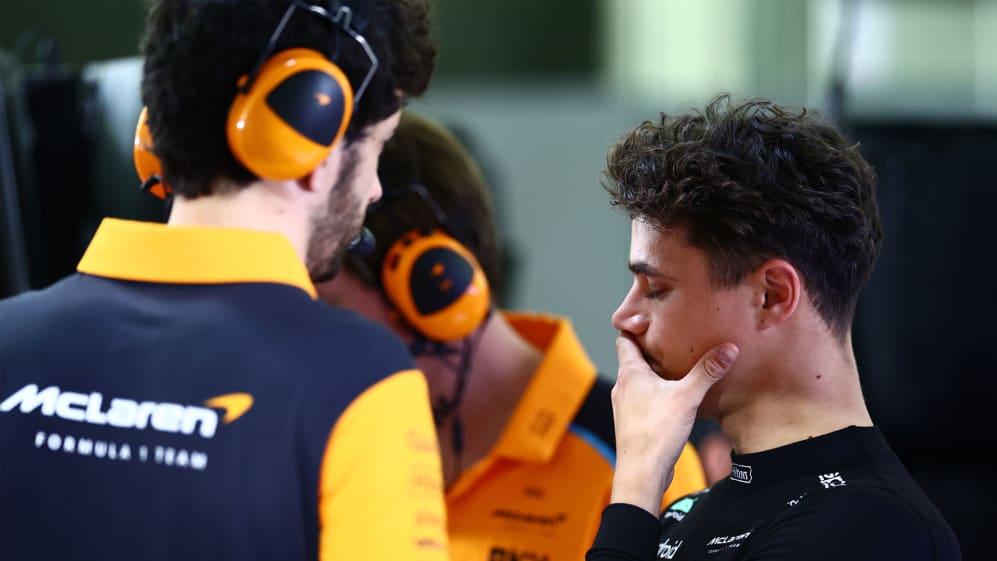 Over the course of three days of pre-season testing in Bahrain, Formula 1 teams clocked up 3,992 laps, totalling 21,603km – which is just over halfway around the world, or the equivalent of 70 Bahrain Grand Prix distances.
For the large part, reliability was very good – with most managing to get a healthy amount of data to analyse over the next four days to help finetune their new-for-2023 race cars for this record-breaking 23-race season, starting with this weekend's season-opener at the Bahrain International Circuit.
READ MORE: What we learned from Day 3 of pre-season testing in Bahrain
It's notoriously difficult to read a pecking order in testing, as teams run different fuel loads – 1kg is worth around a 0.1s per lap depending on the circuit – and different tyres, alongside a variety of aerodynamic/bodywork configurations and engine power levels.
But it is possible to spot some trends to start to get a grip on who has made a step forward, stayed around the same or dropped back….
Are defending champions Red Bull the ones to beat?
Red Bull entered testing as favourites, but I'm not sure even the reigning world champions could have hoped for such a perfect pre-season test.
They led the way in qualifying trim, around 0.28s clear of Mercedes, and were also class leaders in race simulations, holding a 0.16s advantage over their red rivals.
READ MORE: Perez hails Red Bull's 'tremendous' winter push and warns team will start 2023 'much stronger' than last year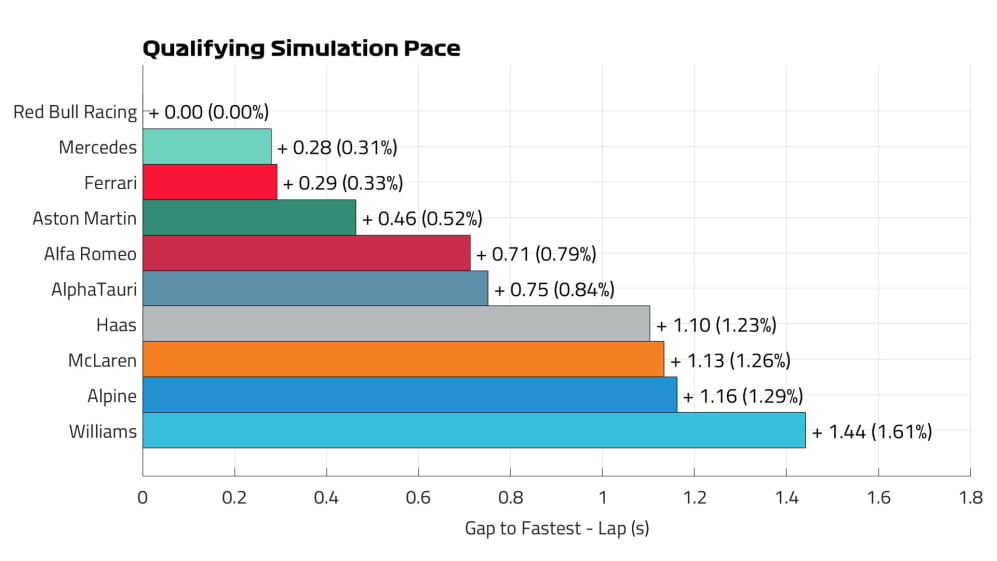 It was impressive how quickly two-time champion Max Verstappen was able to start pushing the limits of his RB19, an evolution of last year's machine that won 17 of 22 races.
As they rattled through a programme of aero testing, set-up changes and tyre compound evaluation, the confidence within Red Bull grew.
READ MORE: Red Bull boss Horner picks his most improved team from 2023 testing – and explains why he's not surprised
This time last year, Red Bull played down their hopes despite looking like table-toppers. This year, they couldn't completely keep a lid on their excitement, so happy were they with the running.
There is no doubt Red Bull and Verstappen head into race one – and this season – as favourites. But encouragingly for the rest, based on the running we've seen, they are within sight rather than having disappeared into the distance.
Can Ferrari and Mercedes make a fight of it?
Ferrari look best-placed to challenge the Red Bull juggernaut, as Carlos Sainz and Charles Leclerc completed 417 laps – only AlphaTauri and Williams managed more – and Leclerc reported there was good correlation between the track and the factory.
READ MORE: 'The mood in the team is perfect' says Ferrari boss Vasseur after encouraging pre-season test
The Scuderia have made some changes that could be significant, too. Their power unit is believed to be more robust than last year, meaning they can run it at full power (they couldn't do this for the last two-thirds of 2022) and that could be worth as much as 0.3s per lap.
And despite only having been in the job for less than two months, new boss Fred Vasseur has already made changes to an area where they struggled last year, moving Ravin Jain – who sources say is highly-rated internally – to head up strategy, with Inaki Rueda moved to a factory-based role.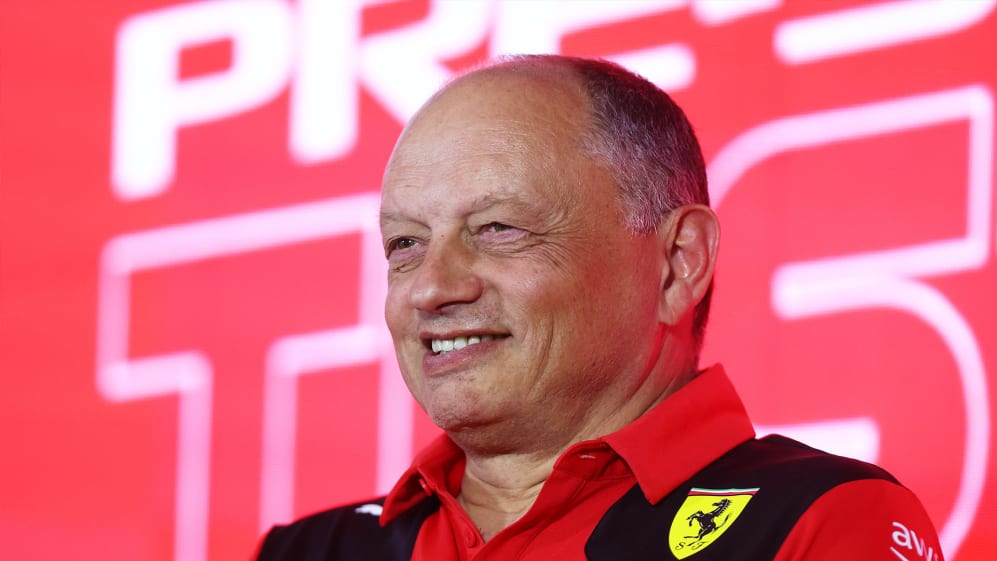 The data suggests they are the close to Red Bull on both fronts – qualifying and race – and after the final day of running, there is a feeling inside the team that even if they're not the best of all, if they can get everything together, the team should be in the fight with Red Bull.
WATCH: Jolyon Palmer's pre-season testing takeaways from Bahrain
It's unclear whether rivals Mercedes can say the same. The Silver Arrows had an up and down test, which culminated in Lewis Hamilton saying they "are not quite where we want to be" and have "a mountain to climb".
However, the positives are that the team appear to have eradicated the bouncing which hampered their ability to make progress last year, with Hamilton feeling they have a "good platform to start from".
Have Aston Martin broken the top-three stranglehold?
Aston Martin appear to have made the biggest step of all in terms of pecking order. They finished seventh overall last year, but seem to have jumped up to fourth – heading the midfield and possibly even in contention to fight Mercedes for P3.
Those inside Aston Martin, including their two-time world champion driver Fernando Alonso, have been at pains to play their form down at testing.
TECH INSIGHT: The AMR23 is inspired and innovative – but is Aston Martin's pace real?
But ask their rivals and they are almost unanimous in the belief Aston Martin have made a big step, and are heading the midfield at the very least.
Our data shows they are less than half a second off the pace in qualifying trip and 0.86s adrift in race simulations – which puts them fifth, though it is anticipated they are better than that, as their tyre management looked very good.
READ MORE: Haas driver Magnussen reveals the midfield team he fears most at the end of pre-season testing
It wasn't ideal that Lance Stroll missed testing – and remains a doubt for race one after suffering a wrist injury, with reigning F2 champ Felipe Drugovich on standby. And it will take time for Alonso to settle into his new environment. However, you can already see the Alonso effect in full force, and they seem to have a good base car on which they can develop through the year.
Are McLaren in trouble for the second year running?
It was like deja vu for McLaren as they suffered a disjointed pre-season test for the second successive year. In 2022, it was the brake ducts that caused woe, this time it was repairs "to an ongoing minor issue" that held them back.
READ MORE: F1 team bosses reveal pecking order predictions as McLaren admit they've missed 'projected targets'
It came off the back of news that the team missed some of its development targets and therefore the launch specification of car isn't as refined as hoped.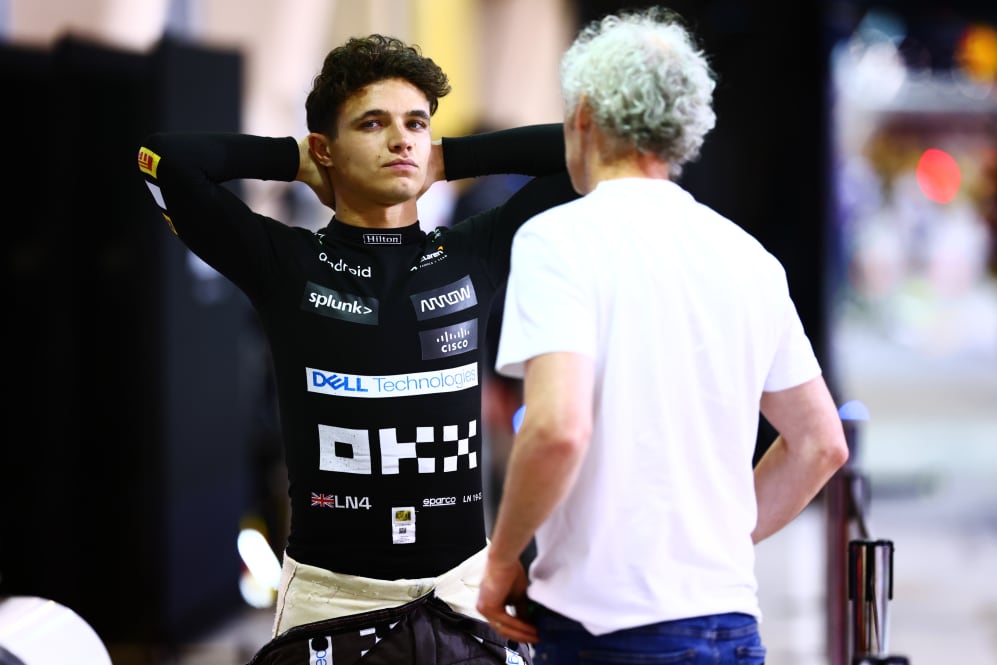 Lando Norris remained upbeat, saying it was "a big improvement from our test last year" as they got "so many laps under our belt". Yes, they finished bottom of the mileage charts with 312 laps, but that was only 41 shy of Alpine and 75 adrift of Aston Martin – so nothing alarming.
A major update is planned for early in the season (currently the target launch is round four in Baku) – but it might be a tricky first few races for the British team.
WATCH: Sam Collins sums up a frantic three days of testing in two minutes
Who are the dark horses?
There are plenty of candidates for dark horse this season, setting up the prospect of an even tighter and more competitive midfield that could well collectively start to shut the gap on the traditional big three – Red Bull, Ferrari and Mercedes.
Perhaps the most intriguing of all are Alpine, languishing in ninth in both qualifying and race simulations on our data charts, and having finished ninth out of 10 in the mileage charts.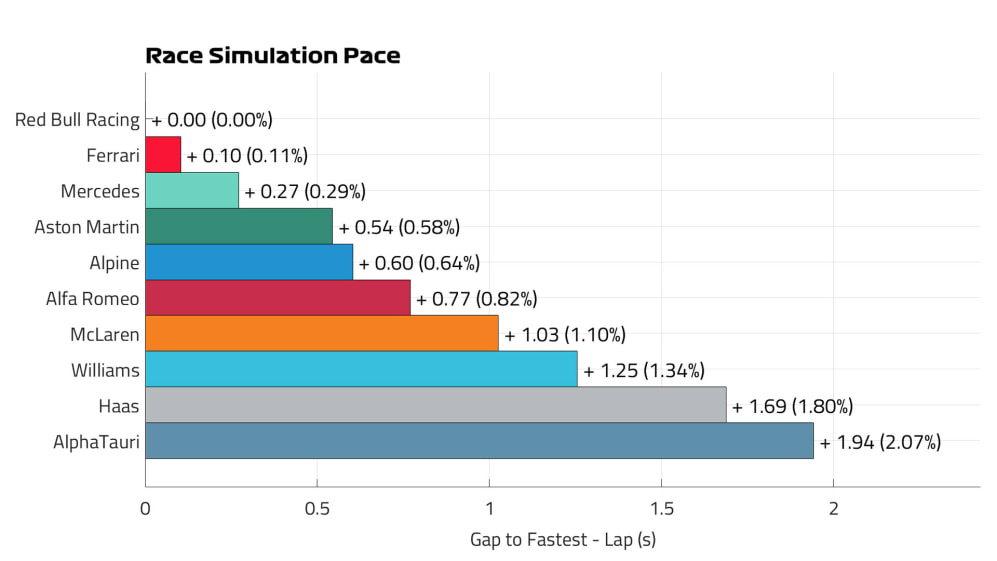 However, there is huge internal optimism within the French manufacturer. Team Principal Otmar Szafnauer has a quiet confidence about their chances, Technical Director Matt Harman is buoyant and the drivers Pierre Gasly and Esteban Ocon are excited about their prospects.
Alpine didn't run the soft compounds during testing – and focused on an array of different tests and directions, which makes direct comparisons with others difficult. They are also very excited about a major upgrade for the first race this weekend.
TESTING: Who was the fastest and who netted the most laps at Bahrain's 2023 pre-season test?
Alfa Romeo drew praise for the way the car looked on track, with Valtteri Bottas and Zhou Guanyu pleased with the consistent balance of the C43 that allowed them to really hustle the car. They were able to quickly find a good set-up – and their pace on one lap was particularly striking.
And Haas are also worth a shoutout, with the team describing this winter and pre-season as their best ever. Simone Resta's technical team have delivered a very tidy package, which responded well straight out of the box, while Nico Hulkenberg settled in very quickly for an added bonus.