'The car was all over the place' – McLaren drivers downbeat despite impressive Friday pace in Portugal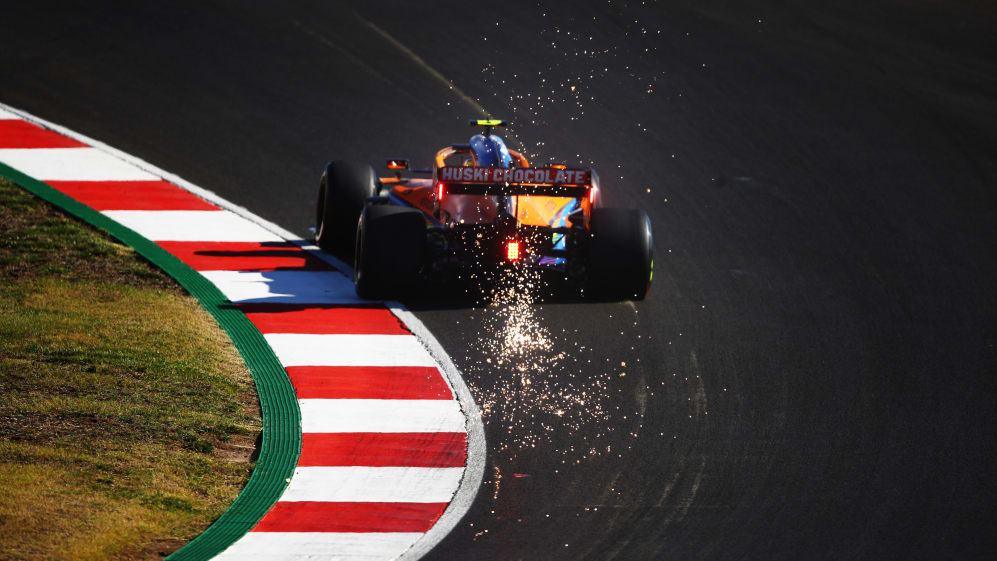 McLaren ended Free Practice 2 for the Portuguese Grand Prix with Lando Norris in P3 and Carlos Sainz in P5 – on paper their best team FP2 performance of 2020 so far. But neither Norris nor Sainz seemed overly-enthused after what was a heavily disrupted first day of running at the new-to-F1 Portimao circuit.
Free Practice 1 for the Portuguese Grand Prix witnessed many drivers spinning on the low-grip Portimao track, while there was more of the same in FP2, along with two red flag stoppages – one when Pierre Gasly's AlphaTauri caught fire, and another when Max Verstappen and Lance Stroll collided at Turn 1.
READ MORE: Stewards take no further action over 'unnecessary' Verstappen-Stroll FP2 crash
All that, added to a raft of lap deletions for track limits, and a run-plan already disrupted by a mandatory Pirelli tyre test for the first 30 minutes of FP2, left Norris far from buoyed when he faced the media after going an impressive third-fastest in FP2.
"It was very tricky," said Norris. "I think for some reason, the track grip in general is just very bad, very poor… The car was all over the place.
"It made my life tricky, made our life in the team tricky to get a good balance and find confidence in the car and a good direction to go in."
"It was scrappy the whole way through the whole day," agreed Sainz. "People doing a lot of mistakes… a lot of traffic, very low track grip compared to what we expected on this new surface, so a challenging day for everyone. But we turned out to be pretty high up on the standings with a difficult day, so we cannot be too disappointed."
FP2: Bottas quickest again as Verstappen and Stroll collide in Portimao
Asked how realistic he felt McLaren's strong finishing position from FP2 had been, Sainz – who finished three places up on Mercedes' eighth-placed Lewis Hamilton – replied: "Not very realistic, because you've seen that many people haven't put a lot of laps together, everyone is struggling out there with the grip and the run-plan with the Pirelli test going on and everything.
"So I don't know – I think it's going to be an interesting day tomorrow. I feel like we know very little.
"[The wind was also] tricky. There were a couple of corners where we could barely turn in… then there's other corners where the car is amazing, so one thing compensates the other hopefully."
Norris, meanwhile, agreed with his team mate's pessimistic view, lamenting not being comfortable enough in the MCL35, which the team brought more upgrades for this weekend – while adding that he expected a challenging qualifying on Saturday.
READ MORE: Hamilton expecting 'dogfight' for clear air in qualifying at Portimao
"I'm not comfortable enough in the car going into the race to be confident that we can do really well," said Norris, "so we've got a bit of work to do tonight, and hopefully we can improve.
"At points today, we've looked competitive, and then at other points, we started to struggle a little bit… But it's just weird how the tyres are working this weekend. I can't get them to work properly for Lap 1, so then you need Lap 2 and Lap 3 until they get better. But then you get traffic and everyone's trying to do the same thing, so it will be interesting come tomorrow when everyone's trying to get a nice gap, and get the tyres in the right window."