The car was shouting 'Keep going!' – Polesitter Vettel reckons Ferrari can carry pace into race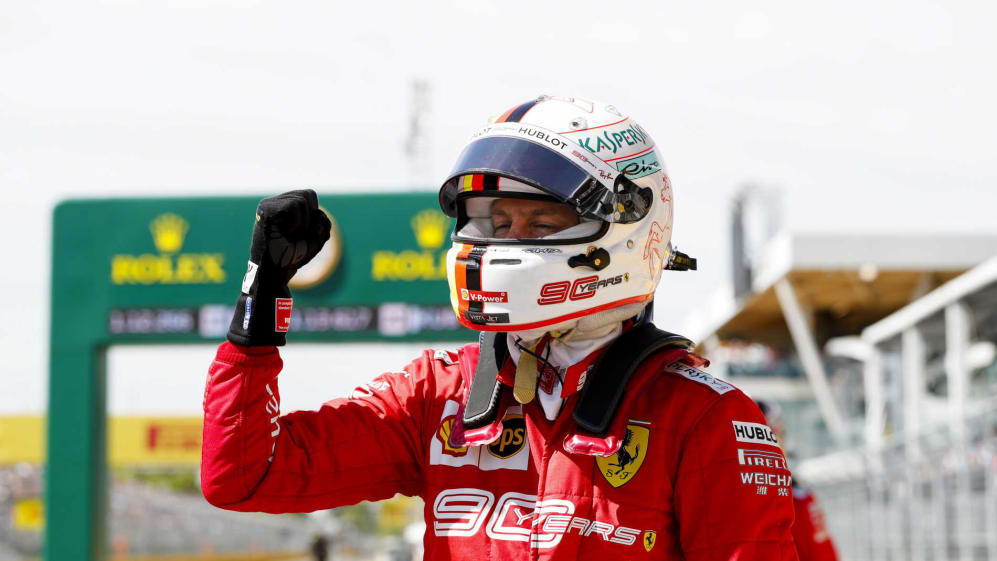 Seventeen races is a long time for a four-time world champion to go without a pole. But Sebastian Vettel finally ended that run with a blistering lap in Canadian Grand Prix qualifying. And while he expects Mercedes to hit back in the race, he reckons the Scuderia have a car capable of winning for the first time in 2019.
This has not been the season Ferrari will have hoped for after a strong pre-season, with rivals Mercedes winning all six races to date. But the Prancing Horse put their power unit advantage to good use on the power-sensitive Circuit Gilles Villeneuve to put them in a great shape to convert pole into victory.
Both Vettel and Charles Leclerc weren't too happy with the car after Friday practice, but they made gains overnight, with Vettel also making the most of the warmer conditions to top final practice and then nail a sensational lap in the closing stages of Q3 to take his 56th career pole, leading to shrieks on team radio from both Vettel and his team.
"I'm full of adrenaline," said Vettel moments after climbing out of the car, "You know the feeling in the car when it just keeps coming? You feel the grip and you go for it. It was one of those laps. It was really, really, really nice. I enjoyed it. I'm very happy for team, the last weeks have been quite tough for us.
"We knew the track would suit us but still we have to do the job. The car felt better and better through qualifying, it was not easy with the interruption with the red flag. I'm really happy, I really enjoyed it. The car was shouting 'keep going, keep going'.
"I wasn't sure if it was enough and then they screamed on radio – 'pole position'. It was amazing. But it's only half of the job, it's a long race. The car felt good and I think we can carry that into the race. These guys will be very quick over the distance, but we try."
READ MORE: Friday pace analysis, including long-run data
Ferrari's long run pace on Friday wasn't too good, with Mercedes appearing to have an impressive 0.8s/lap advantage. However, Vettel seemed optimistic about the rubber for Sunday, particularly as they successfully got through Q2 on the medium. That means they will start the race on that tyre and be able to avoid running the soft.
"The key [to pole] was we were able to improve the car and the track ramping up also helped us in that regard. I don't know how quick we were relative to the others in the sectors.
"I'm happy we managed to qualify in Q2 on medium, so we should be a bit better off tomorrow as the soft was quite poor yesterday with lots of graining," said Vettel. "Let's see how it goes tomorrow, it's a long race and a lot of laps."
Vettel's pole was his fifth in Canada and moves him one short of the record jointly held by Michael Schumacher and Lewis Hamilton. This may only be "half of the job done" but the omens are good for Vettel, too, with the polesitter having won the last four races in Canada.