Feature
Friday Pace Analysis – Canada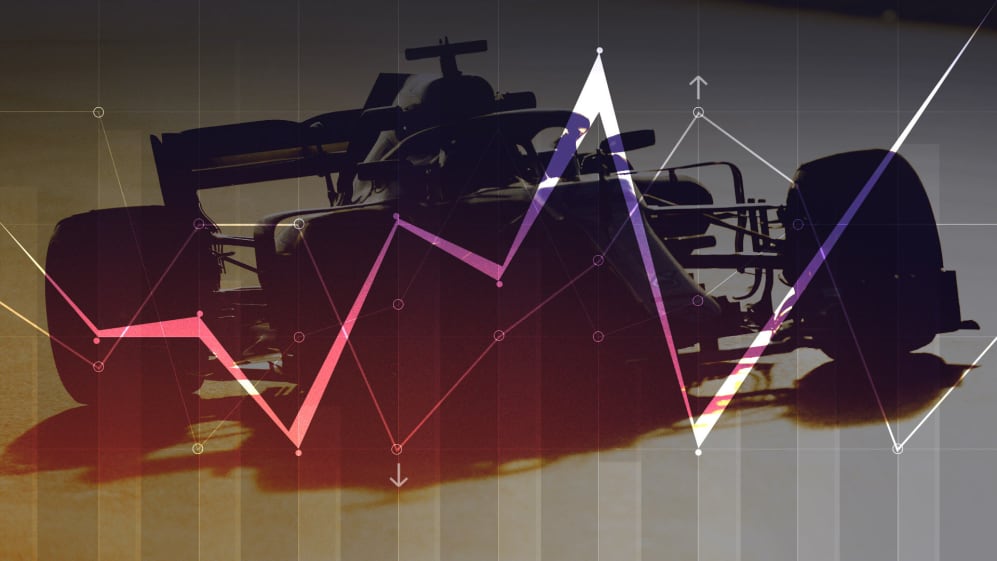 Ferrari's efforts with the power unit have been impressive this season, the Prancing Horse delivering an engine that gives them the edge over their rivals on the straights. With the Circuit Gilles-Villeneuve being a power sensitive circuit, that advantage pays dividends. But after three hours of running on Friday, and a crunch of the numbers, are they genuinely in with a shot of ending Mercedes' run of victories? Read on!
ONE LAP PACE
Only Lewis Hamilton and Sebastian Vettel, in the current crop of F1 drivers, have taken pole position in Canada, the duo sharing 10 between them with Hamilton edging that battle six-four. Based on what we saw on Friday, their respective cars will be the two likely to be contesting pole on Saturday – but it was their team mates, rather than themselves, who made the headlines in Montreal.
Charles Leclerc set the pace, his best lap coming on his second attempting a low-fuel, soft tyre run, edging out team mate Vettel as Ferrari secured a rare one-two finish. We shouldn't be too surprised, of course, given their power advantage, while Vettel hinted on Thursday that he expected the team to mimic their Bahrain pace – where they should have really clinched victory through Leclerc before a technical issue, as their car suited the smooth surface which is similar to that found in Montreal.
TRACKSIDE PERFORMANCE ANALYSIS: Tackling Montreal's tricky Turn 3/4 chicane
However, both drivers in red moved to play down their headline pace. Vettel said they are "not the quickest, especially over a single lap" while Leclerc said "it's difficult to say where we will stand in qualifying". Given their recent run of form, it's no surprise they aren't coming across as overconfident, but the signs are that they will be very much in the fight for pole position come Saturday afternoon.
Their ambitions for regaining that form will be boosted by the fact Mercedes had a less than perfect day. First Valtteri Bottas' running was cut short due to a problem with a fuel system part, which the team said was unrelated to the upgraded engine introduced this weekend. Then Hamilton did something he rarely does – he made a mistake. It wasn't a big hit at Turn 9, but it was enough to end his session in FP2 and rob him of the chance to do a low-fuel run and gather long-run data.
Best single lap
All times set on softs, in second practice
1 Ferrari (Charles Leclerc) 1:12.177s
2 Mercedes (Valterri Bottas) 1:12.311s +0.134s
3 McLaren (Carlos Sainz) 1:12.553s +0.376s
4 Haas (Kevin Magnussen) 1:12.935s +0.758s
5 Racing Point (Sergio Perez) 1:13.003s +0.826s
6 Renault (Daniel Ricciardo) 1:13.016s +0.839s
7 Red Bull (Pierre Gasly) 1:13.345s +1.168s
8 Toro Rosso (Alexander Albon) 1:13.436s +1.259s
9 Alfa Romeo (Kimi Raikkonen) 1:13.542s +1.365s
10 Williams (George Russell) 1:15.036s +2.859s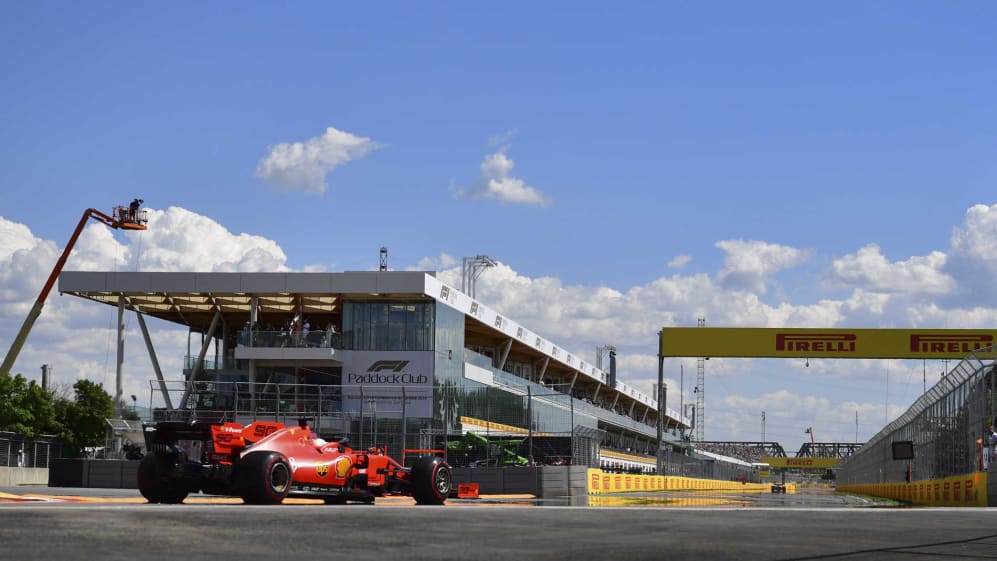 Nonetheless, Mercedes' pace, based on what Bottas delivered, remains very strong. They weren't the pace-setters on Friday, but our data from ahead of the weekend suggested that while Ferrari would close the gap to the Silver Arrows, Mercedes would remain the team to beat in both qualifying and the race. And that looks like it is shaping up to be the case. Much will depend on how quickly Hamilton can get down to business in FP3, where Mercedes could choose to let him run on high fuel early on to get a feel for the car, before giving him a run at a qualifying simulation.
READ MORE: Hamilton facing set-up 'guestimate' after losing track time to crash
McLaren made a surprise appearance in third in our rankings, with Carlos Sainz delivering a mighty lap that put him just 0.376s off the pace. It was an impressive showing from a driver who is on a roll at the moment, with three successive points finishes. It's unlikely they will be the third fastest on pure pace come qualifying, particularly as they were likely running less fuel than Mercedes, Ferrari and Red Bull, but they can take heart from the time – and it suggests they will be the ones to beat for best of the rest.
Haas, too, look strong. Haas Team Principal Guenther Steiner said in Friday's press conference that the team hadn't found any solutions to why they are struggling with the tyres ahead of arriving in Canada. It seems the team don't really know how their weekend will go until their car hits the track, but on the evidence on Friday's running, this could be a more encouraging event, with Kevin Magnussen putting the team fourth in the pecking order.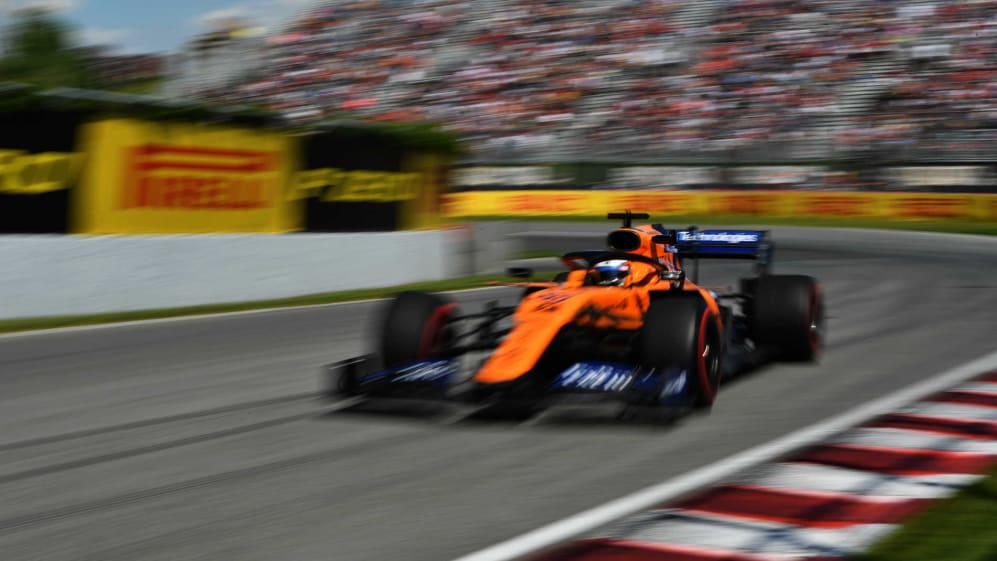 Haas will face a fight from Racing Point and Renault, though. Racing Point's Sergio Perez and Lance Stroll had reason to smile on Friday, with Stroll even going as far as saying his car had "come alive" in Montreal. Daniel Ricciardo and Nico Hulkenberg were also encouraged by the pace of their Renault. The feeling in the paddock is that Renault have upped their game in the engine power stakes, which will somewhat account for McLaren's stellar one-lap pace and Renault's own improved form.
Red Bull are out of place in seventh, but Max Verstappen hit the wall on his quick lap, which was on course to be in the top six based on his opening sector, while Pierre Gasly struggled to get comfortable with the car across both sessions, meaning his lap is very unrepresentative. Expect them to be fighting for the third row come qualifying.
Toro Rosso edged out Alfa Romeo for eighth, with Kimi Raikkonen admitting he simply didn't have a good feeling with the car. Williams brought up the rear but the fact they were inside three seconds is encouraging and suggests the iconic British team are making some progress.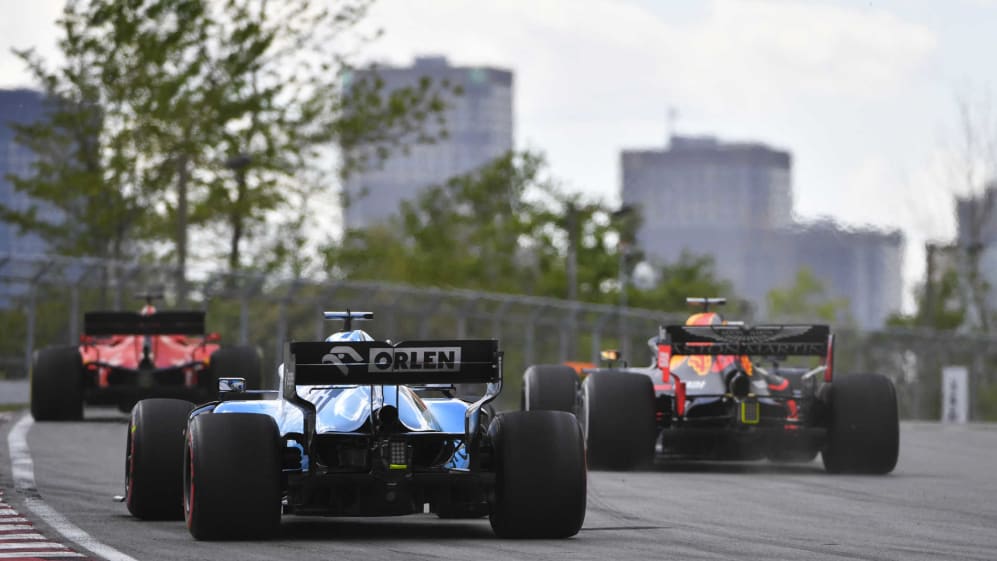 RACE PACE
While long run pace at the previous Grand Prix in Monaco is largely irrelevant, the overtaking opportunities in Montreal mean that will not be the case this weekend. A look at our data suggests Mercedes are comfortably the team to beat, with these figures based on Bottas' efforts.
His 19-lap run on the hard tyres was particularly impressive, the Finn setting his best time of that run on the 18th lap, with an average of around 1m16.6s. His soft tyre average was 1m17.3s, which is around a 1.2s better than Sebastian Vettel's equivalent on his soft tyre run but four-tenths better than Leclerc's effort. Gasly completed a run on the soft that matched Leclerc's efforts, backing up the trend that the RB15 is kind on its tyres and a better race car.
Mercedes 0
Ferrari +0.8s/lap
McLaren +1.0s/lap
Red Bull +1.1s/lap
Renault +1.4s/lap
Toro Rosso +1.6s/lap
Racing Point +1.9s/lap
Williams +2.0s/lap
Alfa Romeo +2.0s/lap
Haas +2.0s/lap
McLaren's long run pace was as encouraging as its short run speed, with our data putting them two-tenths shy of Ferrari and around a tenth ahead of Red Bull. Sainz did a 15-lap run on the soft tyre and was able to match Leclerc and Gasly's pace, however it is likely McLaren will have run will a lower fuel load on their long run compared to Ferrari and Red Bull. Nonetheless, their pace was impressive and puts them in the mix to score solid points on Sunday if they can get it right over the next couple of days.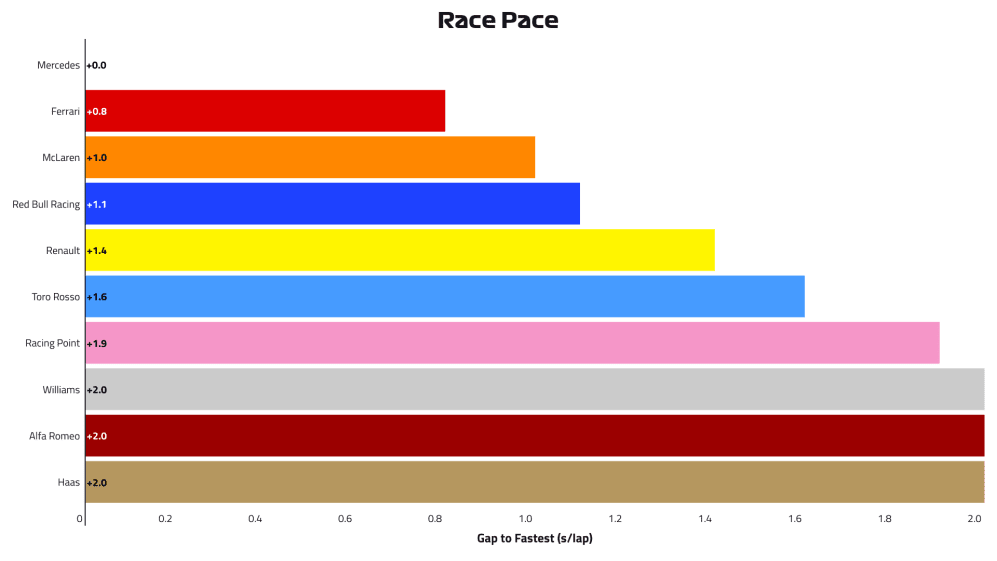 Renault should be in the fight for points, too, based on their long run pace, with Toro Rosso not too far off.
Racing Point, Williams, Alfa Romeo and Haas were all well-matched thereafter. Whether or not Haas will be able to stretch away will depend on whether they can stay on top of tyre management. For now, the jury is out on that one. Racing Point tried a variation of directions in practice, so if they can do their homework right on Friday night, expect them to make gains ahead of qualifying and the race.
VERDICT
This won't be the first time you read this, and it almost certainly won't be the last. But Mercedes are looking like the team to beat in Canada. It's likely they will ultimately hold the edge in qualifying while their advantage looks set to swell in the race – even though Ferrari probably have around three-tenths on them on the straights (which is why the Scuderia are quickest in the final sector) – courtesy of their cornering strength.
However, the temperature is set to rise by around 4 degrees Celsius on Sunday. They have already been higher than usual and that means that managing thermal degradation of the tyres, especially at the rear, will be critical. All the drivers had problems with the rear tyres on long runs in Friday practice, with the car sliding around on the slippery surface. That could be exacerbated on Sunday if the forecasted temperatures hit.
And that means we are more than likely to get a two-stop, rather than the now traditional one-stop, race to add a little bit more spice to proceedings. Throw in the fact that this track punishes mistakes, as the likes of Hamilton, Verstappen and Giovinazzi found out on Friday, and it might not be plain-sailing for Mercedes as they search for their seventh successive victory this year. Reason, then, to be excited about the weekend ahead.