'The car wasn't quite underneath me today' says Hamilton as Mercedes search for gains at Spa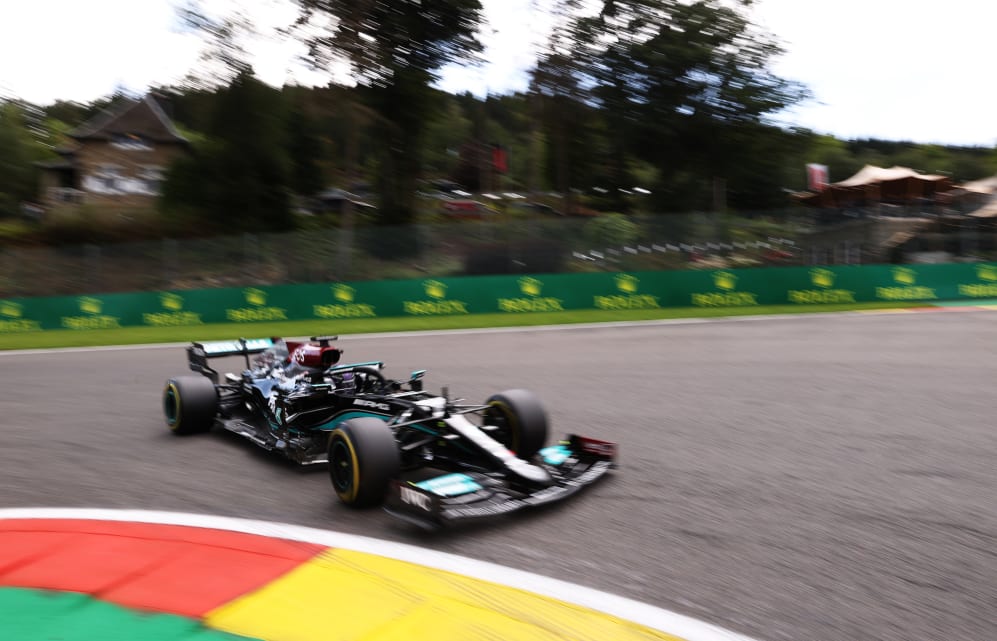 With Mercedes' Lewis Hamilton behind title rival Max Verstappen in both Friday practice sessions in Belgium, the championship leader gave a frank assessment of a day that saw him finish 18th in FP1 but third in FP2. Team mate Valtteri Bottas, however, topped FP1 and was far more optimistic of the Silver Arrows' chances.
Hamilton's late flying lap in FP1 was impeded by Williams' Nicholas Latifi and the reigning champion ended up 18th in the session – ahead of only the Haas drivers – while team mate Bottas finished top. Even though the Briton improved to third in FP2 (just 0.072s behind leader Verstappen), he said there was plenty of work to do for his team.
READ MORE: Verstappen tops second practice, before triggering red flag with late shunt at Spa
"It's been an OK day. A bit miserable here huh?" began Hamilton at a damp Spa-Francorchamps. "But it's been an OK day. The sessions are very short so… there's not a lot of knowledge you're gaining from the short time you have so we're trying to navigate the best way you can.
"At least it was dry for [F]P2 so we got some laps in. but the car wasn't quite underneath me today. We'll do some work tonight and try to figure that out," he added.
On the other hand, Bottas – first in FP1 and second by just 0.041s behind Verstappen in FP2 – was buoyed by his W12's pace.
MUST-SEE: Helmet camera delivers an incredible onboard lap of Spa through the eyes of Fernando Alonso
"It didn't look too bad today and the pace on short runs and long runs was pretty decent," he said. "Always tricky to compare in detail from practice but at least the feeling was good, that's a positive.
"Definitely we seem quite fast in the straight line – maybe less so in Sector 2 with the corners – but probably for me in the race it's important for me to be quick in Sector 1 and 3," he explained. "Everything feels good. It's going to be as we saw, close with Red Bull, no doubt. Just need to find marginal gains tonight."
Although Friday's running was mostly dry, the forecast is set to be wet on Saturday and Sunday, which will demand a vastly different set-up from all the teams. Hamilton, however, was wary of the weather.
GALLERY: Mick Schumacher marks anniversary of his father's F1 debut with a special Belgian GP helmet
"Is that what they're saying? Everyone keeps telling us different things so, yes well, I think naturally if it's guaranteed to rain then you would want more downforce but then if it doesn't rain and the weatherman's wrong, or weatherwoman's wrong, then you're stuck – a sitting duck on the straights.
"We have to be very, very careful, cautious, of the settings, changes we make in the next day; it's not our first rodeo," concluded the championship leader.