'The fans have been incredible today' says Hamilton after rained-off Belgian Grand Prix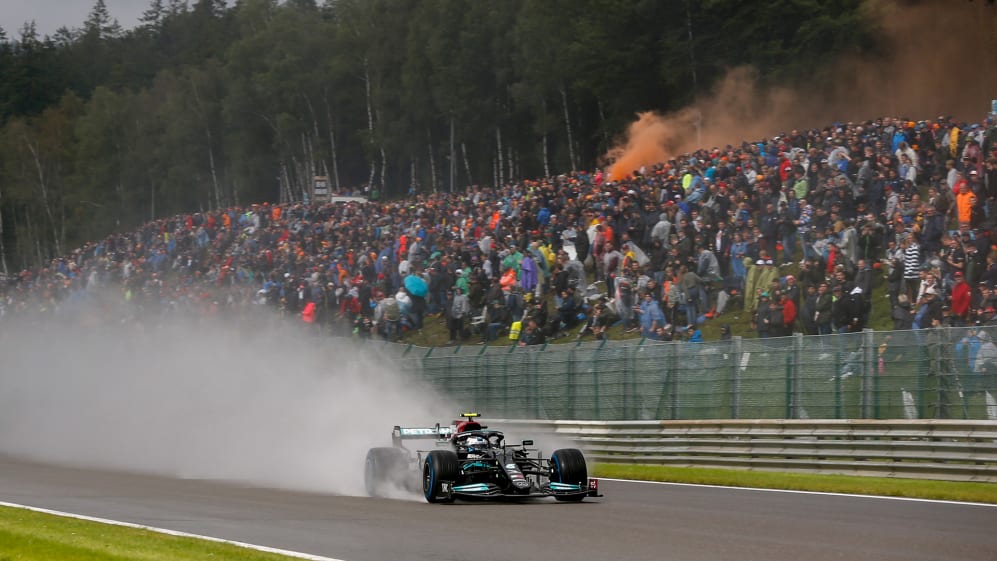 Lewis Hamilton was full of praise for the spirit and energy of the fans at the Belgian Grand Prix on Sunday who held out through the downpours to create an epic atmosphere through long rain delays at Spa.
Hamilton finished third for Mercedes having qualified there, as the race was red flagged after a long three hour-plus delay, and then just a handful of laps behind the Safety Car. But the fans stuck with the slim possibility of any action taking place amid torrential rain, lighting up orange flares, dancing, singing and cheering their way through an otherwise gloomy day.
READ MORE: Verstappen takes win and Russell first podium in shortest ever Grand Prix as heavy rain hits Spa
"Firstly, I'm really disappointed for the fans. It's no one's fault, you can't control the weather, but the fans have been incredible today, sticking with us the whole time, holding out for a potential race, keeping their energy up and creating the atmosphere," said the reigning champion.
He also conceded that it was far too dangerous to race on Sunday, and explained just how treacherous conditions were for the drivers at Spa.
"You couldn't see the car ahead, there was aquaplaning, it was so, so tricky out there. It's a shame because of course I wanted to race and I love this track as well. I think it would have been a great race if it hadn't rained so hard, but unfortunately it just didn't stop," he explained.
"You couldn't really see; like five meters in front of you the car disappears, so it's very difficult down the straights to even know where that flashing light was. You couldn't even go flat out because you didn't know what point or part of the track they would be on."
READ MORE: 'A podium is a podium' – Capito thrilled with Williams' first top 3 result since 2017, despite bizarre circumstances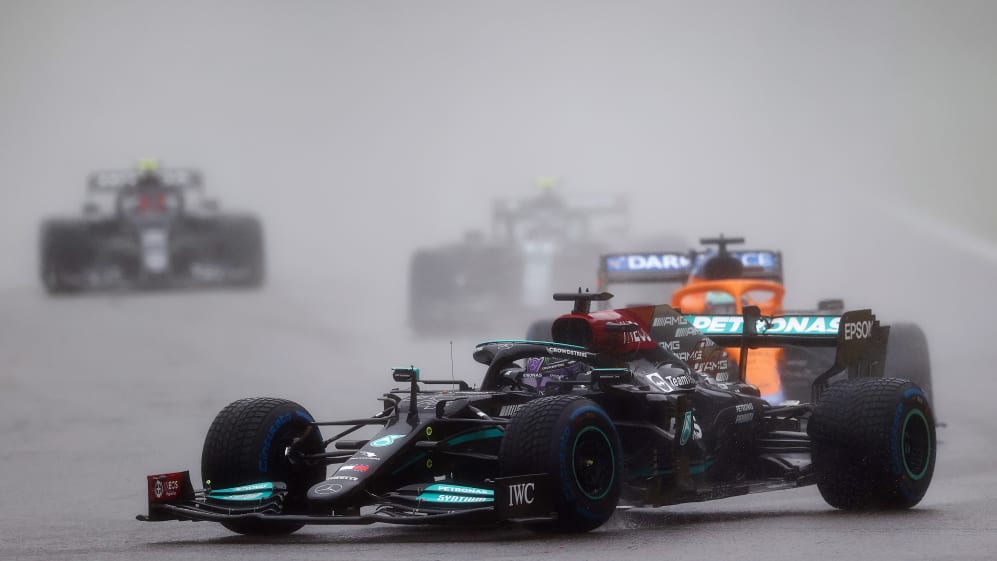 With the race delayed for hours and eventually finishing nearly four hours after its scheduled start time, there was ample time for the drivers to interact with fans, look at the weather radar or, in the case of Sebastian Vettel, play football… so how did Hamilton spend the delay?
"I was back in my room listening to the new Kanye album and watching the weather, and I was looking out of the window most of the time praying that the thing would clear up so we could get going. Obviously that time never came," he said.
WATCH: How race day unfolded at Spa as heavy rain cuts long-delayed Belgium GP short
With Zandvoort up next, Hamilton holds a slim, three-point lead over title rival and Belgium winner Max Verstappen in the drivers' championship.