Vettel reveals what was said in emotional parc ferme moment with 'greatest driver of our era' Hamilton
Ferrari's Sebastian Vettel was the very first driver to congratulate Lewis Hamilton on claiming his record-equalling seventh title at the Turkish Grand Prix, the German walking over from his third-placed Ferrari to offer his congratulations to the British driver on his achievement – and he later revealed what had been said in the special moment the two champions shared.
Hamilton and Vettel have now shared 10 of the last 11 drivers' championships between them. And speaking after the Turkish Grand Prix – which saw Hamilton put in a magnificent performance to claim the win, as Vettel secured his first podium in over a year – Vettel revealed the words he'd spoken to the now seven-time champion.
READ MORE: Seventh title 'beyond wildest dreams', admits Hamilton
"I told him that it's very special for us because we can witness history being made today," said Vettel, before being asked whether he now considered Hamilton the greatest driver of all time. "I think he is the greatest of our era for sure. I think it's always difficult to compare, how can you possibly compare [Juan Manuel] Fangio, Stirling Moss to our generation? You can't.
"Maybe we would be useless because we'd all be s***ing ourselves in those cars, maybe they would be useless in our cars because they're way too fast, who knows? But it doesn't matter. I think every era has its driver, or its drivers, and Lewis is certainly the biggest, greatest of our era.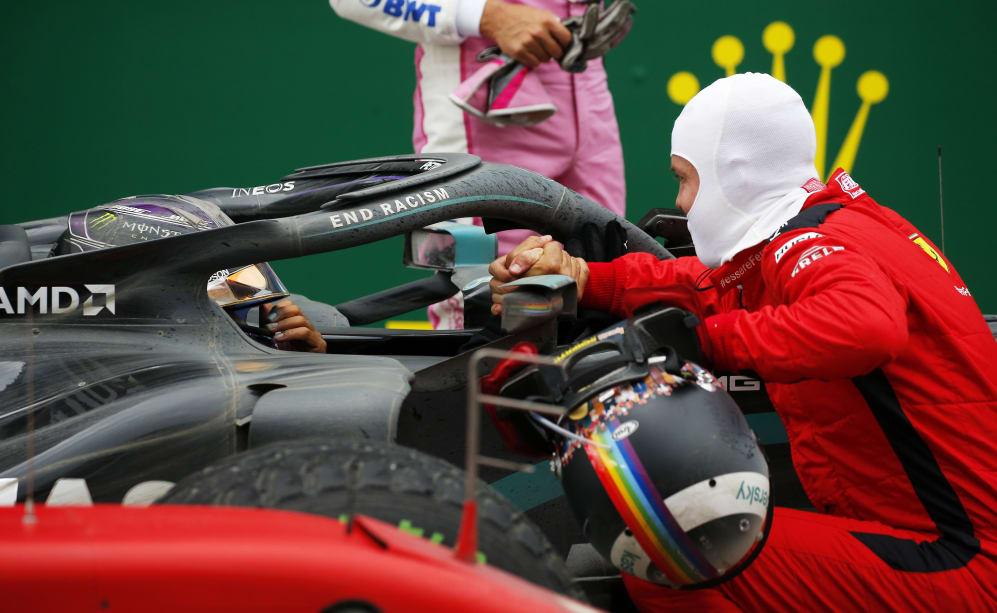 "To me, certainly emotionally, Michael [Schumacher] will always be the greatest driver," Vettel added. "But there's no doubt Lewis is the greatest in terms of what he has achieved. He's equalled the championships, he has more races won, he has a lot more pole positions so I think he's done everything you can ask for."
Driver Of The Day winner Vettel, who managed to get ahead of Hamilton on Lap 1 after a sensational start from P11, before eventually coming home third, went on to call the Turkish Grand Prix "the best proof" of Hamilton's special qualities as a driver – with the Mercedes man eventually winning by over half a minute from Sergio Perez in tricky conditions, having started sixth after a poor qualifying.
READ MORE: Hamilton seals historic 7th title with peerless wet-weather victory in Turkey
"I think today's the best proof," said Vettel of Hamilton's greatness. "It's a difficult race, a very difficult race to stay on track and two hours long, and probably if we're honest, it wasn't his race to win, and he still won it, so I think once again he managed to pull something special out of that bag, and therefore I think he deserves everything he has achieved."
WATCH: Anthony Hamilton's touching tribute to son Lewis, as he wins 7th world title
Meanwhile, Hamilton also opened up about his emotional in-lap after winning both the race and the title, telling the media: "Very rarely do I lose control of my emotions… and when I came across the line, I think it really hit me and I just burst into tears, I think, that whole in-lap, and then I really couldn't get out of the car, because I just couldn't believe it.
"I didn't want the visor to come up and for people to see tears flowing and all that stuff, because I kind of had always said I'd never let you see me cry, because I remember watching other drivers in the past crying and I was like, 'I'm not going to do that'. But it was too much."