'The only way was to do something different' – Hamilton explains how he turned poor start into another win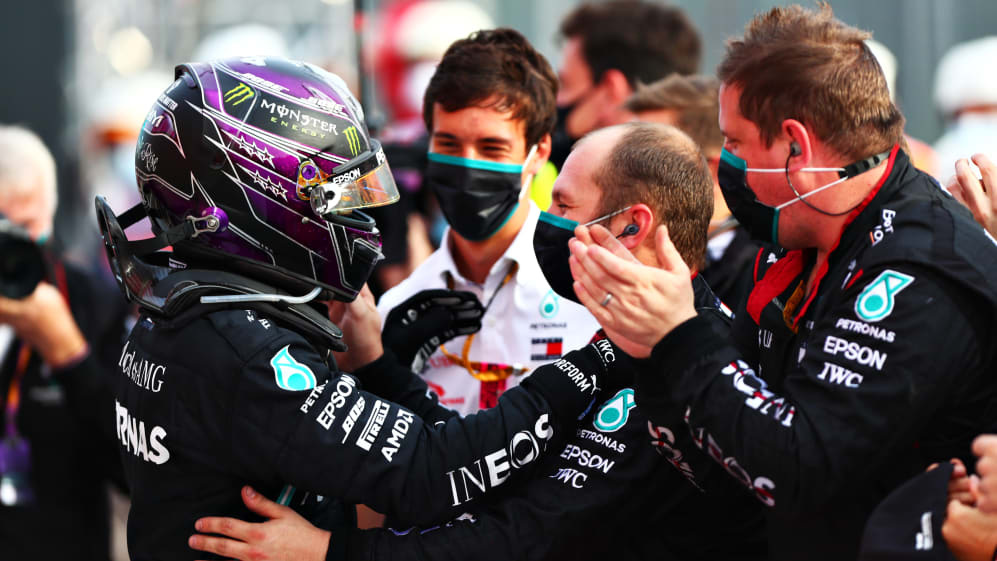 Lewis Hamilton says his latest and 93rd win, which secured Mercedes a 1-2 and record seventh-straight constructors title, boiled down to a considered strategic choice after he was left in third place after the opening lap of the Emilia Romagna Grand Prix.
Starting from second behind team mate Valtteri Bottas, Hamilton lost out to Max Verstappen and dropped down to P3 on the opening lap. But he stayed out on his medium tyres 11 laps longer than Bottas and 12 longer than Verstappen, producing successive fastest laps in that time to extend his lead. He finally pitted from P1 during the Lap 30 Virtual Safety Car – which was triggered by Esteban Ocon's retirement – and emerged back in a lead he would never lose.
READ MORE: Hamilton wins wild race in Imola as Mercedes clinch seventh-straight constructors' title
"Max stopped much earlier than I thought he would and then Valtteri stopped to cover him," explained Hamilton. "There was no way I was doing the same. Naturally, at the beginning of the race we get given a bunch of different options of strategy and I understood that the only way to do something was to do something different, to extend as long as I could.
"I didn't know how long the tyre would go but I think that's really where the race was won today."
It was that start of the race, where Hamilton lost out to his rivals and found himself defending from AlphaTauri's Pierre Gasly on the run to Turn 1, which dictated his tactics.
"Valtteri got a great start, I thought I would get a better start today but it didn't turn out the way I'd liked, and I fell to third so then my next strategy was to try and get by the Red Bull," he explained.
READ MORE: 'It would have been a great race' – Verstappen taking positives from Imola despite cruel retirement
"But it was just impossible to get close and in trying to get close I was killing the front tyres. So I backed off and just tried to keep distance…"
That strategy worked perfectly – especially with the help of the VSC – meaning Hamilton cruised to yet another victory. And with the six-time champions winning and Bottas coming home second, Mercedes now have 479 points this season – and a record seventh consecutive constructors' championship. After the race Hamilton was full of praise for his team as their amazing unbeaten run since 2014 continues.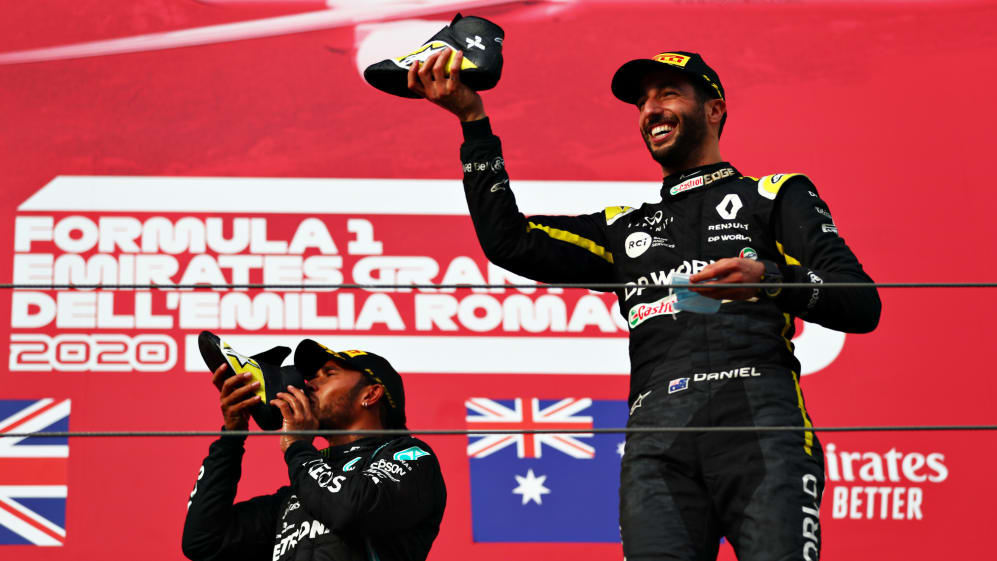 "It's unbelievable!" he said. "It's unbelievable and to come back year on year and I tell you, while we have great performance, it's not easy to continue to deliver weekend in and weekend out for everyone.
"They're so precise with how they take the car apart and put it back together weekend in and weekend out. Woohoo! Seven-time champs. That's something I'll be able to tell my grandchildren one day."
READ MORE: 'We gave the podium to Ricciardo' – Perez rues 'painful' Racing Point strategy call
The only sour note was the 'shoey' he performed on the podium with P3 finisher Dainel Ricciardo...
"[It tasted like] toe jam," said Hamilton. "I mean it definitely didn't taste great, I don't really like champagne as it is, but it definitely tasted worse!" he concluded. As one of the favourites for victory, Hamilton may well be tasting the champagne again at the next race in Turkey, where he could also seal his own seventh World Championship title.