'There was more to come from Albon' before pierced radiator ended his Eifel GP, says Horner
When Alex Albon was boxed into retirement at the end of Lap 23 of the Eifel Grand Prix, it initially looked as though he had suffered a power unit issue on his Red Bull RB16. But after the race, the team confirmed that Albon had actually encountered a radiator leak, with Red Bull team boss Christian Horner believing it had cost his driver a shot at the podium.
Albon may have only had 23 laps of the Nurburgring race, but he certainly crammed a lot in, tagging eventual podium winner Daniel Ricciardo's Renault on the first lap after locking up into Turn 3 – causing a flat-spot that required an early pit stop – while he then tangled with both of Red Bull sister team AlphaTauri's drivers Pierre Gasly and Daniil Kvyat, his clumsy contact with Kvyat requiring the Russian to pit for a new front wing. A five-second penalty was Albon's punishment, but that became immaterial when he was forced to retire on Lap 23.
READ MORE: Kvyat slams 'unprofessional' Albon after race-ruining collision in Germany
"Alex's day was far from simple," said Horner afterwards. "He had a big lock-up into Turn 3 on the opening lap, and our concern was that he'd gone pretty much through to the canvas, and we were seeing vibrations increasing and increasing to the point that it was past our threshold. So from a safety point of view, we had to pit him at that point.
"He then started to make good progress back through the field, but was very unlucky in that he picked up some debris that pierced a radiator on the cooling circuit, and we just saw our temperatures starting to go sky-high... We had no choice but to stop the car."
It was an unfortunate turn of events for Albon, who on Saturday had secured just his fourth top-five starting position of the season. And Horner believed that, despite having been compromised by that Lap 1 flat-spot, Albon would have eventually found himself in the battle with Sergio Perez and Ricciardo for the final podium spot had he not suffered his radiator issue – with Albon having climbed from last place up to eighth before he retired.
"It was a shame in the race," said Horner. "I think he would have been racing Perez and Ricciardo even with that flat-spot in the early stop, so it was a shame for him not to see that come to fruition today, because he's had a pretty sensible weekend.
READ MORE: Who were the Winners and Losers of the 2020 Eifel Grand Prix?
"He was almost on the second row of the grid yesterday, a few hundredths of a second off that, he was a lot closer to his team mate than he was in Russia, so I think it's a shame he didn't get a result out of today because I think there was more to come.
"So, unlucky for him but on the whole another step forward."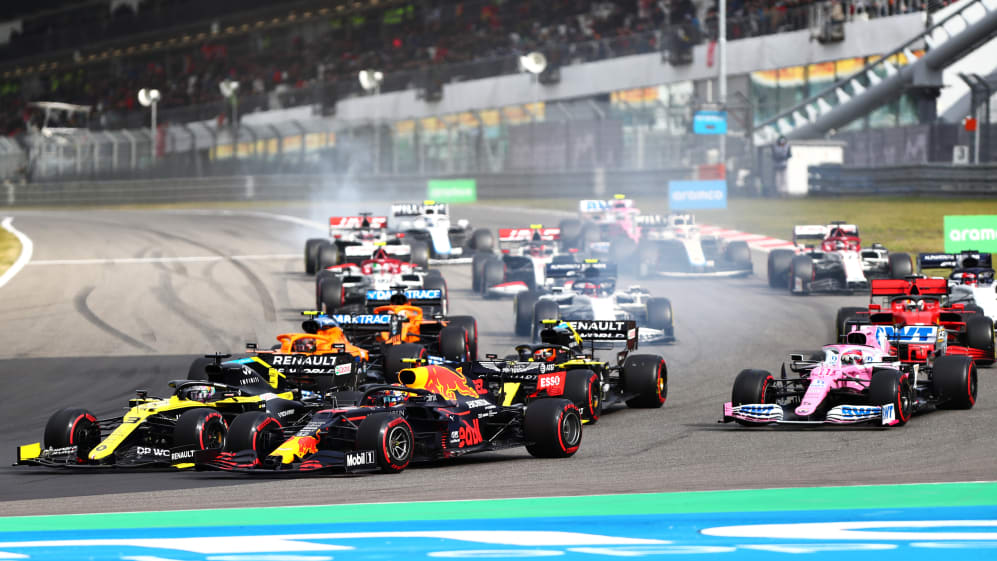 As Horner mentioned, there had been positives from the weekend for Albon, who had appeared to be happier in the Red Bull RB16 following its Nurburgring upgrade package that had made the car more predictable.
But despite that, Albon couldn't help but feel disappointed, on a day that had started with him well-placed to score his second career podium.
READ MORE: Why Red Bull's Nurburgring performance bodes well for the rest of the season
"The pace in the car is good," said Albon, "so it's annoying to have a result like this now. But to be honest, on my side, I wasn't really too happy with my race, just a few mistakes, and obviously the lock-up compromised us a lot.
"I don't really know what happened with Daniil and I need to watch it back. I think he may have run a little wide into the chicane when we did the restart and I guess it was a bit of misjudgement from my side. After that, the team saw the temperatures rising and I was asked to box and then retire the car.
"It's definitely not the way I wanted to end the weekend as the car felt good."