'There would have been a lot of opportunities' – Ricciardo frustrated by Germany failure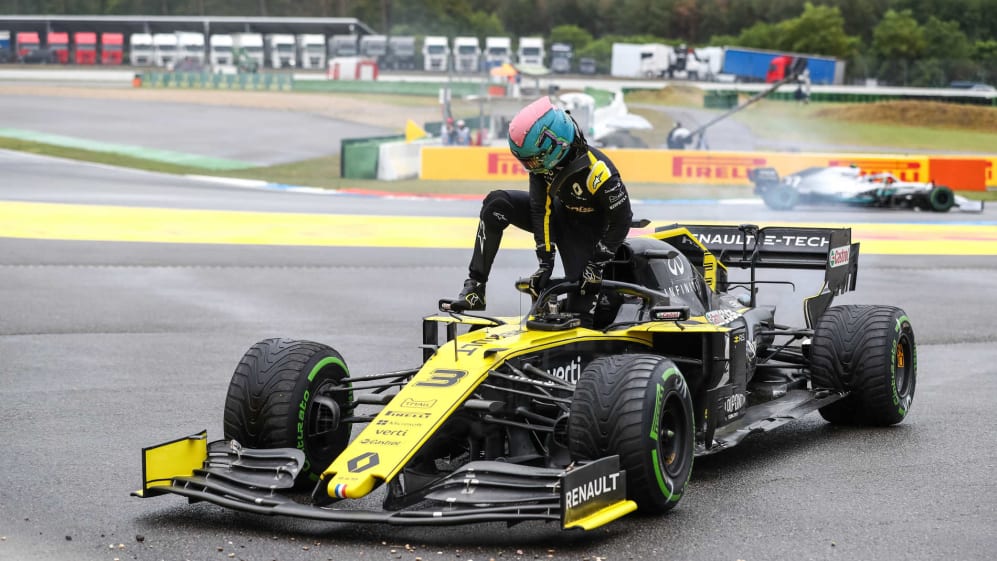 Exhaust failure ended Daniel Ricciardo's German Grand Prix early on, as he was forced to retire his Renault on Lap 13. And the Australian confessed to suffering a strong case of FOMO – fear of missing out – as he watched the rest of the frenetic race unfolding from the side lines.
Ricciardo was running in P12, one place up on where he'd qualified on Saturday, when the rear of his Renault R.S.19 started billowing out smoke, forcing him to pull the car to the side of the track, bringing out the race's first Virtual Safety Car.
READ MORE: The Winners and Losers of the German Grand Prix
"It was an exhaust failure," Ricciardo explained afterwards. "Everything else seems okay, nothing with the engine. I could see it a little bit in the cockpit and then I looked out of the mirror and I could see a lot of smoke from the exhaust."
Especially cruel for Ricciardo, he then had to spectate as Daniil Kvyat, his former Red Bull team mate and the driver directly behind him when his car let go, wound up P3 for Toro Rosso by the race end – while even Lance Stroll, languishing in 17th when Ricciardo's incident happened, was up to a fine P4 for Racing Point by the chequered flag. And the seven-time Grand Prix winner admitted that it had been hard to watch his midfield rivals soak up crucial championship points – and even, in Kvyat's case, a podium.
"It's a shame because I was watching the rest of the race and it looked, as a spectator, fun, and I would've loved to stay out there," he said. "There would've been a lot of opportunities… so I'm obviously frustrated with that."
Adding to Renault's woe, Ricciardo's team mate Nico Hulkenberg later crashed out of a strong fourth place, having run as high as second at one point, meaning the team endured their fifth non-scoring Grand Prix in 11 races.
Ricciardo will now regroup and prepare for the Hungarian Grand Prix in a few days' time, a race at which he secured his second F1 win back in 2014, and where he'll be keen to add to his tally in the drivers' standings, having now scored just six points in the past four Grands Prix.