Feature
The Winners and Losers of the German Grand Prix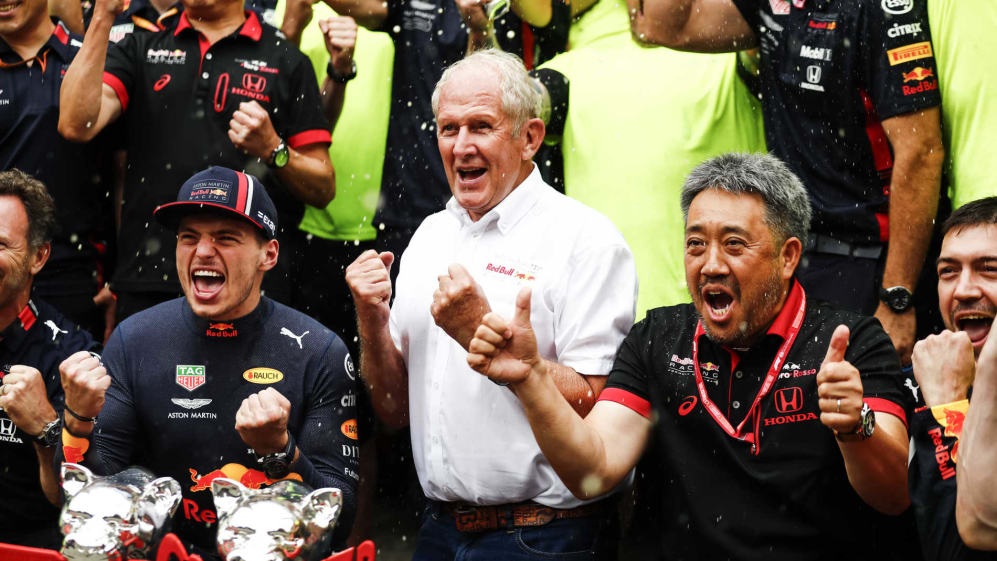 And breathe. That was one of the most thrilling races Formula 1 has seen in years as rain showers and a cracking track layout created the conditions for multiple lead changes, pit stops and spins. While some seized their opportunities, others were caught and left Hockenheim with their tail between their legs. We pick out the winners and losers of the German Grand Prix.
Winner: Max Verstappen
Is there anything this guy can't do? Already this season, Max Verstappen has shown his maturity by adding a ruthless consistency that he struggled to achieve early in his career. At Hockenheim, he highlighted his wet-weather prowess and ability to keep a calm head when things go awry, such as a bad start or spin.
His victory was his second in three races and extends his run of top-five finishes to 20 in a row. No one – not even championship leader Lewis Hamilton – has scored more points than him in the last four races. He now trails Valtteri Bottas by just 22 points in the fight for second in the drivers' standings.
And his total points tally of 162 is just three shy of trebling team mate Pierre Gasly's over the same period. The guy is a machine and very much deserved his seventh career victory.
READ MORE: Verstappen in a 'class of his own' in Hockenheim, says Red Bull boss Horner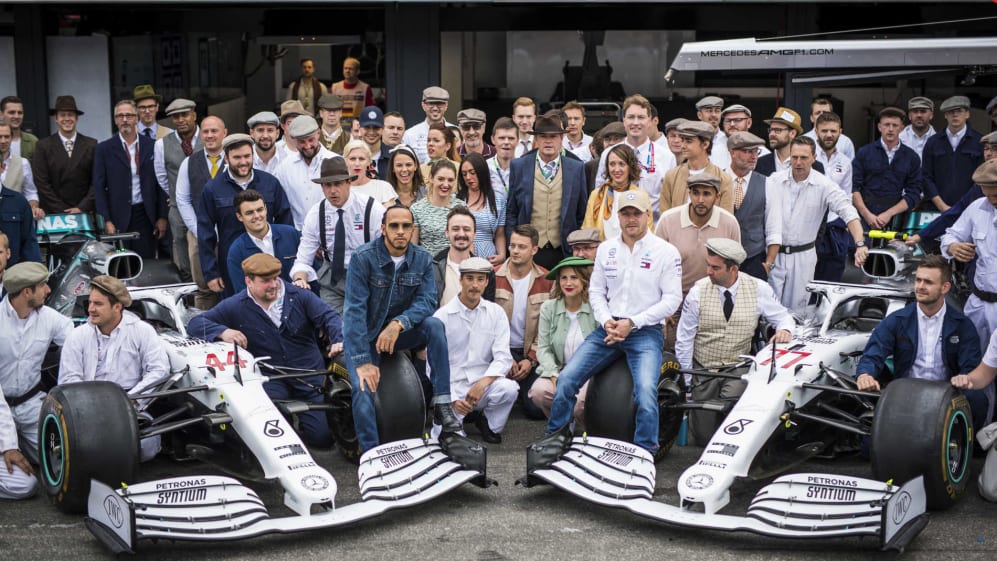 Losers: Mercedes
This was supposed to be a celebratory weekend for Mercedes, the German manufacturer marking 125 years of motorsport, complete with 1950s outfits, at their home Grand Prix at Hockenheim.
And in qualifying on Saturday, it looked like the stars were aligning as Lewis Hamilton took pole with Valtteri Bottas third, despite the duo having been overshadowed by Ferrari up until that point.
But come race day, the wet weather caught them out. Not only did they make the wrong strategy calls, but both Hamilton and Bottas made uncharacteristic mistakes, the latter crashing out of the race.
A small consolation is that Hamilton extended his lead by two points in the drivers' championship while Mercedes retain a healthy 148-point lead in the constructors'. But the Silver Arrows demand perfection and their exploits in Germany were nowhere near that.
READ MORE: Unwell Hamilton bemoans 'terrible, disastrous' German Grand Prix
Winner: Sebastian Vettel
On Thursday, we asked whether one year one, could Sebastian Vettel end 12 months of hurt? After qualifying, when he failed to set a time because of a turbo issue, the answer looked set to be no.
But then he delivered the kind of stirring comeback drive that we have rarely seen and there was a joy in his face that has been lacking so far this season. In the final 22 laps, he made up eight places to rescue a second place, having started the Grand Prix dead last.
He became the third driver in the last nine races at Hockenheim to finish on the podium from 20th on the grid. More importantly, for only the second time this season, he outscored and reduced the deficit to championship leader Hamilton in the drivers' standings. But will he use this bounce to kick on?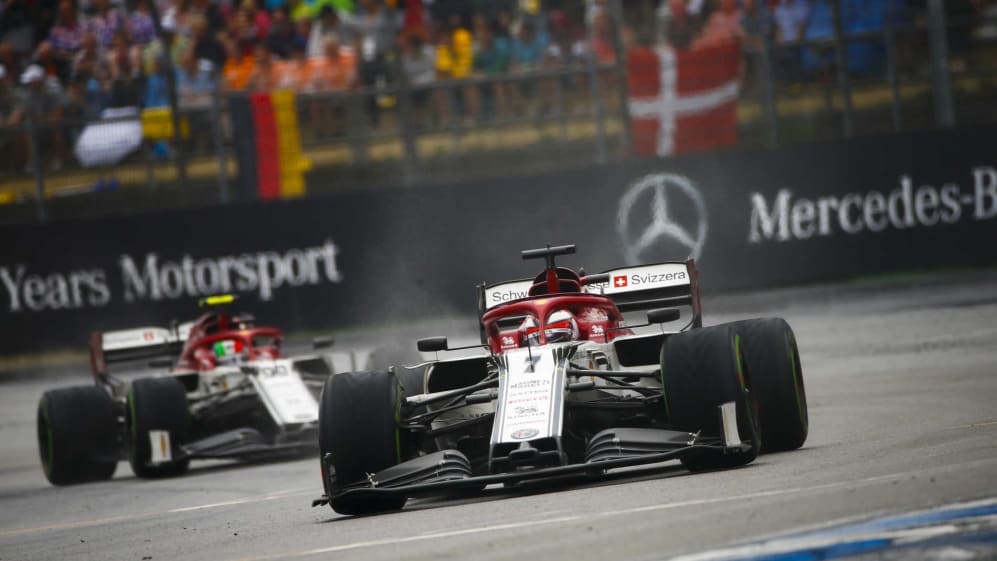 Losers: Alfa Romeo
For a few hours, Alfa Romeo were set to make our winners' column. But then the stewards placed them under investigation for suspected clutch infringements and then found them guilty, handing Kimi Raikkonen and Antonio Giovinazzi 30-second time penalties each that dropped them from seventh and eighth respectively to out of the top 10.
It was set to be Raikkonen's fourth consecutive race in the points, the Finn running as high as third at one stage, while eighth would have been Giovinazzi's best result in F1. But it was not to be.
That said, the team have decided to appeal against the decision. So there is still a chance they won't be losers after all. Watch this space.
READ MORE: Alfa Romeo penalised post-race, Williams score first 2019 point
Winners: Racing Point's strategists
On lap eight, things were looking bleak for Racing Point. Sergio Perez had binned his heavily upgraded RF19 in the barriers and Lance Stroll was down in a lowly 17th.
But the team's strategists rolled the dice and pitted Stroll from 15th – and second-last – for dry slick tyres on lap 44. It was a lap ahead of two of his immediate rivals, but two or three before the frontrunners opted to do so and meant that as they all dived in, he sauntered up the order to lead the race!
His time in the sun didn't last long, as Verstappen cruised by. And though he lost a podium – having long defended well from Valtteri Bottas – fourth place was still a huge result for team and himself personally. He now sits ahead of Perez in the standings, four places clear in 12th.
Loser: Charles Leclerc
How many times this season has it looked like Charles Leclerc was set to win a Grand Prix – or at least be in contention for victory – when things unravelled? Bahrain and Austria, certainly.
Well we can add Germany to that list now. Qualifying was frustrating, the Monegasque showing the pace to take pole, only for an engine issue to rob him of the chance to compete in Q3.
In the race, slick strategy calls in the first half of the race hauled him into contention, but having run wide at the penultimate corner several times, he was finally bitten as he slid into the barriers.
His run of four successive podiums comes to an end and he now trails Ferrari team mate Sebastian Vettel by 21 points, with young rival Verstappen 42 clear.
READ MORE: 'I put everything in the bin' – Leclerc says German GP error 'completely my fault'
Winners: Fans in the Turn 16 grandstand
The hottest ticket in town at Hockenheim was that for the grandstand on the outside of Turn 16, with those fans treated to some non-stop action throughout the race.
The tricky penultimate corner caught so many drivers out. Some escaped unscathed, such as Carlos Sainz, while others like Lewis Hamilton clipped the barriers but lived to fight another day.
But there were those who were not so lucky. Nico Hulkenberg was one of them, the Renault driver drifting onto the run-off, a piece of asphalt used for drag racing and which was even more slippery because of the rain, and into the barriers in front of his home fans when running fourth.
Leclerc found himself out there all too often and finally paid the price when he clattered into the barriers, leaving the fans in the T16 grandstand with a close-up view of his beached Ferrari.
Loser: Nico Hulkenberg
Hockenheim has traditionally been Nico Hulkenberg's kind of track, the German making it six three Q3 appearances in six attempts on Saturday.
And for much of the race a big score and even maybe a first podium in 169 Grands Prix looked to be on the cards. But then he got it all wrong at the penultimate corner and ended up in the barriers.
That was his second retirement of the year, and means he has scored points just four times in 11 attempts this season to leave him 11th in the drivers' standings.
Winner: Robert Kubica
Eight years, eight months and 14 days. That's how long it had been since Robert Kubica last scored points. The Pole returned to F1 this year, having recovered from serious injuries in a rallying accident, but it hasn't gone well with his Williams well off the pace.
But Kubica has refused to get downbeat and kept his mind on the job in hand – and he and his team were rewarded a few hours after the chequered flag had fallen at Hockenheim when post-race penalties for the two Alfa Romeos bumped the Pole up into 10th, giving Williams their first point of the year.
It may have been fortunate, but few will begrudge Kubica and Williams that stroke of luck after the year they have had, and it means they avoid the ignominy of the first pointless season in their history.
Losers: People who weren't watching
Europe has been suffering in the grips of a heatwave, but Formula 1 has offered some light relief with a trio of thrilling Grands Prix which makes the lacklustre French race feel like an age ago.
This was F1 at its enthralling best, with unpredictable conditions setting the stage for one of the most exciting races in living memory. It had everything from lead changes – three different drivers led – to less familiar faces fighting for podium places – 10 different drivers occupied those places.
Then there were spins, crashes and so many pit stops, the strategists will have needed a post-race lie down. If you missed this race, right that wrong by watching it back. You will not be disappointed.
Winners: Toro Rosso
Get your strategy right and you could score big in Germany – and Toro Rosso did just that. First, together with some brilliant speed from Alex Albon, driving a Formula 1 car in the wet for the first time in the wet, the Thai driver was in with a shot of the podium in fourth.
As he was running in a strong points position, the Italians then chose to roll the dice with Daniil Kvyat, pitting him for slicks at just the right time. That threw him into contention and a pass of Stroll hauled him onto the podium at the chequered flag.
That gave Toro Rosso their second-ever podium, more than 10 years after their first, while he became the first podium finisher from outside the big three teams since Sergio Perez took third in Baku 2018 – a gap of 27 races.
This was also a remarkable result for Kvyat, who was demoted to Toro Rosso after a stint at Red Bull and then let go altogether at the end of 2017 before getting a recall to the junior team for the current campaign. This podium justifies his call-back.
And Albon took a career-best sixth. And that collective points haul vaulted Toro Rosso into fifth place in the constructors' championship, three clear of Renault.