Third in constructors' possible for Renault this year, says Ricciardo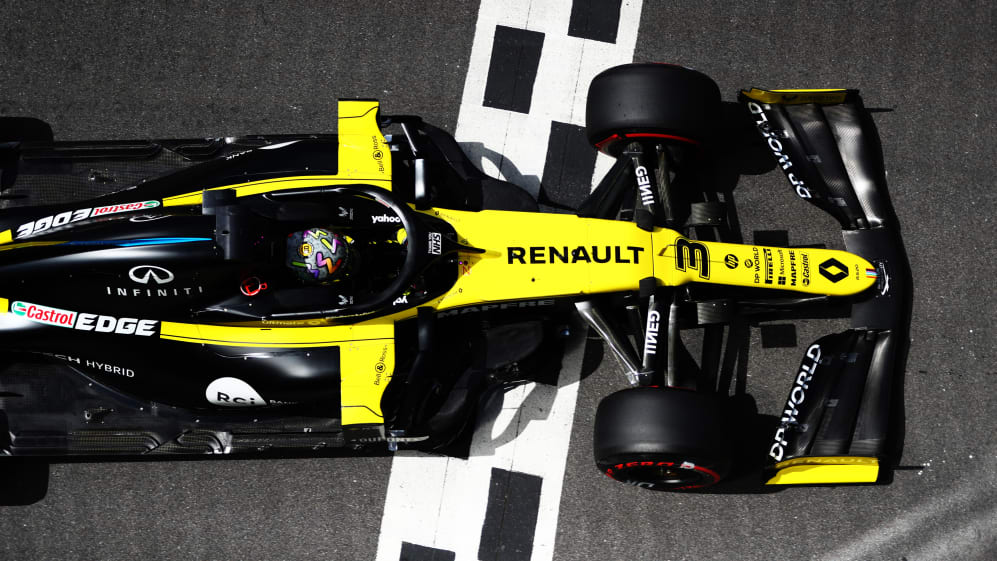 Ferrari's struggles for performance in 2020 have opened up a tantalising opportunity for a team to claim third spot in the constructors' standings. And despite Racing Point and McLaren having looked the two teams most likely to pounce if Ferrari falter, Renault's Daniel Ricciardo reckons his squad are in with a shout too after their strong performance at last weekend's British Grand Prix.
Renault finished the British Grand Prix with the third highest points tally of any team last weekend, taking 20 to Mercedes' 25 and Red Bull's 23 thanks to Ricciardo's fourth place and team mate Esteban Ocon's P6. And that result led to Ricciardo eyeing up third in the constructors' as he spoke to the media ahead of this weekend's 70th Anniversary Grand Prix at Silverstone.
READ MORE: Norris surprised by 'much better pace' of Renaults at Silverstone
"It's great for us in the battle," said Ricciardo of the fight between Ferrari, McLaren, Racing Point and Renault this year. "You're not just fighting over one position better or one position worse in constructors' – I think third is still there. We need more weekends like we just had to get that, and I think capitalising on a weekend like we just had is important. We need to take every opportunity if we want to fight for third for sure.
"But I feel any team for now can be that third best team. Even Red Bull are a bit more second but sometimes they look like they're somewhere in that battle as well, so it's really close.
"Unfortunately the only position everyone wants is really held by one team, but really behind the Mercs, it seems like if it's someone's weekend, and they're on, anything's possible."
READ MORE: Ricciardo hails 'top 6' pace of R.S.20 at Silverstone as he finishes just 1.1s off the podium
Ricciardo finished the British Grand Prix just 1.1s behind the third-placed Ferrari of Charles Leclerc. And having qualified four places behind the Monegasque on Saturday, Ricciardo felt that an improvement in one-lap pace from Renault could reap big results in the Grands Prix.
"We had really good speed on Sunday, and I think most Sundays this year, we feel like we've had a stronger race package than in qualifying," he said. "We don't really know 100% where it comes from as far as the difference from Saturday to Sunday. Certainly looking at the race pace, we want to start getting our Saturdays further up there, because if we qualify top five, top six, we can really race up the front all weekend, every weekend.
READ MORE: Racing Point say Perez will race in 70th Anniversary GP – pending negative Covid test
"But we brought some updates, they helped, they contribute. But otherwise, we do have a good car. I think it's just now trying to find more on the Saturday but Sunday, I think both [Esteban and I] were really pleased with the balance."
Renault, meanwhile, will bring another update this weekend to try and help them stay in the fight with their upper midfield rivals – although the drivers were coy about the details in their Thursday press conference, Ricciardo simply referring to the upgrade as some "go faster bits" that looked "good enough to try" from the team's simulations.