Feature
Thursday Pace Analysis – Monaco
In each of the last two years, Mercedes have left Monaco scratching their heads after struggling to get their all-conquering Silver Arrow to tame the streets of the Principality. But after three hours of practice on Friday, it seems the W10 may be the machine that can end that winless run. Let's look at the numbers…
ONE LAP PACE
Red Bull were the team to beat last year at Monaco, with Max Verstappen the quicker of the two. The win should have been his, but then he binned it in final practice, failed to make qualifying and spent the race attempting to pass on a circuit where doing so isn't very easy. Daniel Ricciardo made no mistake, though, surviving an engine issue to clinch victory from Ferrari's Sebastian Vettel. Mercedes didn't feature.
Fast forward 12 months and Mercedes arrive in Monaco in very different shape. They are unbeaten in 2019, securing five successive one-twos. The W10 looks indomitable. There was a question mark that they may struggle in Monaco, as they have done in the last two years, but their speed in the final sector in Barcelona that is laced with low-speed corners hinted that they had made gains in this area.
Then our analysis of GPS data suggested ahead of the weekend that Mercedes would be the team to beat, with Red Bull and Ferrari closely-matched not too far behind, which raised the chances of the reigning five-time world champions continuing their 100% start to the season in the Principality.
And early signs from practice confirmed it. Mercedes had a three quarters of a second advantage over the field, with Lewis Hamilton and Valtteri Bottas evenly matched, as they have so often been in 2019. Ferrari were the next best challenger, a tenth ahead of Red Bull, though that's based on Pierre Gasly's leading lap. Max Verstappen's RB15 had a water leak, which limited his running. It's likely he has enough in the tank to haul himself on par with the Ferraris or potentially even ahead when he gets a clear run.
Best single lap
All times set on softs, in second practice
1 Mercedes (Lewis Hamilton) 1:11.118s
2 Ferrari (Sebastian Vettel) 1:11.881s +0.763s
3 Red Bull (Pierre Gasly) 1:11.938s +0.820s
4 Toro Rosso (Alexander Albon) 1:12.031s +0.913s
5 Haas (Kevin Magnussen) 1:12.174s +1.056s
6 Alfa Romeo Racing (Antonio Giovinazzi) 1:12.239s +1.121s
7 McLaren (Lando Norris) 1:12.393s +1.275s
8 Racing Point (Sergio Perez) 1:12.752s +1.634s
9 Renault (Nico Hulkenberg) 1:12.872s +1.754s
10 Williams (George Russell) 1:15.052s +3.934s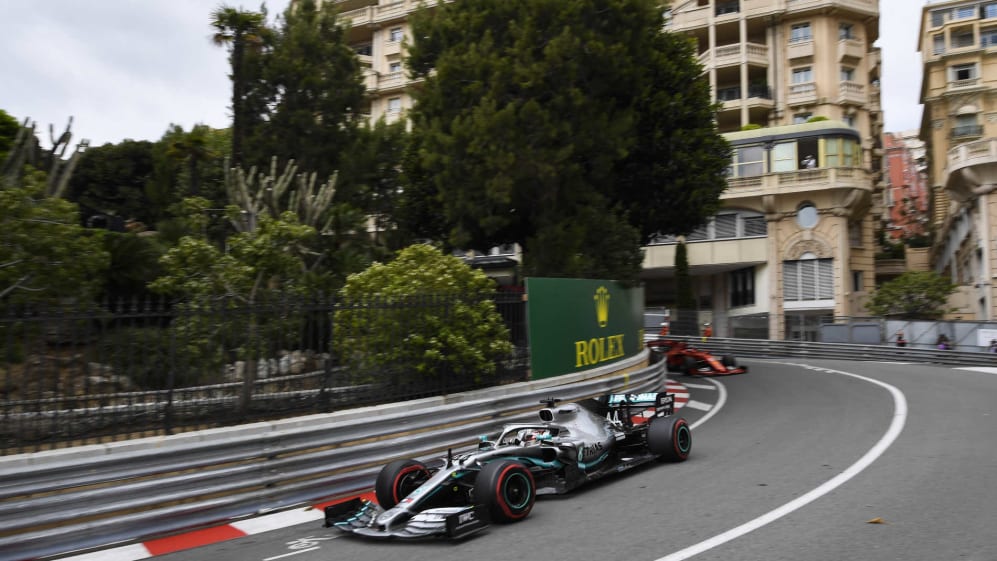 Hamilton hasn't always been happy on Friday this year, the Briton chasing balance or set-up heading into Saturday, but on Thursday in Monaco, he described himself "quite happy with the set-up". Bottas, meanwhile, said that while "the car felt sometimes difficult to drive" in years gone by, this year, "it was very driveable, responsive and enjoyable". That suggests they are in a pretty good place right now.
There is some hope for their rivals, though. Mercedes' Trackside Engineering Director Andrew Shovlin says their main concern is getting the soft tyre to work on the first lap. "Our headline times were good, but it took us a lot of laps to get there and qualifying is so important at this track". Time is not something drivers get a lot of round here, so congested can it get around the shortest circuit on the calendar.
When you look at the ideal lap pace, there's more to come from both Mercedes drivers. If you add together Hamilton's best three sectors, it would be 0.027s quicker than he managed while Bottas had a tenth in his pocket if he got it all right. There were similar gains to be made from their rivals, though, with Gasly 0.113s shy of his best, Vettel 0.077s slower, Verstappen 0.064s off and Charles Leclerc 0.169s adrift of his best.
Ferrari blamed their lack of pace on their inability to get the tyres into the window. Unfortunately, they looked better in first session than the second, but we've seen so often that Ferrari start slow and make gains on Friday, so both Leclerc, racing on home soil, and Vettel – winner in 2017 – will hope that is the case once more. Whether or not they can do enough to catch Mercedes, though, remains to be seen.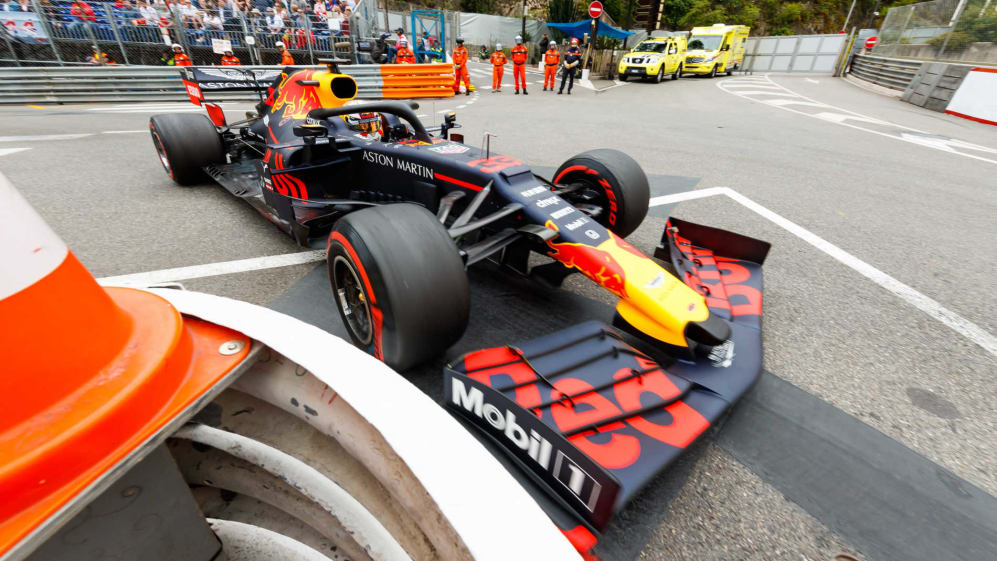 Red Bull will have picked Monaco as their first genuine chance of victory ahead of the season, and while they did look pretty strong out there on Thursday, they lacked the kind of performance that marked them out as contenders for pole position and the race win. It's wasn't the smoothest of days, with Max Verstappen's issue meaning that collectively, they only had a run of around 10 laps from Gasly as the basis to judge their long run pace. Not ideal but not the end of the world given one-lap pace and a good grid slot is so important around the streets of Monte Carlo.
Toro Rosso were the surprise team in the best of the rest slot, with Alexander Albon showing some supreme speed on what is his first time in Monaco in a Formula 1 car. His team mate Daniil Kvyat struggled to get the same balance and as a result was quite a way off the pace in comparison. Haas, Alfa Romeo and McLaren were all evenly matched behind, suggesting we could have a tight fight to get into Q3.
Racing Point weren't in great shape, Lance Stroll admitting he was "just slow" while Sergio Perez was unhappy with how the car felt – so this could be a long weekend for them. Renault were uncharacteristically off the pace, even by their recent standards, but Nico Hulkenberg lamented traffic and failing to get a clean lap. He was actually pretty happy with how the car felt and reckons they can fight for best of the rest with some hard work on Friday and some clear air on Saturday.
Williams were cut adrift at the back, but it was notable that George Russell and Robert Kubica were split by just a tenth of a second. Both drivers bemoaned a lack of grip, while Russell intimated the gap should have been bigger had he not made a couple of errors – including a lock up – on his quick lap.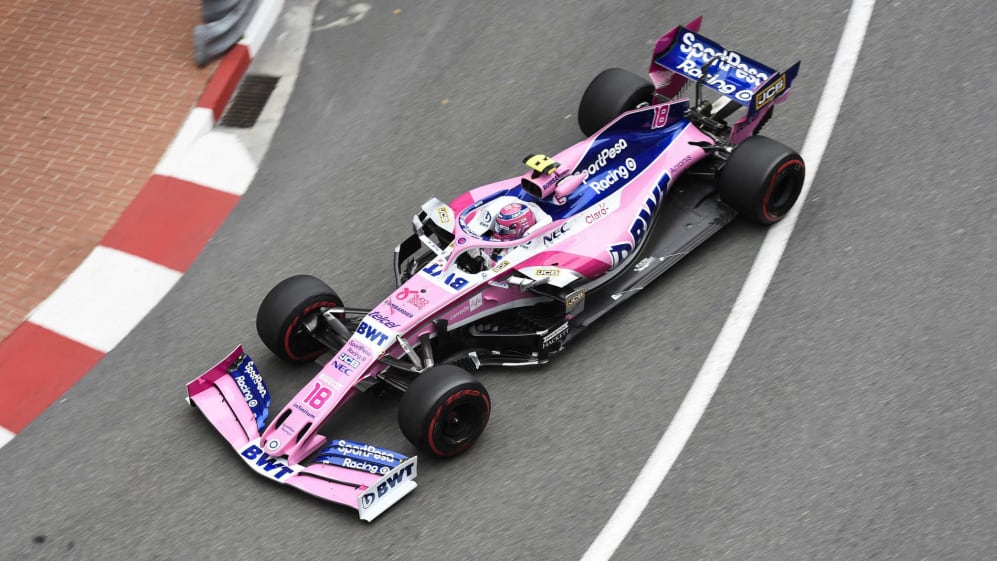 RACE PACE
Mercedes 0.0
Ferrari +0.8s
Red Bull Racing +0.9s
McLaren +1.4s
Toro Rosso +1.5s
Racing Point +1.7s
Renault +1.7s
Alfa Romeo +1.8s
Haas +2.0s
Williams +3.2s
Of all places, Monaco is probably the location where long run pace is the least relevant, so hard is it to overtake in Monte Carlo. And as you can see from the car performance graph below, it will be particularly hard to pass a Mercedes given they have an advantage in all types of corner, particularly the low-speed corners of which there are many in Monaco.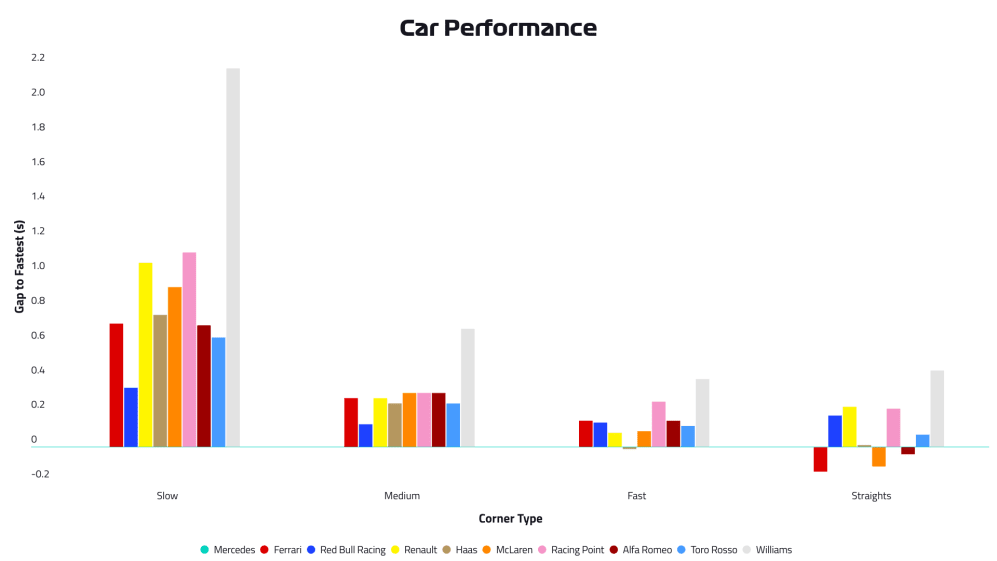 When it comes to race pace, Mercedes are on top according to our data, with Ferrari and Red Bull evenly matched nearly a second per lap behind. Red Bull didn't really do much long run data gathering, so be wary of reading too much into the data, too.
The other caveat is that several drivers encountered traffic when they were clocking up the laps, which meant several laps may be unrepresentative. Shovlin said that on Mercedes' long runs "we were suffering with an incredible amount of traffic and the drivers struggled to put two clear laps together".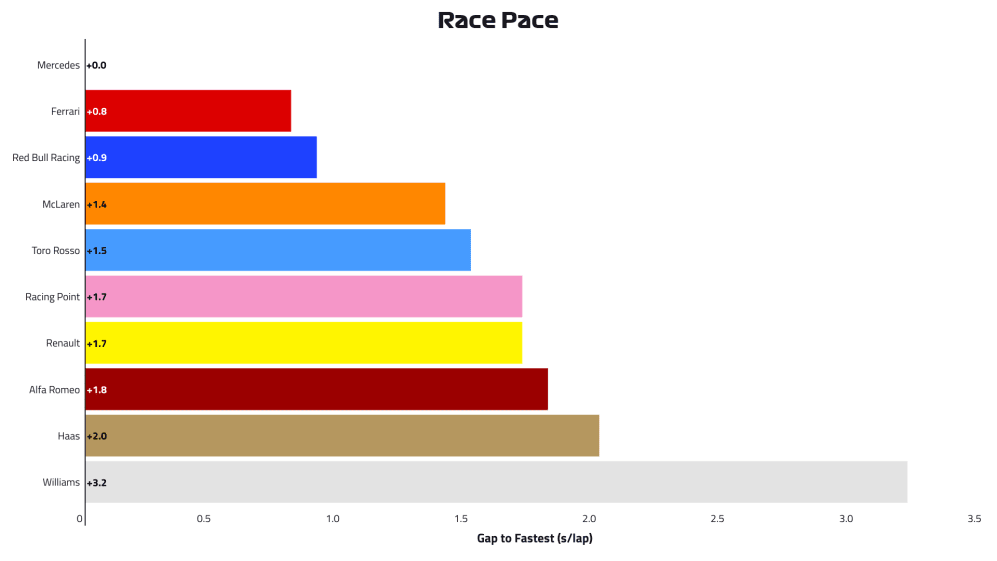 Further back, McLaren emerged as the best of the rest in this metric, on what was a difficult day for the team currently fourth in the Constructors' championship. Carlos Sainz essentially missed the whole of FP1 with a powertrain-related issue while Lando Norris' time on track in that session was restricted when he locked up heavily to ruin that set of tyres and thus limit his running.
But they both made steady progress in the second session, with Norris pretty happy with how he ended the day and Sainz reasonably pleased considering what happened in the opening session. Toro Rosso aren't too far behind in terms of long run pace, with Racing Point, Renault and Alfa Romeo all reasonably well-matched behind them.
The Haas race pace doesn't look great, but both drivers reported to being happy with the low-fuel running, which means if they can qualify well, the long run pace shouldn't matter too much and points could be on the cards at a circuit where they had anticipated struggling. Williams are off the back and face the prospect of being lapped at least once on Sunday.
VERDICT
Right now, Mercedes are looking good to maintain their 100% record in 2019. But this is Monaco and anything can happen. Verstappen proved that last year when he threw the chance of victory away with his crash in final practice.
Sebastian Vettel suggested his Ferrari team would be more competitive if the conditions got warmer and while Saturday looks likely to be the same sort of temperature as Thursday, race day could be around 4C warmer.
Traffic in qualifying is often a problem, too, especially in the opening segment of qualifying when everyone is out on track. One mistake could be punished heavily, even if you don't end up the barriers, because finding a second clear lap won't be easy.
Strategy should be a straight forward one-stop, so there is the slight chance of the swapping in positions there if a team does a good job or a driver can either do strong out laps or in laps or run for longer in clear air at a quicker pace. And there's always the chance of a Safety Car, too, as Monaco punishes mistakes.
So while it may look on paper like Mercedes have got it all wrapped up, it's certainly not all over yet in reality.