'To beat a Mercedes is a very good job by us' says Norris, after taking P6 on the grid at Silverstone
McLaren's Lando Norris was "very happy" after he made it an all-British third row for the British Grand Prix after securing sixth, one place behind Lewis Hamilton…
The Briton has outperformed his team mate Daniel Ricciardo all weekend and ended up eight places higher on the grid after judging the varying levels of rain intensity impressively.
Sixth meant Norris maintained his record reaching Q3 every time he has raced at Silverstone, and he even outdid one Mercedes, with compatriot George Russell back in eighth.
READ MORE: Hamilton 'gutted' not to secure top-three start for British Grand Prix as Russell aims for podium from P8
"I'm very happy with today," he said. "It's so easy to miss a lap in conditions like this, especially on the inter when conditions are getting better and better and then suddenly getting worse or vice versa, they are getting worse and suddenly getting better. You need to know when you can really push and when you can really go for your laps.
"I think that is what we did today. In Q2, you had to do that right at the beginning, in the first two laps. If you didn't, it got too wet. In Q3, it was all about doing it in the last two laps.
"I understood that inside the car, knew when I needed to push and when I didn't need to push. But to be ahead of a Mercedes as well, and almost two I would say, is a very good job by us – considering they have a much quicker car by a good six or seven-tenths – I'm very happy to be ahead of at least one of them."
Looking ahead to the race, where it is expected to be dry, Norris accepted it might be too challenging to keep Russell behind given the pace difference, but was hopeful of a solid score.
READ MORE: Sainz pips Verstappen to take maiden pole in wet British Grand Prix qualifying
"No chance [of staying ahead of Russell], but I have a chance with the rest of them, so hopefully just staying behind them [Mercedes] is the target," he said.
Ricciardo cut a disconsolate figure after he made a mistake on the one lap when he needed to deliver in Q2, meaning he failed to make Q3 for the third time in four races.
"It was one of those ones where you need to get it in the first two laps," said Ricciardo. "I don't think in the first lap as it was quite a bit wetter – I think the second lap was the one.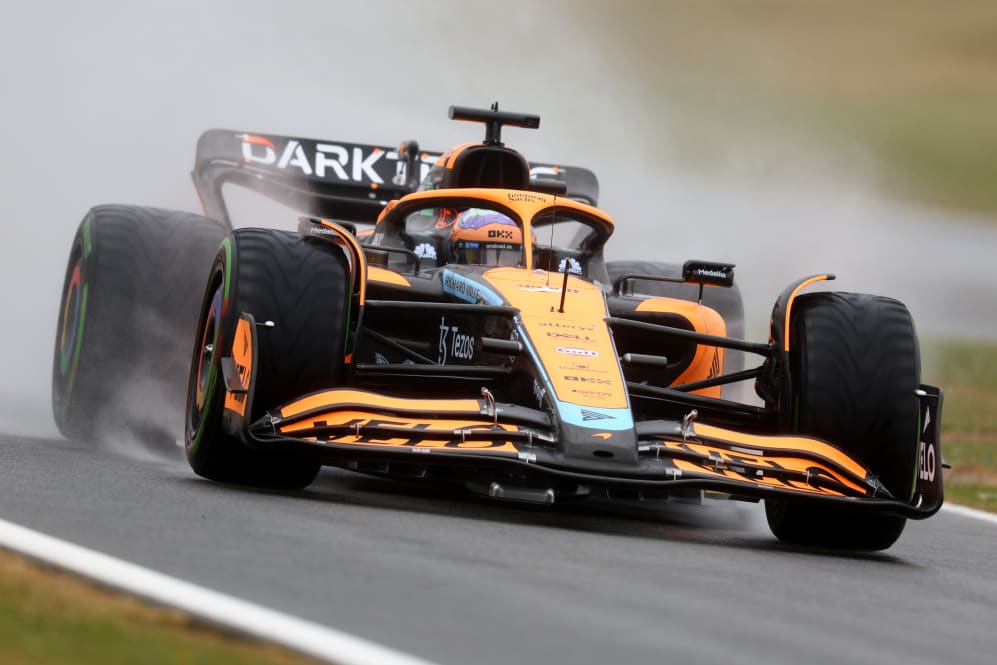 "It's hard to see if it was spray or rain, but the track got a lot wetter, so it definitely rained in the second sector – so that dry line disappeared. And the lap that was meant to be the one, I remember going wide and off, lost the lap so that was the one it needed to be. Obviously frustrated."
Ricciardo is hopeful Sunday will be different – but he stopped short of making any predictions. "It'll be better, to what scale I don't know, but it'll be better," he said.