Feature
10 moments of Ayrton Senna brilliance – from his first win to that magical Monaco pole lap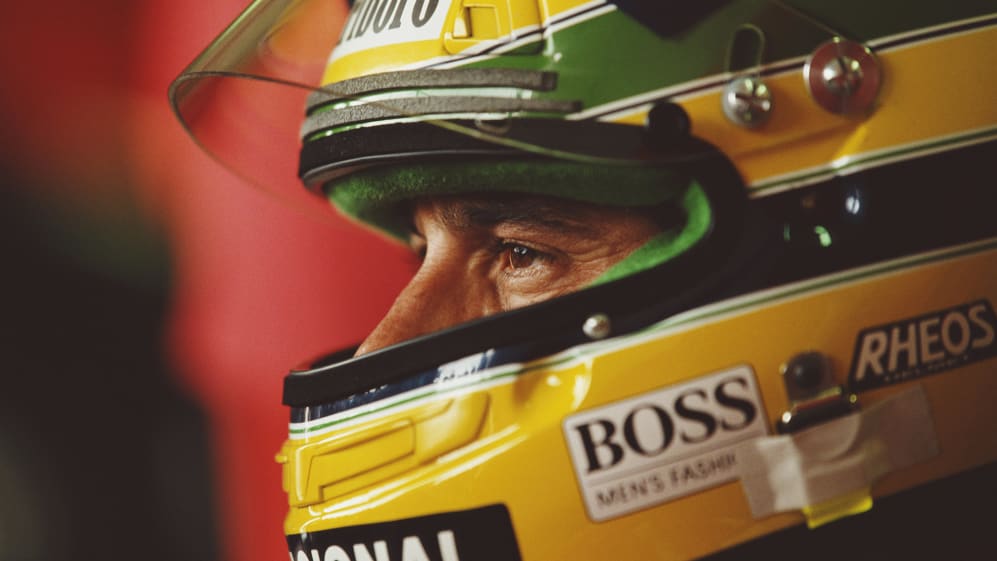 The effects of the loss of Ayrton Senna at Imola on May 1, 1994 still ripple through Formula 1 today, from the auriverde colours that Lewis Hamilton proudly wears on his helmet when he races in Brazil, to the sport's constant striving for improved safety measures. Exactly 28 years on from the great man's death, we look back on 10 of the most outstanding moments from Ayrton Senna's career.
10. A defensive driving masterclass – British Grand Prix 1993
"We could never really have posed a threat to Williams," said Senna frankly at the end of his final season with McLaren in 1993. And the first few laps of that year's British Grand Prix both confirmed Senna's verdict and galvanised the Brazilian's greatness. Having aced his start from fourth on the Silverstone grid to get ahead of polesitter Alain Prost, Senna then put in a magnificent defence as he attempted to keep both the Frenchman and Michael Schumacher's Benetton behind him.
Several times the cameras appeared to show Senna getting passed by his rivals, only for the day-glo McLaren to re-appear as if from nowhere. There was an inevitability about Senna being passed by both – but the Brazilian's refusal to accept defeat was yet another clear sign – if any was needed – of the true warrior spirit that lurked beneath that famous yellow helmet.
9. Overcoming adversity – Spanish Grand Prix 1990
As Senna sat in his motorhome, having just seen Martin Donnelly lying prone on the Jerez tarmac, still strapped into his race seat after a huge accident in his Lotus 102, the Brazilian hardly felt in the mood to climb back in his McLaren for the final minutes of Friday qualifying. But after searching his soul, he walked to his MP4-5B, got back aboard and went faster than his previous best time by over a second.
The day after, he improved his time by over half a second more to claim the 50th pole of his career, but not before narrowly avoiding his own disaster, when he was forced to drive around the squabbling cars of Nelson Piquet and Olivier Grouillard, who'd decided to have a side-by-side, on-track argument without clocking the McLaren bearing down on them. "It was a very fast lap," recounted a dazed Senna afterwards. "But it wasn't my maximum… I had such a scary moment."
8. A triumph of brain over brawn – Spanish Grand Prix 1986
Matters of fuel consumption aren't the sexiest when talking about feats of racing heroics – but Senna's win over Nigel Mansell at the 1986 Spanish Grand Prix was a triumph of race management over flat-out driving. With Senna circulating metronomically throughout in his thirsty Lotus 98T, Mansell's Williams shot past the Brazilian and into the lead on Lap 40.
A slow puncture on the Goodyears that had already been heavily punished by Mansell, however, forced the British driver into the pits with less than 10 laps to go, setting the scene for a dramatic finish. As Senna crossed the line to take victory, his tyres shot and his Lotus-Renault running on fumes, Mansell was just 0.014s behind, having brilliantly fought to close back up. The effort expended by Senna to stay ahead was clear to see on the podium, as he struggled to lift the winner's trophy over his head.
7. Heroism outside of the cockpit – Belgian Grand Prix 1992
Senna hadn't just been a passive observer at that Donnelly incident in Spain – and two years later at Spa, he was able to put some of the medical techniques learned from watching his friend Professor Sid Watkins work that day into practice when he heroically rushed to the aid of Erik Comas.
The Frenchman had crashed his Ligier heavily at the fast Blanchimont corner and, having been knocked unconscious, was sitting in the car's remains in the middle of the track, his foot still pressing hard on the throttle. The next car along was Senna, who stopped, got out of his McLaren and ran back down the circuit.
Having cut off the Ligier's screaming engine – a factor which Comas believes saved his life – Senna then sat at the side of the cockpit supporting his colleague's head until the medical crews arrived. "When I got there," Professor Watkins remembered in his autobiography, Life at the Limit, "[Senna] gave me Comas's helmet and told me he had held Comas's neck to retain it in a good position, and also made sure Erik's airway had been OK. Senna was a good pupil."
6. The first title that nearly got away – Japanese Grand Prix 1988
On the precipice of his first ever world championship at the 1988 Japanese Grand Prix, Senna fluffed his lines. Knowing he could sew up the title over Prost in Suzuka, Senna's clutch control failed him and his Honda engine bogged down off the line. As the field filed past, Senna blessed the Japanese circuit's downhill start-finish straight as the car rolled, the engine caught, and he set off, now in a lowly 14th place.
That was eighth by the time he crossed the line at the end of Lap 1, while by Lap 27, Senna, somehow, was second. As Prost closed in on some less-than-helpful backmarkers on Lap 28, Senna took the initiative, resisting his team mate's squeeze to take the lead, and going on to secure both an unlikely win and close out his first world title.
5. That first lap – European Grand Prix 1993
The greatest lap in the history of Formula 1? Probably. Over one tour of the rollercoaster-like, 4km Donington circuit, Senna channelled all of the experience gathered since he'd first climbed aboard a go-kart aged four to rise from fifth at the first corner to first at the last on a track made treacherous by some typically British weather.
Senna's audacious sweep around the outside of Karl Wendingler's Sauber down the daunting Craner Curves was arguably the stand-out moment of a stand-out lap, while you could imagine the smile inside Senna's helmet as he slipped past Prost's Williams with humiliating ease at Donington's final hairpin, before clearing off to record his 38th career win of 41.
4. The Senna legend is born – Monaco Grand Prix 1984
"It will be really a tragic result for Senna. However, while he's not about to be world champion this year, he will undoubtedly be world champion in the future if his career continues." Thus spoke BBC commentator and 1976 world champion James Hunt, having witnessed one of the great wet weather performances of all time. Senna, behind the wheel of a decidedly mid-to-back-of-the-field Toleman, had made his way to second place by Lap 19 of the 1984 Monaco Grand Prix, as drivers of the calibre of Niki Lauda and Nigel Mansell were spinning off all around him.
Between Lap 27 and Lap 31 – the last lap before race official Jacky Ickx (ironically a notorious regenmeister himself) controversially threw the red flag to stop proceedings – Senna had gained on race leader Alain Prost by an average of 3.7 seconds a lap, passing him for the lead across what became the finish line on Lap 32 but falling back to second in the final countback. Was he robbed? It's a question that can still excite F1 fans down the pub today. Whatever your opinion, though, there was no doubt that Senna's drive that day had been one of the most special in F1 history.
3. The first pole, and the first win – Portuguese Grand Prix 1991
Senna used performances like the one at Monaco to leverage himself into a seat at Lotus for 1985 – and it took until just the second race of that season to make his mark. In a weekend blighted by rain, Senna was on provisional pole on Friday, before brilliantly consolidating his time on Saturday, lapping Estoril over a second faster than his Lotus team mate Elio de Angelis, and four-tenths quicker than the second-placed McLaren of Alain Prost.
With the first of 65 pole positions in his pocket, come the race, Senna was, quite simply, in a league of one, lapping everyone bar Ferrari's Michele Alboreto in atrocious conditions to claim the first victory of his career. The touching, arm-pumping celebrations of Senna as he returned to the Lotus pits told of just what that first win meant to the 25 year old.
2. The home victory he wouldn't be denied – Brazilian Grand Prix 1991
It appeared that somebody up there didn't want Ayrton Senna to win the Brazilian Grand Prix. In his first six, all held at Rio de Janeiro's Jacarepagua circuit, Senna's results had read DNF-DNF-2nd-DNF-DSQ-11th, while a tussle with backmarker Satoru Nakajima at the 1990 race at Interlagos cost the Brazilian what had looked to be a certain home victory.
A year later and Senna appeared, once again, to be cruising to a dominant win… only for his gearbox to give up the ghost. Left to battle around the entire 4.3km track in sixth gear, his 40-second advantage over Williams' Riccardo Patrese on Lap 60 was down to just three by Lap 70 of 71. Somehow, though, Senna got the MP4-6 over the line to finally win in Brazil. His shrieked radio message back to the McLaren pits spoke of the pain and ecstasy mixing inside the exhausted Senna, who was so overcome that he had to stop on track and be recovered back to the podium in the medical car.
1. A lap from another world – Monaco Grand Prix 1988
Even the most empirical F1 fan would probably concede that something spooky happened in Monaco on May 14, 1988. Senna, already on pole by a margin that was unlikely to be touched by anyone else, appeared unable to stop himself pounding around the circuit. Lapping on race tyres – rather than the stickier 'qualifiers' that were more effective over one lap – Senna, by his own admission, moved onto another plain of consciousness.
"I was in a different dimension," he recalled afterwards. "The whole circuit for me was a tunnel. I was just going and going… I was way over the limit, but still I was able to find more." Senna eventually woke from his high speed reverie, pulling into the pits a "frightened" man (in his own words) and refusing to go out again – but not before he'd stopped the clocks at 1m 23.998s, 1.427s faster than team mate Alain Prost, in second on the grid, had managed. "Fantastic," the Frenchman was forced to admit. "There's no other word for it…"
It was just a shame that Senna's car didn't have an onboard camera attached to it, wasn't it?
This article was originally published on May 1, 2019.