Feature
Toro Rosso in 2019: Best Case, Worst Case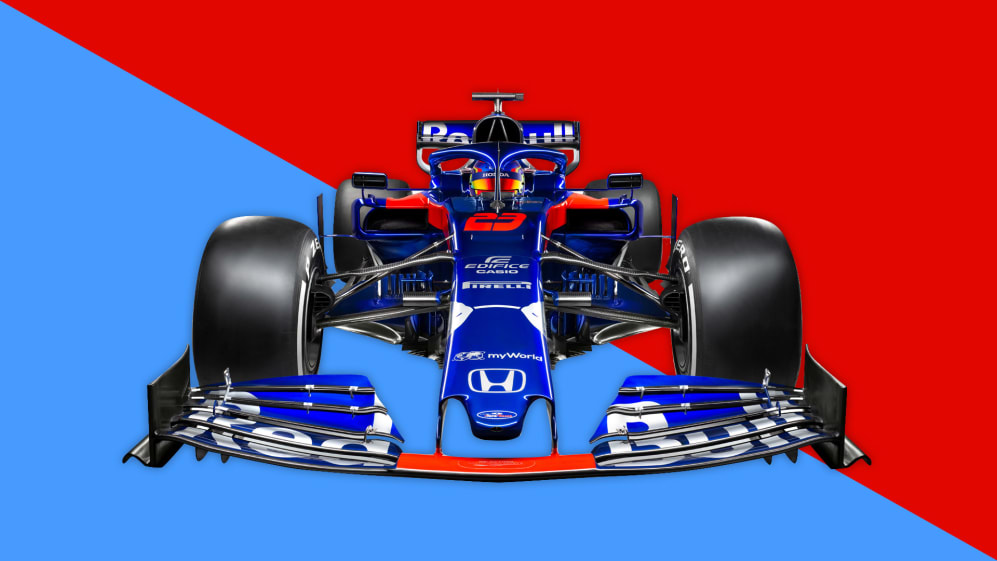 Red Bull's sister squad finished second-bottom of the pile in 2018, but they also enjoyed moments of brilliance. So which Toro Rosso will we see this season? In the latest of our 10 individual team previews, we map out the best and worst case scenarios for the one-time Grand Prix winners...
Last year's ranking: 9th (33pts)
Driver line-up (2018 ranking): Alexander Albon (N/A), Daniil Kvyat (N/A)
2019 F1 Car: STR14
Best-case scenario
There's plenty of cause for optimism in Faenza after a very solid winter testing programme. The STR14 completed 935 laps with very little sign of strife. Toro were the fourth fastest overall, with Alex and Daniil sixth and seventh quickest respectively. Reading too much into testing times is the proverbial Mug's Game – but on the other hand, it's surprising how often these entirely non-representative times turn out to be entirely representative when F1 gets to Albert Park.
So, what to expect from Toro Rosso in 2019? Given their testing form, they look a strong bet to improve on last year's ninth place in the constructors' championship. That seemed a touch unrealistic anyway: while the points don't lie, they can at times be economical with the truth. 2018-vintage Toro Rosso scored in eight races (including a dazzling fourth in Bahrain), and qualified in the top ten nine times, which isn't backmarker performance. They were hampered somewhat by their position as Red Bull's Honda guinea pig, going through rather more engines and taking a greater number of grid penalties that would have been strictly necessary for a team simply out to maximise its finishing position every weekend.
Like Williams, they have one new driver and one returning to F1 after an absence. Alex Albon came on strong in the second half of the Formula 2 Championship last year, and he's a dark horse to be 2019's breakout star. A refreshed and revived Daniil Kvyat, meanwhile, brings with him the sort of experience - and podium quality - Toro Rosso usually has to live without. Allied to a more mature engine partnership with Honda and a closer relationship with parent company Red Bull, things are looking good for Toro Rosso to be mixing it at the front of the midfield in 2019.
Worst-case scenario
As always, the fortunes of Faenza are very much determined by forces beyond their control. As Red Bull's junior team, they've learnt to live with having their most talented drivers lured away to the bright lights of Milton Keynes but their status as Red Bull Racing's engineering testbed hasn't been quite so pronounced until recently.
Last year, Red Bull were very clear that they weren't particularly worried about Toro Rosso blowing Honda engines and, indeed, wouldn't object if they blew a few more (in the spirit of discovery, naturally). There is considerable curiosity to see how that particular relationship continues this season. It is interesting to hear Honda suggest they may have been a tad too aggressive with their engine packaging over the winter, which suggests there may be changes afoot.
Toro Rosso have increased their collaboration with Red Bull Technology for this season, so much so they are taking many parts that were on the RB14 that finished third in the constructors' championship last year. That could work in their favour – the 2018 car won four races no less - but could limit their ultimate potential.
Then there are the drivers. While there is much to recommend Albon and Kvyat, you could argue that they've only come back into the fold because the cupboard is bare. Of the 2019 rookies, Albon has the least F1 testing experience, while with Kvyat, it very much depends if Toro are getting the Daniil they sent to Red Bull or the one who returned after being unceremoniously booted out to make way for Max Verstappen.
Stat Bomb
Toro Rosso have sampled three of the four hybrid engines on offer in F1 – the only team to be quite so changeable – and this is only the second time they've kept one for two consecutive seasons.
In and Out
Daniil Kvyat has, in effect, swapped places this year with Brendon Hartley, taking a Toro Rosso seat after a year as a Ferrari reserve/simulator driver. Alex Albon, a former Red Bull Junior, comes in to replace the promoted Pierre Gasly. On the technical side, Toro are promoting deputy technical director Jody Egginton into the top job, following James Key's departure for McLaren.
F1 Fantasy – get in the game!
Will Toro Rosso make your F1 Fantasy team for 2019? Head here to choose your dream line-up for this season.