Toto Wolff explains the key difference in Hamilton's approach that's given him the edge in 2020
Mercedes boss Toto Wolff said he could barely believe that Lewis Hamilton's had achieved a record 92 race wins – 71 of them for Mercedes – at the Portuguese Grand Prix, and hypothesised that his success this year is down to an evolution the Briton's approach to race weekends in 2020.
When Hamilton joined Mercedes in 2013, many questioned whether he'd made an error in leaving McLaren, the team that had nurtured his junior career and guided him to the 2008 world title. What he's gone on to achieve with the Silver Arrows is a level of domination that has surprised even Wolff.
WATCH: Every one of Lewis Hamilton's 92 F1 wins, from Canada 2007 to Portugal 2020
"92 race wins - who would have thought that when we embarked on the project in 2013?" said Wolff. "It's almost a surreal amount of wins. It's his absolute passion, energy, everything that he puts into the sport, and the talent, the ability – he's just standing out."
It's not just Wolff, but fans and pundits who have picked up on a new method to Hamilton's mastery as he seems to reach a crescendo on Sunday. Examples include Portugal and Tuscany, where team mate Valtteri Bottas topped every practice session but Hamilton went on to win.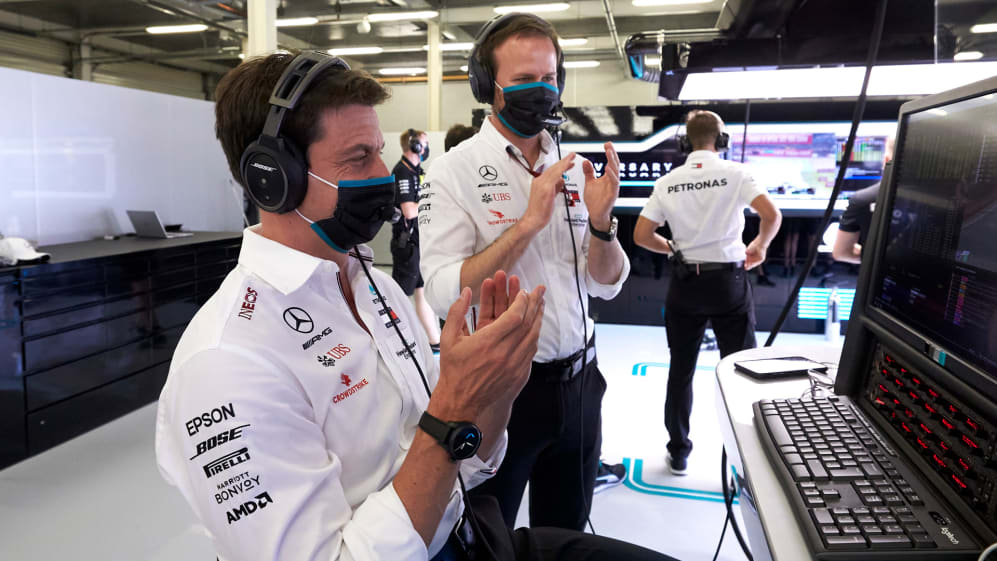 Wolff explained: "I think, it's almost what I've seen this year for the first time, it is that he ramps up his weekend. There's a lot of reflection, a lot of learning, understanding the tyres for the race, and yeah, he was just sitting comfortable I believe at the beginning [in Portugal], and once the first laps were done, he just ramped it up. And then he had an unbelievable race."
ANALYSIS: How shrewd thinking enabled Hamilton to solve the tyre puzzle and win in Portugal
Hamilton also admitted his own astonishment after breaking Michael Schumacher's all-time wins record of 91. The Briton joined the Silver Arrows from McLaren for 2013 and has clinched five championships, 71 wins, and 71 poles with the dominant team of the hybrid era.
"Did I think we would get to… win championships? Did I think we would win as many as we have? No. Did I think we would win this many races? Of course not," said Hamilton after winning his record 92nd race at Portimao.
"But it is a phenomenal time for us and the great thing is that it's not just me that is living with the history, it's the whole team and I think everyone acknowledges and realises how much they are part of it, so I feel incredibly grateful to my team mates.
READ MORE: The culture behind Mercedes' greatness
"To Valtteri, for being the contender he is, the team mate he is, for pushing the team forwards – we're generally rowing in the same direction whilst we are competing, and it's been a privilege to work with him. So what a time to be alive," he concluded.
Rivals including Sebastian Vettel and Max Verstappen have backed Hamilton to pick up many more victories - though they'll be out to stop him at Imola on Sunday...