Feature
The culture behind Mercedes' greatness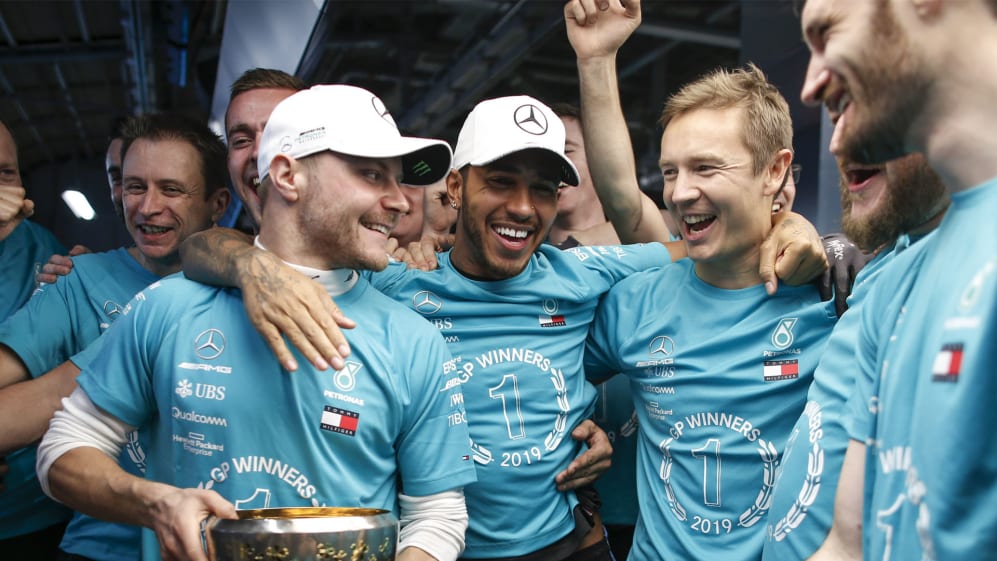 Rarely in sport, let alone Formula 1, have we seen dominance like that of Mercedes in the last six years. Six consecutive constructors' championships on the bounce brings them level with Ferrari, who achieved the feat between 1999 and 2004.
But they've gone one step further than their red rivals, with results falling in such a way in Japan, it means they will secure the drivers' title too, with either Valtteri Bottas or more likely Lewis Hamilton, making them the first team in F1 history to do six successive doubles.
It puts them in a realm of greats in the wider sporting world, that features the likes of Italian football club Juventus (a record eight Serie A titles in a row), ice hockey team Montreal Canadiens (10 successive NHL titles) and basketball side Boston Celtics (NBA Finals winners for eight straight years).
READ MORE: Brilliant Bottas beats Vettel in Suzuka as Mercedes crowned constructors' champions again
This year, Mercedes have won 12 of 17 races so far, eight of them in a row to start the campaign. That takes their victory record since 2014 to 86 in 117 Grands Prix, a winning percentage of 73%. That comfortably beats Ferrari (67% between 2000-2004 – five doubles), McLaren (61% between 1988-1991 – four doubles) and Red Bull (53% 2010-2013 – four doubles).
WATCH: Mercedes move into another realm with title number six
So how have they done it? "It would not do it justice to come up with a 30-second answer," said Mercedes chief Toto Wolff, who has been in charge throughout their dominant era. "But if I were to sum it up, it's the people, the group of people that are working on the project each giving it all, playing the best game in their respective position and the strength of the pack that has made us win these championships."
It's all about the details
The car – and the two drivers – are the stars on a Sunday afternoon, but they are representing a 1,300-strong workforce at Mercedes, across their chassis and engine programme. A victory belongs to everybody. Mercedes understand that people matter. It's why they reward all their staff, from the lowest to the highest paid, with a five-figure bonus for clinching the constructors' championship.
Mercedes even fly pillows around the world for staff so they can rest well at races
It's why they make sure everyone has a parking space at the factory – a common annoyance among those who work in F1 – so they don't start the day off in a bad mood. It's why the food in the canteen is good quality, the drinks are free and they use ground coffee.
They even fly pillows around the world for staff so they can rest well at races. It's the details. And their reliability has been extraordinary. Across two cars – in 117 races – they have had just 10 mechanical-related retirements. It's a remarkable feat.
"It's about the marginal gains," said Wolff of their success. "It's about putting everything together and not leaving one stone unturned, having a no-blame culture, empowering [people], even when it's difficult sometimes when you would rather control things. I think the strengths go very deep, values that are engrained in the teams that you can't put on a Powerpoint and say 'now we are empowered'."
READ MORE: Brilliant Bottas beats Vettel in Suzuka as Mercedes crowned constructors' champions again
Loyalty is key
When you provide good conditions – and you win – people have little reason to leave and much reason to commit to the cause. Mercedes have enjoyed immense loyalty from their staff, with many having worked there for more than a decade, through previous guises of the Brackley-based team. This is Wolff's seventh year at the team, while Chief Designer Jon Owen, who became a senior member of the engineering group ahead of the season, has been there since 2007.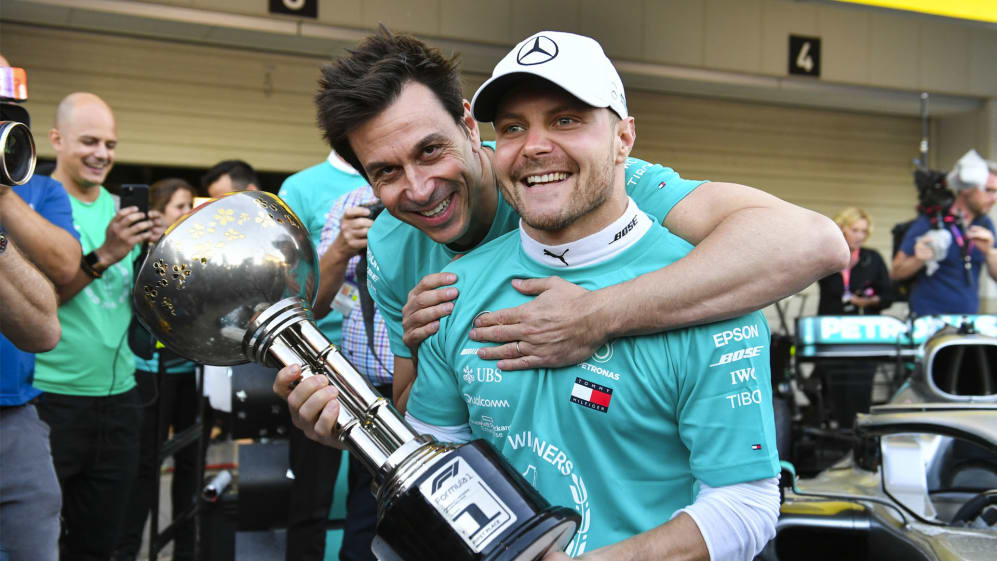 Chief Vehicle Dynamicist Loic Serra was made Performance Director at the end of last year, having worked for Mercedes since 2010, replacing Mark Ellis who decided to retire after five years with Mercedes. When technical chief Paddy Lowe left for Williams for 2017, and Technical Advisor Aldo Costa chose to call it a day at the end of September, they were losses to the team – but it didn't cause disruption. Mercedes have strength and depth plus a plan as to how to move on.
You could argue 2017 and 2018 were harder campaigns than this one, but in the last three years – under greater pressure from Ferrari – Mercedes have continued to find ways to move ahead again. During pre-season testing, Ferrari looked like favourites. But Mercedes went and won eight races in a row. In Russia, they arguably didn't have the best car in pure performance, but they put the pressure on as best they could and took advantage when the opportunity presents itself. Operationally, Mercedes are the greatest team in the history of Formula 1.
"You need to live it in the difficult moments and that has made the strengths of the team," said Wolff. "We had many hiccups over the last years and we were always able to collect ourselves, understand why we haven't performed well and come back even stronger.
They are very close to perfection
"I could spend a whole day trying to analyse what I think are the strengths of the group, but there are just too many factors and so many faces come into my mind that I see through the year that are happy and tired."
There was high praise from Ferrari's Sebastian Vettel, their beaten title rival. "From outside, they are very close to perfection every time they go out on track, so very consistent, very little mistakes," said the four-time world champion.
Why this title means a lot
It's always difficult to compare the importance of one title versus the other, but Wolff admits this year's triumph feels extra special because it came in the season where Niki Lauda – a key figure in the team – passed away.
"Each of the championships felt very special for different reasons. This one again is so special because it's not always easy to reinvent yourself at the beginning of the year and set objectives that motivate everybody – and then embark on the long season," added Wolff, whose team have Lauda's famous red cap and headset hanging in the garage.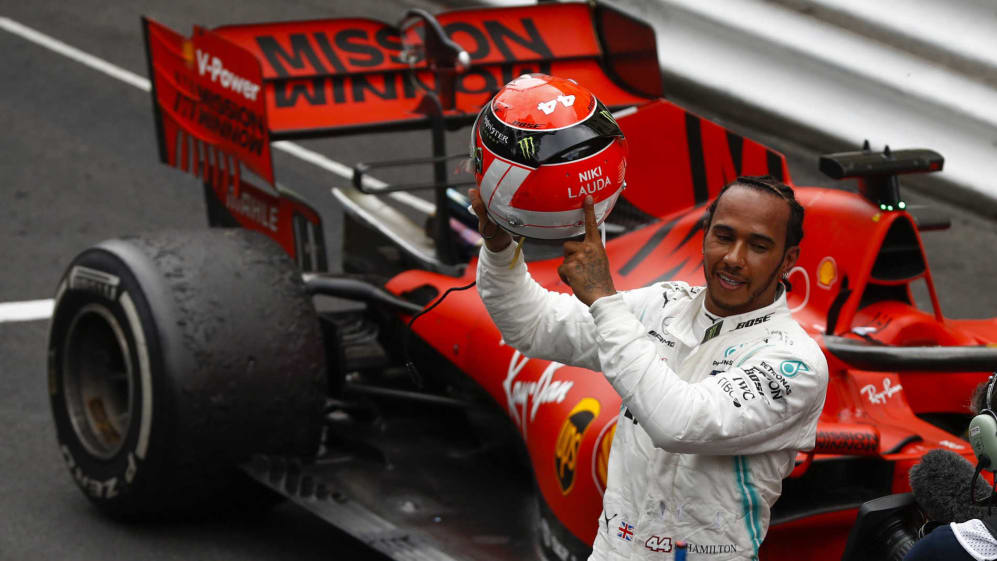 "Niki is being missed, and therefore the sixth one, beating the record that was set by Ferrari 15 years ago, is extremely special."
Hamilton added: "It definitely feels a little bit different. I wouldn't say as happy as previously because naturally we lost Niki this year and it doesn't feel the same without him. Naturally I'm very, very proud of the team. I'm very proud of everyone back at the factory, and I know Niki would be taking off his hat for today's result.
I know Niki will be proud. The team should be proud too
"We owe him a huge amount and this win is really for him. I think the whole team and the whole of Mercedes will probably dedicate this to Niki. I definitely do. It has been a difficult, a tough year for us. And every time I walk into the garage I see Niki's headphones and his cap. I sat and I looked at it today before I got in the car. I know he'll be proud, I know his family will be as well. The team should be proud too."
READ MORE: Wolff dedicates Mercedes' sixth straight title to late team mate Niki Lauda
Wolff admitted the title win hadn't sunk in just yet, in the hours after the race. "We had a difficult qualifying this morning, and we are eager to do well so this non-performance sits in our bones," he said, referring to the fact Ferrari beat them to the front row.
It's that tinge of disappointment, just moments after they had achieved the first of two key targets this year, which tells you all you need to know about Wolff and Mercedes' mentality – and why they continue to set the gold standard in Formula 1.