Feature
TREMAYNE: Hamilton and Verstappen's US GP fight only made me more excited for F1's new era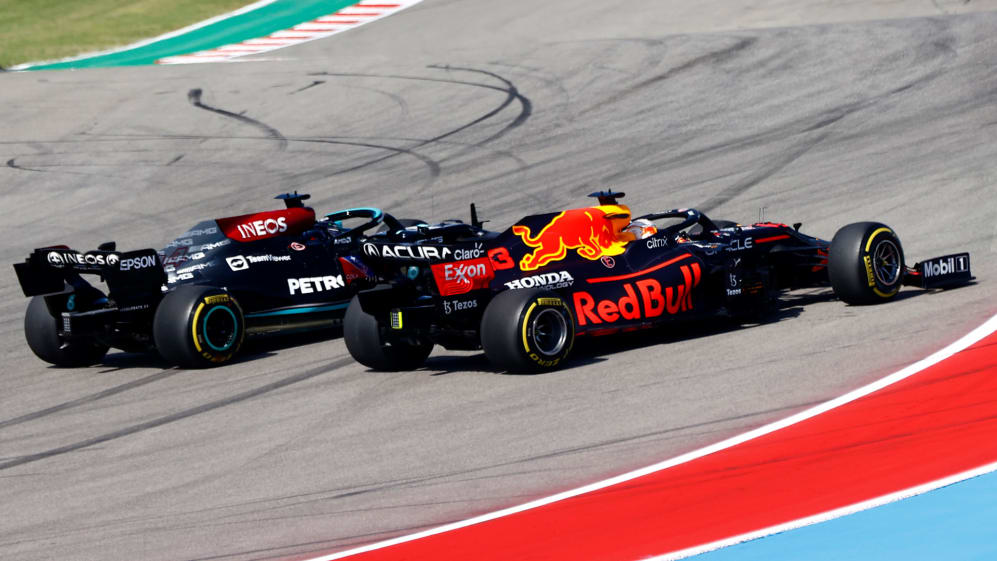 How ironic is it that a tense United States Grand Prix that so clearly cemented F1's return to the sort of popularity it enjoyed in Uncle Sam's backyard back in the sixties, seventies and eighties, may just have swung the momentum in such a close World Championship battle firmly in Red Bull's direction?
We have long regarded the Circuit of the Americas as a Mercedes track, and a Lewis Hamilton track, even though Ferrari have had success there with Kimi Raikkonen in 2018, and Sebastian Vettel and Valtteri Bottas have also beaten the seven-time champ there.
WATCH: Sato's first podium and Raikkonen's last win – 5 feelgood moments from F1 history in the USA
And, given the extraordinary speed that Mercedes had shown against Red Bull in Turkey, which might have been deemed a Red Bull track, I'm sure I joined Mercedes in expecting the Brackley team to dominate again last weekend. They certainly did on Friday morning – when Valtteri lapped in 1m34.874s and Lewis 1m34.919s, as Max struggled to 1m35.806s.
But there was a tale unravelling behind the scenes even as those times were set, because the W12s were destroying their floors and Toto Wolff would later admit that they had to raise ride heights to avoid a "massacre" of the cars in the race. Bobby Epstein and his crew at COTA had done what they could to alleviate the bumps that have developed since the inaugural race in 2012, even grinding the surface in places, but their impact had just become a very significant factor.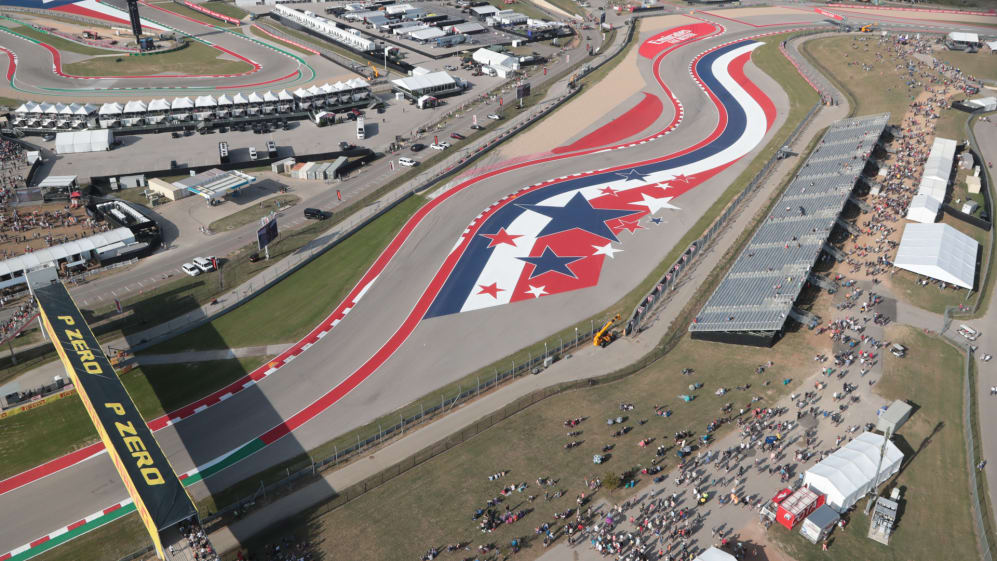 On Saturday morning it was Red Bull's turn, when a crack was detected in Max Verstappen's rear wing and the heat guns and carbon fibre were brought out during the lunch break after the FIA gave them permission to beef up the structures on both RB16Bs.
By qualifying we had the truth: Red Bull were fractionally faster than Mercedes, with Max wresting the advantage back from Lewis with a final run in 1m32.910s to the Briton's 1m33.119s. With Sergio Perez coming alive all weekend with 1m33.134s despite a tummy bug, and Valtteri only fourth with his sixth new ICE on 1m33.475s, it looked like we were in for an upset in form.
READ MORE: 'I really didn't think he was going to pull that off' says Horner after Verstappen seals tense US GP win
But then Lewis made a better start and grabbed the lead going into Turn 1 despite Max's strong attempt at resistance. And for that opening lap, Lewis was gone. But it quickly became clear that on the medium Pirellis on which most of the leading runners qualified, the Red Bull was faster.
Max looked like he was preparing to pounce at any moment when he suddenly swept into the pits as early as the 10th lap. Lewis stayed out three more, getting slower as the Merc struggled on the medium compound, and by the time he rejoined a 0.9s lead on lap nine had become a 6.7s deficit.
That was Red Bull's first outstandingly aggressive bit of strategy, and their argument was that it was worth the gamble to get vital track position.
They did it again when Max pitted for his second set of hards on Lap 29, and now it was Mercedes who had to gamble. Lewis was by then 3.2s behind and closing slightly, so bringing him in straight away held little appeal. Instead, they aimed for Target +6, running six laps longer. Actually, Lewis stretched it to eight, pitting for hards on the 37th lap.
He could thus do the rest of the race on tyres that were eight laps younger than Max's and, as we were seeing with others, the hard compound was much better than the medium. But when you really started pushing it, it quickly lost its edge. Lewis thus babied his new tyres initially, then got the hammer down.
READ MORE: How Red Bull pulled off their aggressive strategy to win in Austin - and just where did Mercedes' FP1 pace go?
By Lap 50 it really was game on, with only 1.5s separating the Red Bull and the Mercedes and still six laps left. With fastest lap of 1m 38.485s on Lap 41, Lewis had been flying as he devoured an initial 8.8s gap, and just as Max used to do in the days when Lewis had the superior car, now Lewis was driving the wheels off a machine that just wasn't quite as good as its rival.
Inevitably, however, he used a lot of his own tyres, and when we got into the crucial stage it was apparent that Max had carefully harvested just enough of his rubber to ensure that he got good exits from Turns 11 and 20, which preceded the DRS zones.
Lewis got as close as 0.8s as they crossed the line on Lap 55, following the brief but critical intervention of backmarker Mick Schumacher. Ironically, though the German rookie initially delayed Max he enabled him to get the DRS he had hitherto been denied, whereas Lewis just missed triggering it.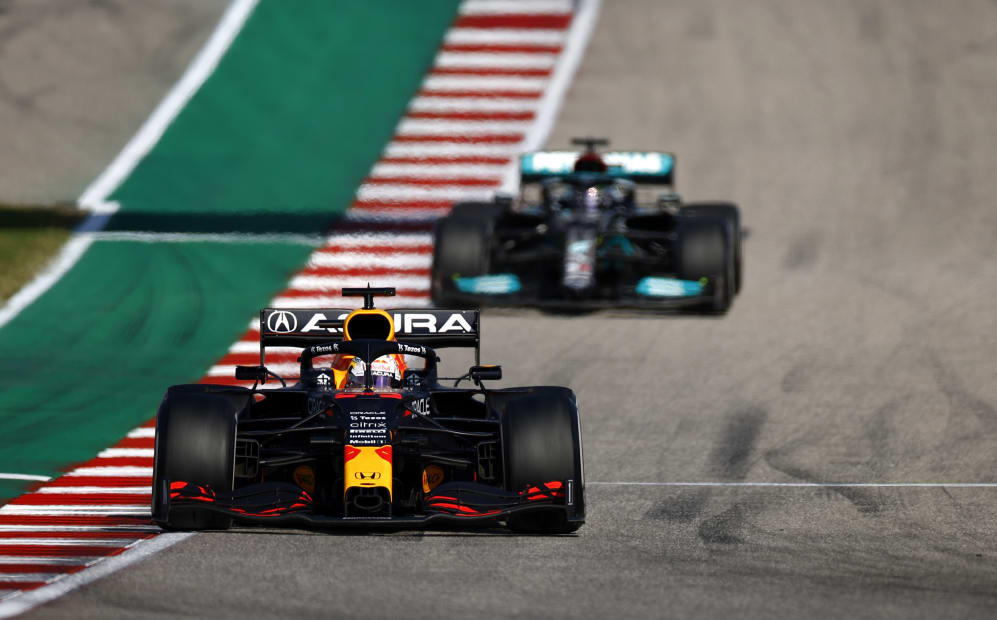 Without Mick would Lewis have been the only one to get DRS? Would that have made the crucial difference? We'll never know, of course, but equally crucial each lap was how much better the Red Bull was exiting Turn 11. It was Baku all over again, and it could be argued that played just as critical a part in Max's success as all the other factors.
Either way, each man drove a brilliant race. But in so many ways it rammed home for me just how racing has changed. When I was a baby, Jackie Stewart and Jochen Rindt played the Hamilton/Verstappen roles in a British GP at Silverstone in which they swapped the lead countless times each lap despite running at record speeds, and here we are these days, getting excited when somebody closes up on somebody else.
WATCH: Verstappen the optician and frustration for Alonso – The best team radio from Austin
I really detest that expression, "catching is one thing, passing is another," not because it sounds smug and trite, but because it's so annoyingly true.
Once upon a time, into the early eighties, F1 cars could still close up and overtake. Repass, even! Then we got stuck with flat-bottomed cars and diffusers designed deliberately to give following drivers a faceful of dirty air which robbed them of all-important front-end grip. Look what happened when Lewis got within 1.5s on Max: stale air, stalemate…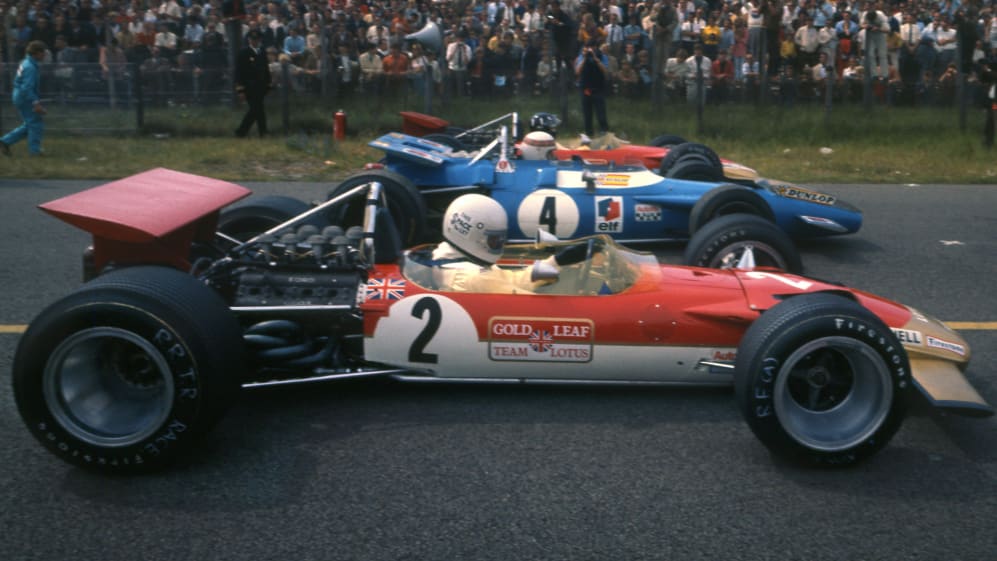 That is why I'm so excited for F1's prospects in 2022, when ground effect makes its return, and hopefully we will have cars less affected by turbulence from the one in front, and we may even see real overtaking. Imagine if we'd had it in Texas… Might we have seen Lewis close in sooner, then passing and repassing with Max all the way to the chequered flag?
READ MORE: 10 things you need to know about the all-new 2022 F1 car
In the meantime, what did Max's win really mean?
Well, for starters it doubled his points lead. And it was also a perfect demonstration of the way he can remain ice cool even under the strongest pressure, and still consider all the ramifications. Proof yet again that a once sometimes hot-headed racer has matured into a serious World Championship contender. Though an incident in practice on Friday afternoon revealed that the tiger within still snarls when prodded.
The convention is that the car behind usually waits its turn when it's clear the driver in front is looking for a clear lap. But Lewis wasn't waiting, and when he slipped ahead on the pit straight and obliged Max to wait another lap, the latter was clearly unhappy. Out poked his middle finger from the cockpit, and soon he was sulking in the pits and failing to record a representative time.
He got the last laugh on Sunday afternoon, however. And though that digital incident raised the question of whether such occasional outbursts might yet jeopardise his campaign when things get tight in the five races that remain, I suspect that it's not one of Max's fingers that concerns Lewis right now.
Having been denied the chance of a very likely victory in Turkey (where Valtteri would have ridden shotgun for second and thus deprived Max of points) because of an engine penalty, he's seen what could have been current respective scores of 291.5 points for himself and 284.5 for Max actually come out as 287.5 and 275.5 in Max's favour.
And now, having been beaten by Max on a Mercedes track, and with Red Bull tracks coming up in Mexico and Brazil, the strongest message he got from Texas was that however difficult his underdog task has already been all year, losing by that scant 1.3s last weekend just made it all an awful lot harder.