Opinion
TREMAYNE: Russell's reaction to his brilliant Brazil win sums up why so many fans love F1
There have been many times since he came into F1 back in 2017 that George Russell has looked mighty impressive. He made his Grand Prix weekend debut running in first practice for second Force India in Brazil, and this is what I wrote at the time:
"However you cut and slice it, George Russell got the job done when Force India gave him the chance to drive in FP1 at Interlagos. He'd never seen the circuit before apart from in a simulator, and he wasn't familiar with the VJM10. But you wouldn't have known any of that from his performance on Friday morning.
READ MORE: Russell left 'speechless' by breakthrough F1 win after 'emotional rollercoaster' for Mercedes in 2022
"In Sergio Perez's car, against the continuingly impressive Esteban Ocon, a fellow Mercedes Junior driver, he looked completely comfortable. No locked wheels or big sideways twitches. Just smooth, smooth progress.
"After the usual bit of aero testing, he got down to work on a set of soft-compound Pirellis. As Esteban lapped in 1m 11.317s for ninth place, George opened with 1m 13.321s for 14th, then trimmed that to 1m 12.746s, just before Esteban improved to 1m 11.045s. Then George did 1m12.340s, by the halfway mark.
"On super softs, Esteban did 1m 10.712s for 11th, as George used a similar set for 1m 11.633s and then 1m 11.359s. Six-tenths off his team mate looked good. Then Esteban trimmed down to 1m10.454s to increase the gap, before George's final run yielded 1m 11.047s. Back to six-tenths. Again, impressive, especially as he had yet to put a wheel wrong."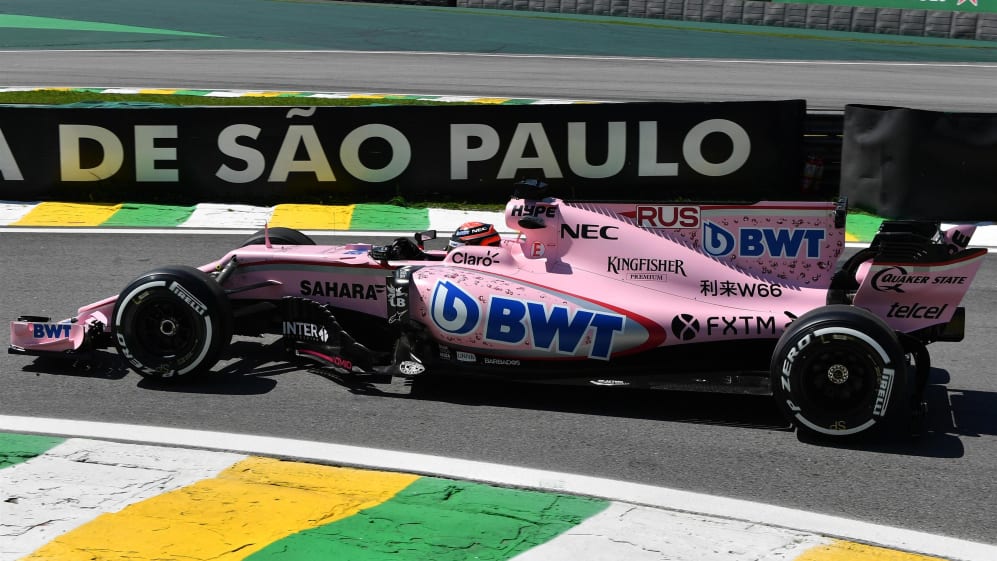 Ever since, there have been impressive many moments. He always looked good when he joined Williams in 2019, most notably putting an uncompetitive car on the front row of the grid in the rain-soaked Belgian GP.
And, of course, he was robbed twice of a deserved victory for Mercedes when he stood in for Covid-stricken Lewis Hamilton in the 2020 Sakhir GP. Particularly impressive this year, among many great performances, was his calm defence in an inferior car against Max Verstappen in Spain.
READ MORE: 'It wasn't clear we could make it to the end' – 'Super proud' Wolff on how close Russell came to losing Sao Paulo win
But for me the most outstanding was Imola 2021. He got the blame for crashing with Valtteri Bottas on the run through Tamburello, but there are two points I'd make: I still think that Valtteri triggered it because he was as surprised as everyone else to suddenly spot something coming fast on his right, and veered ever so slightly over the white line. That was what obliged George to shift over just enough to get his right rear wheel on the grass.
The other is what on earth was a Williams doing overtaking a Mercedes in the first place?
That move was a product of supreme self-confidence. For me, it was what Gilles Villeneuve used to do. A real racer's move, that would otherwise have come off.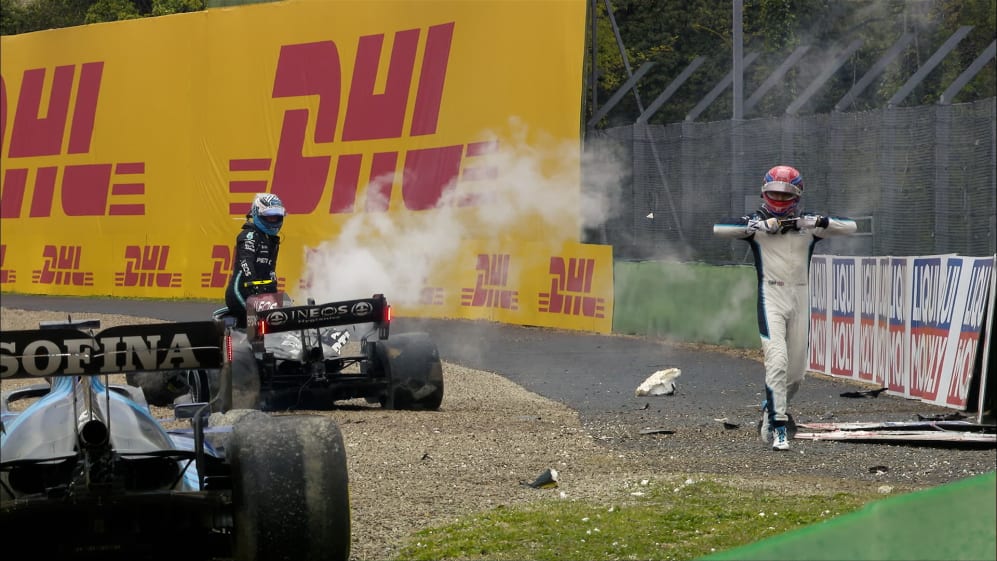 The run of fortune has possibly been more with George than it has been for Lewis this year, and for sure early on Lewis was the one who was taking the risks with different configurations and set-ups to help the team to understand why the W13 kept barking. But that's not to decry just how impressive George has been.
He got a bit wobbly after Zandvoort, by his own admission, as Lewis got stronger and stronger, but in Mexico he and his crew did a mental reset, and his superb performances in Brazil were the result.
Once again luck ran with him and it was perhaps ironic that, having caused the red flag in qualifying that prevented Lewis (among others) from improving, he should start third on the grid for the Sprint, which he went on to dominate. And, of course, there was the clash that Lewis had with Max in the Grand Prix itself.
F1 NATION: Does Mercedes' sensational Sao Paulo 1-2 mean they're back in business?
But you only had to listen to George's calm commentary on the radio, telling the team what he felt about the length of his first stint, or to watch the way he drove. Especially in the Grand Prix. He dealt with the start brilliantly, and did likewise with the restarts, on neither occasion giving Lewis a chance to attack. And then he kept his head under the intense pressure from the most successful driver in F1, driving the same car.
If you ever doubted that, in the long-term, the future of British representation in F1 might suffer when Lewis finally does retire, then relax.
Somebody asked me whether that end result was like Aintree in 1955. That was the celebrated occasion when Stirling Moss scored his first Grand Prix win on home soil in the British GP, leading illustrious Mercedes team mate Juan Manuel Fangio home. There were suspicions back then that the great man had 'let' his team mate win. I once asked Stirling what he made of that, and he said that he had asked Fangio, who told him he had not, that he had won on merit.
Many years later, veteran photographer Michael Tee said that he had heard tyre squeal near the end of the race and had turned to see Fangio recovering from a spin, and I suggest that far from Fangio being kind to Stirling, Stirling was being kind to a man he revered in not mentioning that rare error.
READ MORE: 'We are still the best team' says defiant Hamilton after Mercedes claim stunning Sao Paulo 1-2
And I think the very idea that Lewis might have 'let' George win is a little insulting to both. I don't think anything of the sort, though in the past Lewis has demonstrated far more grace than Max did last weekend, in helping a team mate to get their just deserts.
No, George's win was exactly what it seemed, a hugely promising young racer earning his spurs, just as Fernando Alonso did with Michael Schumacher back at Imola in 2005, or Lewis himself with Fernando at Indy in 2007. Toto Wolff and the team have huge faith and trust in both drivers, and though they've had a few side-by-side moments they have always been mutually respectful.
It speaks volumes about Mercedes' underlying philosophy that, while other teams appear to have problems between their team mates or else to favour one over the other, the Silver Arrows let their drivers race. That free-to-fight philosophy made the Sao Paulo GP, and George's triumph, all the more special.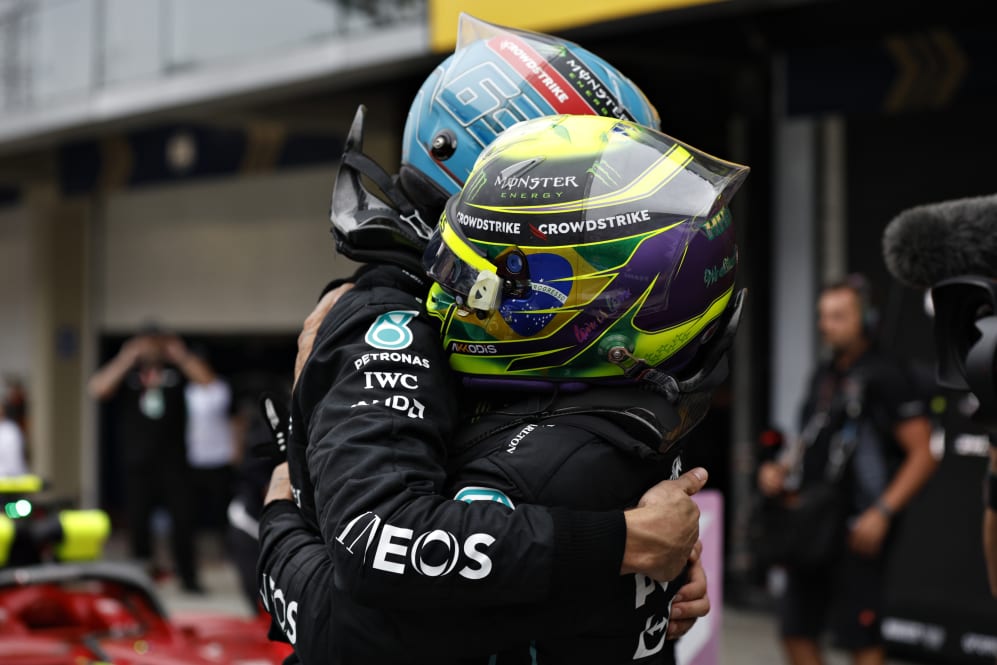 He admitted to a small mistake in Turn 12, while Lewis was chasing, and realised he was spending too much time looking in his mirrors. Thereafter he just faced forward and got on with it like he always has.
Two things were outstanding in the afterglow of Mercedes' much-needed one-two: Lewis' grace in applauding his colleague's performance without whining that it probably killed his own chance of maintaining his unique win-every-season record. And the way George behaved.
When the shouting and the tumult started to subside, when he had done all the hugging of his team in parc ferme and then the immediate post-race interviews and got a quiet moment to himself, Britain's latest Grand Prix winner had sat and lowered his head, just as he had in Sakhir back in 2020.
FACTS AND STATS: Russell and Hamilton take first British 1-2 since 2010
Back then he had been cheated out of victory by circumstance. But this time he had finally scaled the mountain. Avenged that cruel misfortune. Proved his mettle. And it all became a little too much.
For poignant moments, the man who had just conquered his seven-time champion team mate in mano a mano combat at 200 mph, surrendered to the emotion and wept. That pure humanity, far more than all the sweary bits so beloved of Netflix, is a prime reason why so many millions of fans across the globe love F1.