Feature
TREMAYNE: Verstappen can hold his head high in the company of his fellow three-time champion greats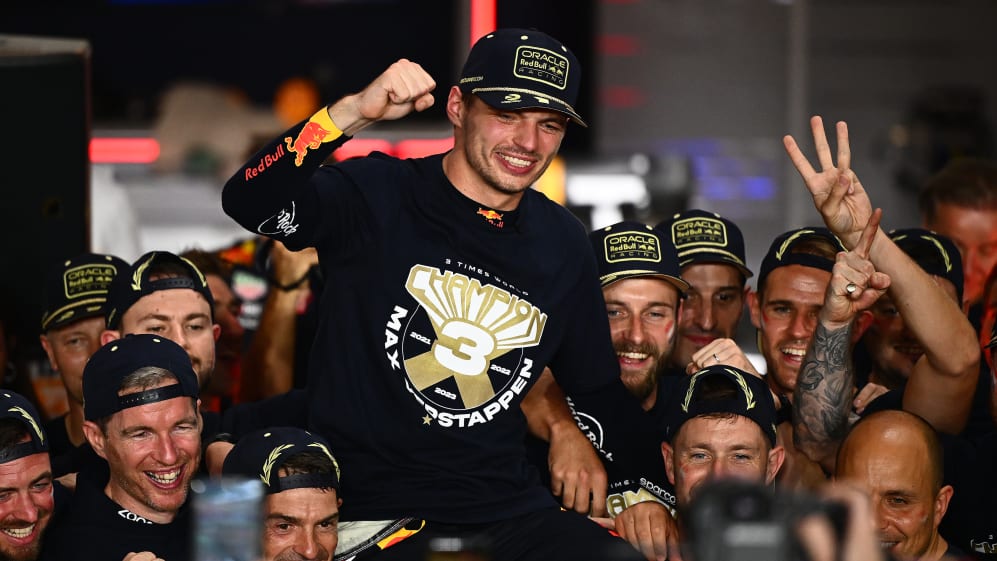 How typical was it that Max Verstappen, a man who is making a habit of rewriting F1's records, should clinch his third World Championship by becoming the first driver ever to do so in one of F1's new sprint races?
I'm sure he would have been perfectly happy to wait until Sunday, and then dominate the Qatar GP, but like any multiple world champion he's mature enough to understand that you take it however it comes.
READ MORE: Verstappen secures third F1 world title as Piastri takes Sprint victory in Qatar
But before we get into an analysis of where he fits in with the other greats of the sport, let's look at how his super-successful season panned out.
It was apparent from the outset that the Red Bull RB19-Honda was an extraordinary car, and that Adrian Newey and the technical team had really created something special.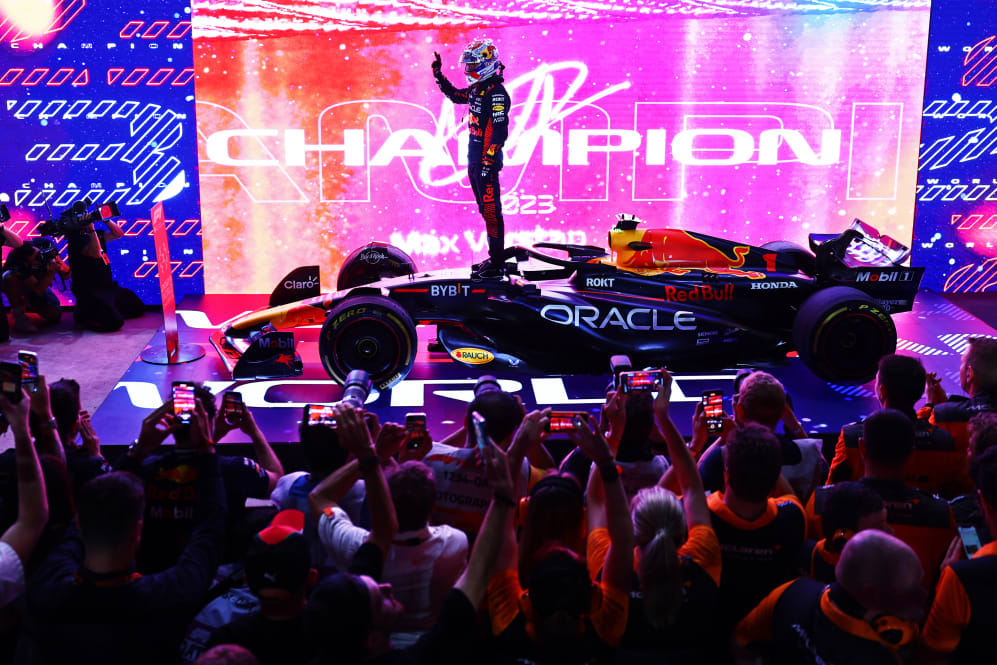 When an aghast George Russell suggested after Bahrain that it was so good it ought to win every race, we consoled ourselves that others would surely improve. They did, of course, but Red Bull certainly didn't stand still either…
They started the way they intended to continue, with the front row buttoned up in the opener in Bahrain and Max beating team-mate Sergio Perez by 11s in the race.
Then Sergio started from pole in Jeddah as a driveshaft problem in Q2 saw Max starting only 15th. But as Sergio won, Max clawed his way through to second place as early as the 25th lap, and set the fastest lap.
Max was again on pole in Australia as Perez started from the pitlane after set-up changes. And though the Mercedes of George Russell and Lewis Hamilton had briefly jumped ahead, the reigning champion had soon asserted himself and disappeared, winning easily despite three red flags.
READ MORE: Inside Red Bull's rocket ship – How its remarkable dominance was achieved
Things went slightly wry in Azerbaijan's sprint race when his car was damaged in an encounter with George early on. Sergio won, but Max soon took the lead in the Grand Prix until losing out to his team-mate thanks to a Safety Car intervention just after his own tyre stop.
But as Sergio won for the second time in 2023, Max set the fastest lap to keep ahead by a single point. What nobody knew was that from that point on, the Dutchman would simply engage reheat.
Sergio was again on pole in Miami, after a red flag incident involving Charles Leclerc prevented Max from setting a time in Q3. But he gave a preview of his intentions for the rest of the season by catching and passing his team mate to finish 5.3s ahead.
Russell's prediction was looking worryingly accurate.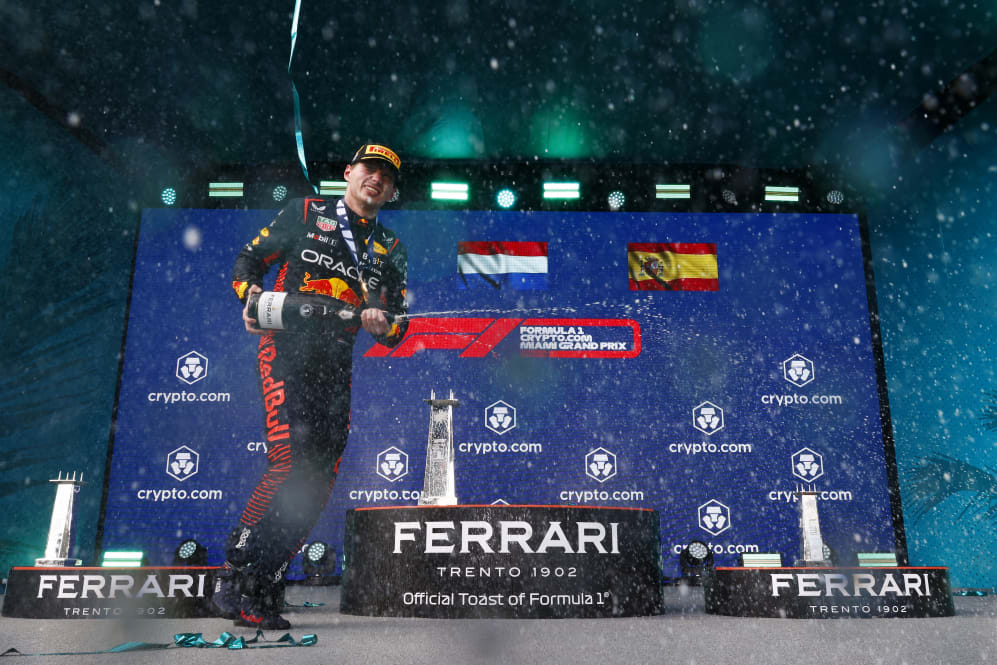 From pole he had zero problem dominating the Monaco GP, rain after a dry start notwithstanding. It was already clear that whatever the conditions or circumstances, every race was now his to lose.
Spain was a similar story: pole and another easy win, plus fastest lap. There was rain in quallie in Canada, but he was again on pole and scored Red Bull's 100th victory as his own 41st brought him level with Ayrton Senna's score.
Of course he won on Red Bull's home ground in Austria, taking both the sprint race and the Grand Prix. And though he lost the lead to Lando Norris in the improved McLaren early in the British GP, he soon rectified that on the fifth lap before cruising to yet another win as Red Bull drew level with McLaren's record of 11 consecutive wins.
READ MORE: From stable leadership to design genius – Former Red Bull drivers on the secrets of the team's success
Arch-enemy Lewis Hamilton beat him to pole in Hungary, but Max corrected that well before the first corner, and by the flag he'd become the fifth driver to win seven consecutive races as Red Bull set a new record of 12.
There was another sprint race in Belgium. Max took pole for that and the Grand Prix and won both, despite a five-place grid penalty in the latter for exceeding the allowance on gearboxes. He didn't take the lead until lap 17, but it didn't matter and it didn't affect the expected outcome as he caught and passed Sergio yet again.
Could one have imagined anyone else winning in Zandvoort? Of course not. Max gave his adoring compatriots exactly what they wanted.
He dealt easily with some rain in the early laps and the need to switch tyres, and came through to score his ninth consecutive win, drawing level with 50s legend Alberto Ascari and former Red Bull multi-champion Sebastian Vettel.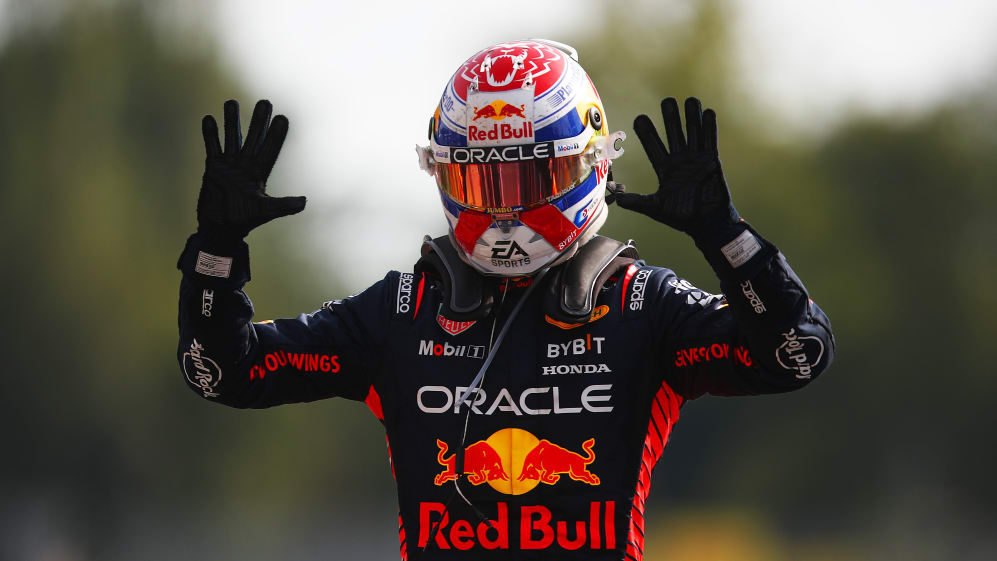 Carlos Sainz made a race of it for a while in Italy, starting from pole and leading on Ferrari's home turf, but inevitably Max hunted him down and stole the race, setting a new consecutive wins record of 10. Red Bull's similar mark was now up to 15.
The bubble finally burst in Singapore, where both Red Bull drivers struggled horribly in practice and qualifying on the bumpy surface and were overshadowed by Ferrari, McLaren and Mercedes.
But though Sainz won from Lando, Lewis and Charles, to become the first non-Red Bull pilot to win a Grand Prix since George Russell in Brazil the previous year, Max was right on the second Ferrari's tail after a superb recovery drive on raceday.
READ MORE: A closer look at the 12 constructors' title-winning cars Adrian Newey has designed
Ferrari, however, had stopped Red Bull's consecutive streak, and also ensured that, like McLaren in 1988, the dominant team wouldn't quite win every race.
Both Max and Red Bull are fighters, and their pride was stung by the troubles in Singapore, especially as there were whispers in the paddock that TD018 – a technical directive relating to flexibility of aerodynamic components – had somehow neutered the wondercar.
But when Max took yet another pole position, and won easily, it was clear they were back to full strength. The success won their sixth World Constructors' Championship, and coming into the Qatar weekend Max could have settled for sixth place in the Sprint, to score the three points he needed to put the World Drivers' Championship beyond anyone's reach, and then taken the rest of the year off.
So where does a third World Championship place the Flying Dutchman?
I'm not so keen on such comparisons because, though I believe in the World Championship, it's important to remember that the title always eluded Stirling Moss and only fell twice to Jim Clark, who should have won four on the bounce between 1962 and 1965 and again in 1967, but for mechanical unreliability.
Do three make Max better than Jimmy or Fernando Alonso? As good as Sir Jackie Stewart or Nelson Piquet? Three-fifths as good as Juan Manuel Fangio or only three-sevenths as good as Michael Schumacher or Lewis Hamilton?
And should one factor in that he is driving what is head and shoulders the best car of the year?
It's no to any of those suggestions, of course. A better comparison than the number of races or titles a driver wins, I always feel, is what use they make of the equipment at their disposal. After all, getting into the best car and winning world championships is the very name of the game.
BEYOND THE GRID: Red Bull's legendary designer Adrian Newey on the secrets behind his immense success
These days, with so many races and such incredible mechanical reliability, it's very rare that an inferior car can win overall. But you only have to look at the difference this year between Max and Sergio to see that there's a lot more to it than just having the best car. I can't think of a single occasion this year when Max hasn't got the best out of himself, even on the rare occasions when the RB19 might have left him wishing for a little more.
I'm impressed how he has matured. At 26 he's still very young, but the sometimes hot-headed kid we saw pulling a couple of horrible moves on Kimi Raikkonen in Hungary and Spa in 2016, or who has collided too many times with Lewis, seems to have disappeared. There was that little spat with George after the Azerbaijan sprint, but by and large that's the closest he's come to that character.
He's much calmer, realises that he doesn't need to pull moves in the first corner on the rare occasions when he hasn't started from pole, and is quite happy to sit it out wheel-to-wheel, as he did with Lando through Turns 1 and 2 at Suzuka recently, without it coming to blows. He's at the top of his game, doesn't make mistakes, is happy to talk to most hacks, and, thankfully, still unafraid to speak his mind on the occasions that demand it.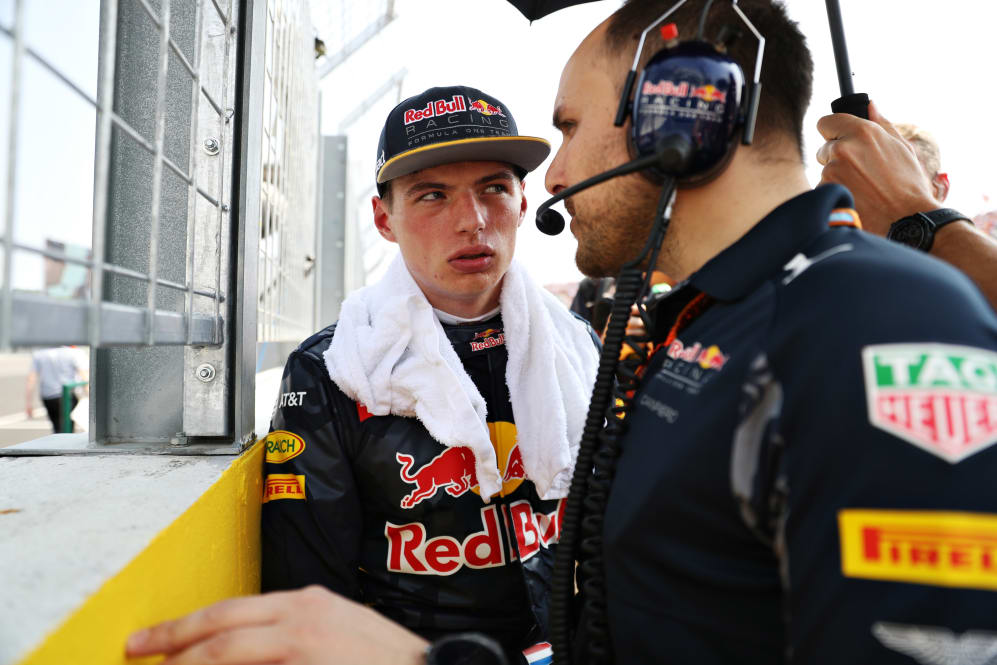 Is he now one of the greats? Of course he is. His record since winning his first title in Abu Dhabi back in 2021 has been quite incredible. But it would be quite wrong to put that down purely to the quality of his machinery.
Max is one of the absolute best, as all of the pacemakers of their time were, and if you were to ask me for an example that encapsulates that, I'd look no further than that astonishing first fast lap in Suzuka.
Singapore had been a real shock to Red Bull, and the suggestions about TD18 really hurt. But while everyone else ended up doing laps in the 1m 35s, Max had gone straight out on Honda's circuit and slammed in a lap of 1m 33.719s. Put that in your pipes and smoke it! Then he dominated the race there. Point made.
WATCH: From the new kids on the block to six-time champions – Red Bull's story so far
If he stopped racing tomorrow he would have established himself as one of history's greats, but he could easily have at least another 10 years of racing left in him, so imagine where that might end…
I'd like to see how he reacts when (if) Lewis finds himself back in a wholly competitive Mercedes, but right now – with the way he handles himself and his car – he has every right to hold his head high in the company of any of his great predecessors in the sport.
Check out the championship Max Verstappen collection on F1 Store here