Feature
EXCLUSIVE: From stable leadership to design genius – Former Red Bull drivers on the secrets of the team's success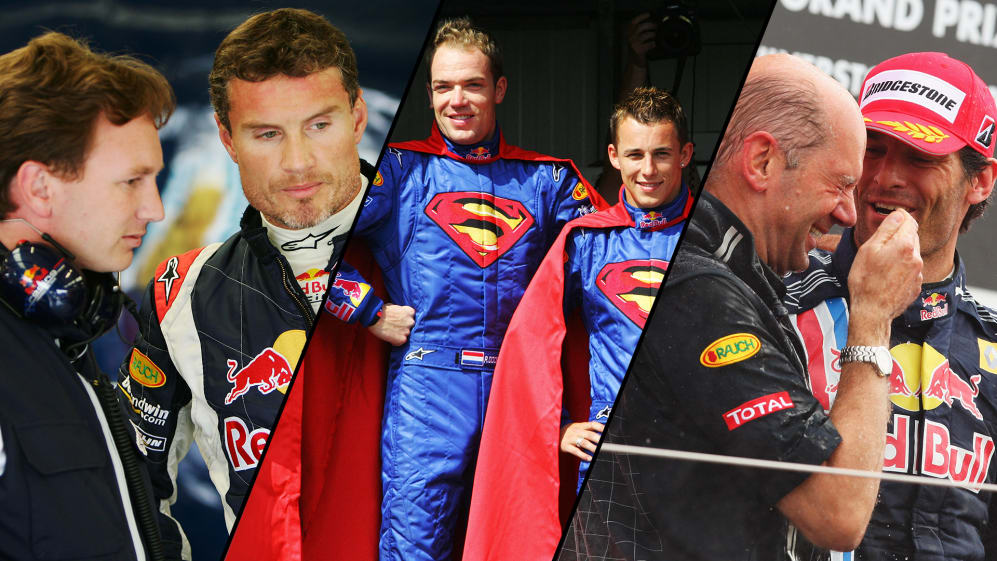 Last weekend, Red Bull were confirmed as F1 constructors' champions for the second season in a row – and sixth time overall – amid one of the most dominant displays from a team in the history of the sport. To mark the occasion, we spoke with several drivers who were involved in the early stages of the squad's journey, and who have kept a close eye on developments since, to gather some first-hand insight into exactly what makes them tick.
Core leadership
Red Bull's F1 adventure began in the winter of 2004 when the company bought the Milton Keynes-based Jaguar team and set about launching their own, fully-fledged operation for the 2005 season, having previously sponsored Sauber. Put in charge was a former racer turned leader named Christian Horner, fresh from guiding junior team Arden Motorsport – which he founded with his father Garry – to a Formula 3000 title double. With Red Bull backing one of his drivers that season in Vitantonio Liuzzi, and their chief of juniors Helmut Marko watching on, Horner would subsequently get the nod from company co-founder Dietrich Mateschitz and be thrust into the spotlight as F1's youngest team boss, aged only 31.
READ MORE: Horner revels in 'the most amazing year' for Red Bull after securing second constructors' title in a row
Since Red Bull's first podium finish via David Coulthard in Monaco in 2006, some 256 more rostrum finishes have been racked up, along with 107 race wins, 92 pole positions, 7,011 points, six drivers' titles between Sebastian Vettel and Max Verstappen – with another almost certain to follow shortly – and six constructors' crowns. Horner has been present throughout that period and is showing no signs of slowing down as he approaches his 50th birthday and 20th season in charge.
Robert Doornbos, Red Bull test and race driver, 2006-2007: "In Formula 3000, Red Bull sponsored my team mate, Liuzzi, so they were already looking into the kitchen of Arden and getting to know Christian. He made everything look smooth. All the cars were the same, but Christian would send his team over to the track a few days earlier to paint the pit box, to make sure all the clothing was back from the laundry. The other teams were like, 'Wow, they are on it.' It's already the first two-tenths in the bag, that's what Christian always told me.
"I think that attracted Red Bull, or at least Helmut Marko, and he thought, 'Okay, if we need a team principal, we've got to do it a different way. Instead of the usual guys, we'll take the young guy and promote him to F1.' In those first years at Red Bull, you saw the determination of Christian to make it happen and succeed. He had something special as a leader, even with his young age."
Vitantonio Liuzzi, Red Bull test and race driver, 2005: "Christian was a special person in my career. I won the Formula 3000 title with him as my team principal, so I had a really great relationship with him. When Red Bull started, I had a lot of questions about Christian from Dr Marko, and I could only say good things. Christian showed from the beginning that he had the right attitude, the right mentality to direct a team and to put the right structure in place."
Mark Webber, Red Bull race driver, 2007-2013: "It was a big role for Christian to take on early and he's absolutely grown into it through experience, dealing with being in the middle of the field and then dealing with drivers in the same team fighting for championships, which happened with Sebastian and me. The team has been very stable and it's been a very good recipe for success.
TREMAYNE: Superb engineering, great driving and cohesive teamwork – How Red Bull charged to another F1 constructors' title
"There's the consistency with a lot of the team principals and owners such as Christian… They've all done a little bit in the cockpit, which is very, very powerful. I think that helped Christian turbocharge his awareness of what we were trying to go through in the car. It wasn't always easy, of course, but he did the best he could at the time to understand the situation for the team and the drivers individually, and obviously dealing with Red Bull's owners."
David Coulthard, Red Bull race driver, 2005-2008: "Christian's been key. Designers, engineers, mechanics and drivers come and go, but the one constant has been Christian. I think his out-and-out racing passion, the fact that he was a racer, he wanted to go to the highest level, and he recognised for whatever reason, whether it was a lack of opportunity or talent… He then focused on running his own team, which already identified him as a racing entrepreneur, and Red Bull knew him and backed him. I think the lion's share of the credit should absolutely go to Christian."
In those first years at Red Bull, you saw the determination of Christian to make it happen and succeed. He had something special as a leader, even with his young age
Christian Klien, Red Bull test and race driver, 2005-2006: "He was very young to be a team principal, actually younger than David, which was funny! He had to work his way up and it wasn't an easy situation for him, taking over a huge F1 team with 500 people plus at that time, also reporting back to Helmut and Didi Mateschitz. I'm very, very impressed with the way he has developed, but he did it straight away very well.
"He was friendly, he was open, you could always approach him. It felt like he was always on your side and he could understand what you told him, because he used to drive as well. I rate him very, very highly. He's the longest-serving team principal at the moment and the job he did over the years was amazing. Red Bull had not only good days, but also some difficult years, and to fight back and always be there is a big achievement."
READ MORE: Red Bull's year by year journey and successes in F1
Technical brilliance
One of Red Bull's first landmark signings was F1 design guru Adrian Newey, who penned a host of race and title-winning cars with the established Williams and McLaren teams through the 1990s, where Coulthard had also raced and worked alongside him. Towards the end of their maiden season, the squad announced that Newey would be taking on the Technical Director position in early 2006, leading to the department being reshaped and a gradual climb up the pecking order in the years that followed.
Red Bull would take their first victory and one-two finish in China in 2009 with Vettel and Webber, before embarking on a sensational run of four successive drivers' and constructors' doubles from 2010 to 2013. Newey has remained at the technical helm through several more regulation changes, producing a race-winning car in every year thereafter bar 2015, as Red Bull battled an engine power deficit, while the latest ground effect era has seen the RB18 and RB19 blitz the competition in 2022 and 2023 respectively.
David Coulthard: "I'd worked with Adrian at Williams when I was a test driver and then a race driver, I'd worked with him at McLaren, so I'd known him since I was in my early 20s. All credit to Christian, he was the one that had the thought, 'Could we get Adrian?' I think when I joined the team, I was so immersed in, 'Right, what are the differences to McLaren? What things are better? What things are worse?'
"Christian had the vision of, 'This is where we are right now, but how do I put the best army together to fight the battles in the coming years?' When he initiated the conversation about Adrian, I was like, 'Well, let's go and meet with him!' I'm actually standing at the top of King's Road, just off Sloane Square, as we speak, and we had that first meeting down in the Bluebird Cafe in a private room there, because I was a member.
TECH TUESDAY: Is this the small design detail behind Red Bull's massive advantage in 2023?
"It was the first time that Adrian and Christian really came together and started a process that led to him meeting Mr Mateschitz in Austria and then ultimately agreeing terms to come and join the team. I don't feel it took a lot of convincing, because I'd known him for so long. Thankfully he went, 'Yeah, okay, I'm up for this challenge. Where do I sign?'"
Robert Doornbos: "Adrian is like the Einstein of F1. I really understood his brain during a test day when we were trying something new on the car. At one stage, he asked me if I thought it would be possible to drive an F1 car with two feet on top of each other, with the brake on the bottom and the throttle on top of the brake, so the car could be sleeker and slicker on the front end.
"I was like, 'Physically that's not possible.' He looked at me and wrote something down. He said, 'I want to change something.' I said, 'What?' He said, 'It's between the steering wheel and the engine.' I said, 'That's me!' Basically, if you give him a free hand, he wants to have a robot inside the car or something, so the balance of the human factor and him thinking only in numbers and data is quite extraordinary to work with. He pushes the boundaries."
Mark Webber: "Some of the ideas he'd bring up just in passing, I was like, 'Where's he off to with that?' and sure enough three months later, it's at the racetrack in a different sort of guise. He wants to understand, be extremely, extremely open and honest with what the issues are and tackle those head on. He continues to understand that yesterday was never good enough, and that's what I loved about him.
FULL TRANSCRIPT: Read every word from F1 design guru Adrian Newey's Beyond The Grid interview
"When we started to have early successes, a lot of one-twos, I think that was great for Christian too, because Christian obviously hadn't experienced that, and Helmut hadn't experienced that, but Adrian had. Adrian was sort of working out, 'Well, hang on, our pit stops are still s**t, let's work on those.' There were always other layers and it was like, 'Holy hell, when's this guy going to finish?'
"It was just great to have him as the technical spine of the whole department. Of course, he has got other people around him, and he's a tremendous listener – you don't have the career that Adrian's had if an individual like him doesn't listen. I love how understated he is, I love how immensely humble he is. He should be knighted, end of. It's not even a discussion in my book."
Adrian Newey's title-winning F1 cars
| Season | Team and car | Championship(s) |
| --- | --- | --- |
| 1992 | Williams FW14B | Drivers' and constructors' |
| 1993 | Williams FW15C | Drivers' and constructors' |
| 1994 | Williams FW16 | Constructors' |
| 1996 | Williams FW18 | Drivers' and constructors' |
| 1997 | Williams FW19 | Drivers' and constructors' |
| 1998 | McLaren MP4/13 | Drivers' and constructors' |
| 1999 | McLaren MP4/14 | Drivers' |
| 2010 | Red Bull RB6 | Drivers' and constructors' |
| 2011 | Red Bull RB7 | Drivers' and constructors' |
| 2012 | Red Bull RB8 | Drivers' and constructors' |
| 2013 | Red Bull RB9 | Drivers' and constructors' |
| 2021 | Red Bull RB16B | Drivers' |
| 2022 | Red Bull RB18 | Drivers' and constructors' |
| 2023* | Red Bull RB19 | Constructors' |
| *Season in progress | | |
Christian Klien: "It was really a milestone for Red Bull to get Adrian onboard. You could also feel in the paddock that Red Bull were not only there to be the party team, but they were also taking it seriously if they had Adrian Newey. It's not just that you're there to fill the grid slots, you want to achieve something. I think that was the turning point for the team to get onto the road to success."
Driver development
Prior to their full-time F1 entry, Red Bull had a record of backing young motorsport talent, initially offering support to a trio of Austrian drivers – Klien, Patrick Friesacher and Bernhard Auinger – and then forming a dedicated 'Red Bull Junior Team' to compete in Formula 3000 between 1999 and 2003, sponsored by the company and run by former F1 racer Marko. In 2004, Klien became the first Red Bull junior driver to compete in F1 with Jaguar, going on to represent the Austrian brand when they took the manufacturer's place the following year in a shared seat with Liuzzi alongside Coulthard.
READ MORE: Juan Pablo Montoya's son Sebastian joins Red Bull Junior Team and sets 'ultimate goal' of F1
Red Bull have continued to scout and support drivers over the years, giving them a chance to prove themselves in various junior categories, while adding a second team to the grid in Toro Rosso (now AlphaTauri) to serve as a finishing school and stepping stone to the senior outfit. While some drivers have fallen by the wayside, standout success stories include Vettel, winner of four world titles with the team, Daniel Ricciardo, winner of several Grands Prix, and most recently, Verstappen, world champion in 2021, 2022 and set to be crowned again in 2023.
Vitantonio Liuzzi: "We all know how much it takes in terms of time, effort and economically [to become a Formula 1 driver], so without Red Bull I don't know if I would ever have been able to reach F1. It's so important for a driver to be supported by a company like Red Bull, because they really give you wings. Obviously the results have to come and sometimes Red Bull has been famous to be rough, let's say, in their decision-making – Dr Marko especially! But they give incredible possibilities to the young generation."
It's so important for a driver to be supported by a company like Red Bull, because they really give you wings
Christian Klien: "Obviously for me the Junior Team was very important. I had a very close relationship with Red Bull from my go-karting days and I got presented my first helmet by Didi Mateschitz. I would say it's a little bit harder than other programmes, probably, because that's the [style] of Helmut, he's a tough guy in that respect. In the end, Helmut is just looking every 10 years for that one special driver like Sebastian or Max now. That's for sure very hard on a lot of drivers, and I felt that as well.
"On the other hand, you have to say plenty of drivers get opportunities. If they bring you through the junior categories, F4, F3, F2, you get close to F1 and sometimes it's just not happening because there's no space, or in their view you're not 100% talented enough, it still gives you plenty of opportunity afterwards in your career. In the end, you have to say it worked for Red Bull, the way they do it. You can either like it or not.
UNDERDOG TALES: When Vettel and Toro Rosso splashed their way to a sensational maiden win at Monza
"After a career with Red Bull, as a driver if you haven't made it with them in F1, they are still extremely loyal. Patrick and Bernhard, the first Red Bull juniors, both work at the Red Bull Ring, and I do some TV stuff for Servus TV, which is also owned by Red Bull. Even though it's very tough and hard, in the end it's a loyal company."
Robert Doornbos: "You're talking millions and millions of investment each year in the junior categories. Everybody felt like this was going somewhere, then the huge talent of Vettel arrived. They bought the Minardi team when I was there in 2005 to start Toro Rosso and prepare young talents for the big team, and you knew they were onto something big. Today with Red Bull and Max, I think it's the most dominant combination you've ever seen in F1."
David Coulthard: "I know the programme has had criticism. People go, 'Well, they just cut drivers.' What I would say to that, and this is not at all with a Red Bull hat, is opportunity comes, you get a chance to use that, and if the industry as a whole feels you've been shortchanged, name the one driver who's popped out of Red Bull's system and then risen to the highest level with Ferrari, Mercedes or whoever. They haven't. Carlos Sainz chose to move on and that's worked very well for him, but others who have been dropped, no one has picked them up."
Winning culture
Red Bull's late co-founder and owner Dietrich Mateschitz was aiming to build on the company's impressive sponsorship track record in other sports – from skiing to mountain biking and cliff diving to skateboarding – when he launched their own F1 team. Operating out of Austria and maintaining a close link to operations via Marko and Horner, Mateschitz's passion for the sport, business acumen and appetite for success shone through as Red Bull worked their way from midfield runners to podium finishers, race winners and ultimately world champions.
TECH TUESDAY: The secrets behind Red Bull's former world-beating F1 designs – 10 years on from their 'quadruple double'
Mateschitz had been at the helm of Red Bull from the F1 team's debut 2005 season until his passing in late-2022, while Horner, Marko and many other leading figures have kept their roles since the early days, serving as a constant presence inside the team and generating plenty of loyalty across various departments, from design to production and everywhere in between.
Vitantonio Liuzzi: "I think everything that is involved in Red Bull's story is starting from the winning mentality of Mr Mateschitz. Everything that they do, they do it to be the number one. I think people at Red Bull feel good to be part of an environment where everybody wants to win. They are also treated well family-wise and economically. Even when you go to the Red Bull factory in Fuschl, where they have the drinks company, it's the same – it's an amazing group of people. I think it extracts 110% from each of the employees.
"Mr Mateschitz is a big loss for F1 and the Red Bull world. He was really like a father for all the athletes. He was always there for you, always nice to people, and was a really strong and amazing character. You could really feel his vibe when he was inside a room. Many times it happens that when people become super-successful in life, they change a little bit, but Mr Mateschitz was always there for every single person in Red Bull. He was a beautiful person."
David Coulthard: "It's about giving people an environment where they can thrive. There's definitely a Red Bull culture and there's a Red Bull way, but I think the environment has encouraged people to want to be part of it and there's been opportunity for growth within it. Of course, people get headhunted from time to time and they go off and do their thing, but largely speaking there's been a great deal of loyalty there, and you can't buy loyalty."
LIGHTS TO FLAG: Coulthard on replacing Senna, dealing with Ron Dennis, and racing against Hakkinen
Mark Webber: "When Dietrich was alive, streamlining the commitment from Salzburg into the racing team was very important. It was done through Helmut and obviously Christian was there to run the team. How lean and nimble they were, they could still operate like a big Formula 3 team, really, so that was a big strength. Like everything Mr Mateschitz did, it was the best of the best. Every single person who's had a long-time role within the team, and that includes the drivers, it's about the belief."
Christian Klien: "First of all, they are all very, very competitive. Didi Mateschitz made everything possible that the team needed to have to grow, to be better. From the financial side, if it made sense, they always had the opportunity to go for it. Didi is a true sportsman and in the end they're all racers. Helmut is a pure racer, Christian is a pure racer, and that's 24/7, I think.
Like everything Mr Mateschitz did, it was the best of the best. Every single person who's had a long-time role within the team, and that includes the drivers, it's about the belief
"The stability they had over the years to have the same people there, or the same leadership, I think proved them to be on the right path, to be more or less every year competitive. Sometimes they were not competitive because probably the engine was not there, but from the car side, from the driver side, they've been a top team for a long time. It's also the Red Bull spirit, it's not a corporate team in the end, so the decision-making is very, very quick.
"I think it's a nice climate to work in at Red Bull Racing and it's a nice climate to work at any Red Bull company. What's interesting is if you're a Red Bull athlete, when you travel around the world for different marketing activities, the Red Bull people in South America, North America, Australia or Asia, they're always the same, they always have more or less the same philosophy and attitude. It almost feels like they've been handpicked by Mateschitz, the way he used to be."
The journey continues
Following their constructors' triumph in Japan, Red Bull are set for more celebrations at next weekend's Qatar Grand Prix, where Verstappen has a clear chance to become the drivers' world champion for the third season in a row and join a list of legendary names on such a tally. It would also mark a second successive double title-winning campaign for Red Bull, who have remarkably won all bar one of this year's 16 races to date and 25 of the last 27 including the 2022 campaign, as they revel in a new era of success supported by the four key pillars above and the ingredients used to form them.