Feature
TREMAYNE: Why Hamilton's grace and dignity in defeat will only add to his legend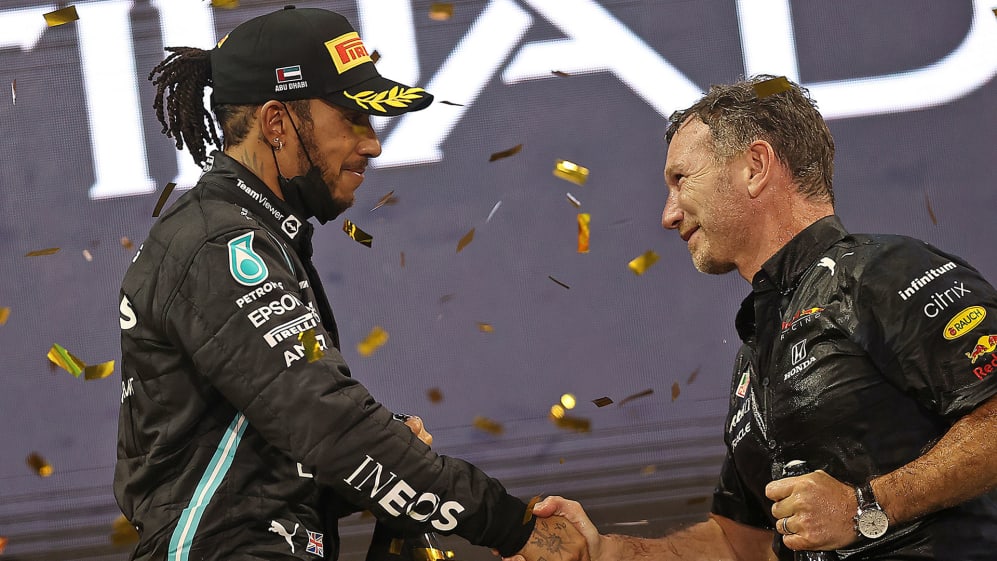 And so, two miles from home on the last lap of the season's last race, Lewis Hamilton's quest for a record eighth World Championship in Abu Dhabi was derailed, Nicholas Latifi's crash having led to rival Max Verstappen's superior final tyre strategy, his victory and the title that went with it.
Through no fault of Hamilton's own, Max and Red Bull grasped the luck, as the miracle for which Christian Horner had prayed to the racing gods was finally delivered.
EXPLAINED: Understanding one of the most chaotic, controversial title showdowns in F1 history
Lewis has long earned the right to be regarded as the greatest of his generation, and that accolade was cemented further after what was arguably the toughest contest of his career. The 2021 regulations suited Red Bull and high-rake cars more to begin with and set Max on the path to a rampant season.
That yielded the Dutch star 10 wins and a record 18 podium finishes by season end, having sent him to the showdown in Abu Dhabi on equal points with the multiple champion but still ahead on the basis of his then nine wins to Hamilton's eight.
But the sheer grace and dignity with which Lewis gathered himself after the dramatic and brutal denouement, physically and verbally congratulating the rival with whom things had become so tense on several occasions in his moment of victory, was echoed as father Antony hugged Jos Verstappen. Not hard to see where an outstanding definition of class was forged.
READ MORE: Champion Verstappen to run No.1 on Red Bull in 2022 as he reveals congratulations from Wolff and Hamilton
Both rivals are fierce warriors, but looking at the manner in which Lewis, at 36, never gave up nor shied away from taking the fight to his 24-year-old challenger but just kept encouraging his unbowed team to slog away, one had to keep reminding oneself that here was a man who, despite being in his 15th year of F1 competition, was still driving with all the fervour of his outstanding rookie season in 2007 when he only lost what would have been a unique, outstanding first-year championship in the final race.
All these years later, his stamina, speed, commitment and determination remain utterly extraordinary. As FIA steward Derek Warwick commented recently: "Lewis brings a better Lewis every year, every race, with his experience, his devotion, and love for the sport… He's a legend."
Max, now on top of the world, shows all the signs of becoming the next superstar, yet Lewis fought him right down to the final bell and, even on that occasion, had him covered until Fate stepped in.
His victories in Bahrain, Portugal, Spain, Britain, Russia, Brazil, Qatar and Saudi Arabia were stacked against Max's successes in Imola, Monaco, France, Styria, Austria, Belgium, Holland, the US and Mexico – and, finally, Abu Dhabi – as the points lead see-sawed between them and the rest were left trailing. Each had moments of supreme bad luck and good fortune, as the reigning champions refused to concede defeat and continually fought back to the front.
READ MORE: Verstappen praises 'amazing driver' Hamilton after winning title showdown against 7-time champion
It was mano a mano at its finest in the best title fight of the turbo-hybrid era, no holds barred, no quarter given.
They could not be two more different characters. Lewis is the sport's elder statesman, rich beyond the wildest dreams he entertained with his father in their modest house in Stevenage when he started out in karting, comfortable enough these days with who he is that he is happy to use the platform of global fame and visibility well beyond the confines of his sport to set up the Hamilton Commission to help young black people, and to lobby on behalf of causes such as Black Lives Matter and the rights of Lesbian Gay Bisexual Transgender and Intersex people.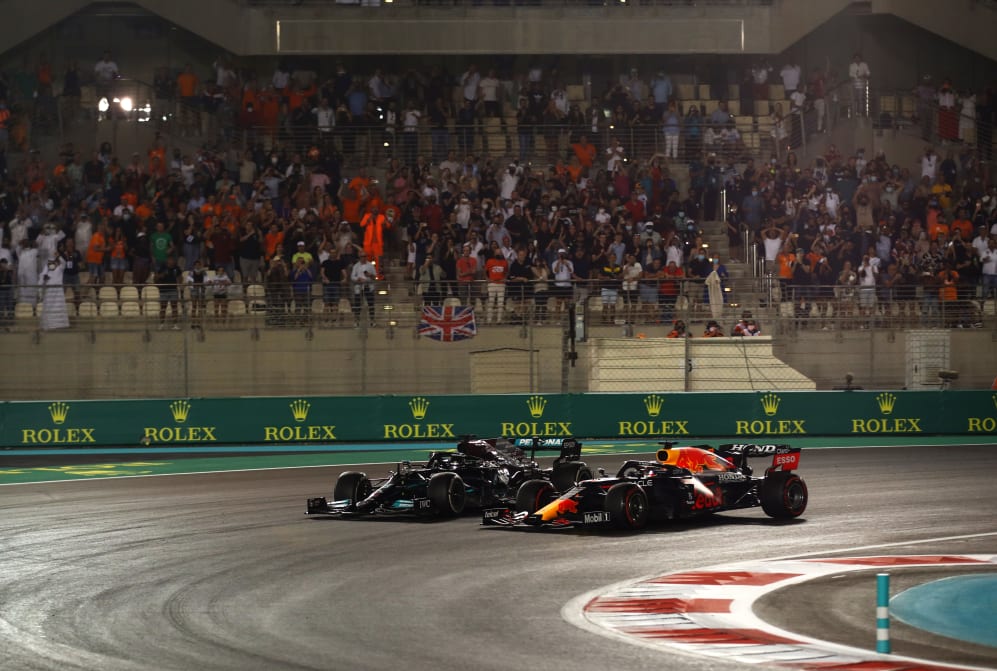 He wears those responsibilities as comfortably as he can steer an F1 car through corner after corner on the limit, and as he boosted his victory tally to a record 103 in Jeddah, he never looked like a driver who was being distracted by his busy life outside racing. If anything, it was the perfect antidote to too much immersion in the fevered realm of racing.
Max, meanwhile, is a hardened street fighter who has been racing since he was a young child. His father Jos raced as Michael Schumacher's partner at Benetton and mother Sophie was a karter capable of beating the likes of later F1 stars Jarno Trulli and Heikki Kovalainen. He put everything he had learned since graduating to F1 with Toro Rosso at the tender age of 17 years and 166 days in 2015 to the best possible use as he finally got his hands on a wholly competitive Red Bull.
BUXTON: Born to race, lightning quick, ruthless on track – and now Max Verstappen is a world champion
And he was the favourite right up until Mercedes pulled off that Brazil-Qatar-Saudi hat-trick. Young, fit, fast and completely comfortable pushing the limits both metaphorically and physically, he was the upstart anti-hero whose implacable insouciance ignited the season and brought out Lewis's absolute A game. Never had either previously encountered such an intense war.
While in many ways they have similar levels of skill and driving style, they use their machines in different ways. If they were swords, Max would wield his like a cutlass or a sabre, whereas Lewis would deftly feint with his as if it were a rapier or an epee.
Such was the intensity of the fight that Lewis always had to be prepared for the possibility of collisions whenever they ran close, and on several occasions he was forced to avoid or at least minimise Max's incursions into his bit of the road. In the season opener in Bahrain, where the Red Bull was much faster than the Mercedes, he cannily obliged his rival to attempt a pass where it was likely he would slide all four wheels off the road. Max took the bait, and duly went off, to be instructed by his team to give the lead place back.
In Imola, Lewis was a little bit optimistic on the inside of the second corner, and got clobbered and put over a kerb for his troubles by Max.
Likewise, in Barcelona, had he chosen not to have taken to the run off area on the outside of Turn 1, Max's forceful pass would most likely have seen them collide.
IN-DEPTH: The champion's interview – Verstappen on achieving his dream, that thrilling finale and where he goes from here
Their infamous collision at Silverstone was more about Lewis laying down a marker – rather as an oft-bullied Alain Prost finally did with Ayrton Senna at Suzuka's chicane in 1989 – than it was any kind of desperation. It was a robust message that he was not always going to move when being crowded.
Then there was Monza, where he was lucky that the halo saved him from head injury as Max's attempt to pass resulted in the Red Bull being parked atop the Mercedes in the first chicane. Interlagos, where he was forced off the road while attempting to overtake Max in Turn 4. Jeddah, where they collided yet again, at speed. And Abu Dhabi, where in Turn 6 on the first lap, he yet again had to move to avoid contact.
Lewis's style reminds me of that old John Lewis advertising slogan 'never knowingly undersold' except that in his case it would be 'never knowingly underhand'. Where Max is much more aggressive and ever willing to push the boundaries in wheel-to-wheel combat, Lewis recently reiterated his desire to play by the rules and to win cleanly. Each was content to play the game their own way, and in the end the actions of Nicholas Latifi helped decide the outcome for them.
After Lewis's run of success in Brazil, Qatar and Jeddah, Red Bull's Christian Horner, defending Max's forcefulness, accused Lewis of being just as willing to take things to the limit. "Lewis is very wily with the way he does it sometimes. Just look at the last corner [in Jeddah] when he ran Max out wide there, and there was another corner as well, where he's opened the steering wheel – I think it was into Turn 1 too."
TREMAYNE: Fearless and magnificent – Why F1's newest champion Verstappen has shown his true colours in 2021
"I don't think I've changed the way that I race," Lewis countered, and many would agree with that. He has always exhibited an uncanny instinct for placing his vehicle in the perfect position to outfox an opponent and facilitate a clean pass. And as we saw in the Sprint and then the Grand Prix in Interlagos, he has developed the patience to await the perfect opportunity, even when fighting backmarkers such as rookie Yuki Tsunoda while his arch-rival got away. He very rarely initiates collisions.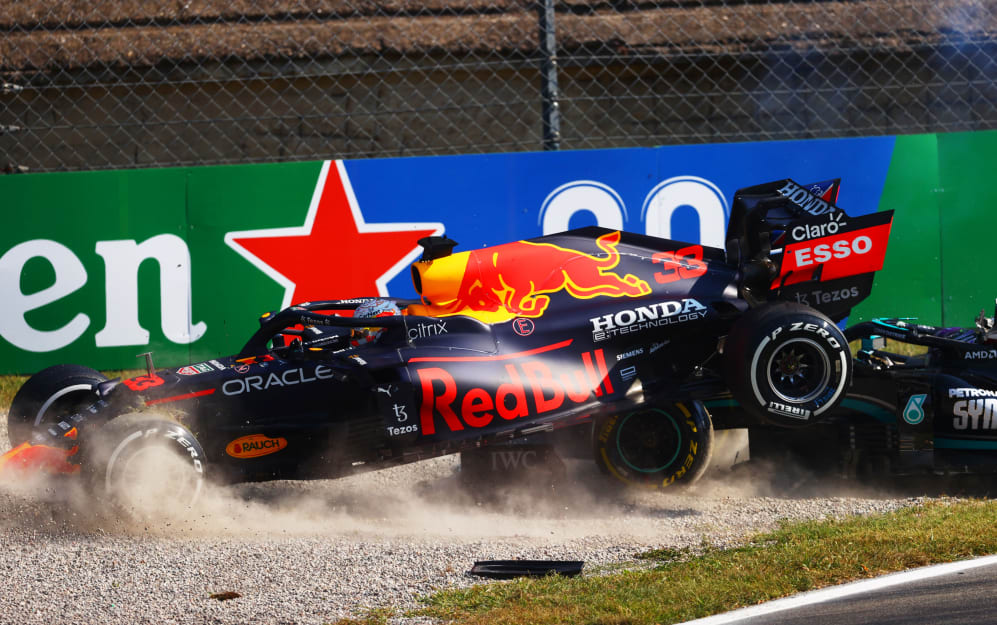 It's a shame that the on-track controversies – especially the last one at Yas Marina – clouded the 2021 season, but undoubtedly they were the making of it and boosted F1's popularity worldwide.
Juan Manuel Fangio, for many the greatest driver of all time, had no problem according other drivers their due respect. "You must always try to be the best, but never believe that you are."
There is zero doubt that Lewis is the best driver of his era, with the caveat that life would have been more difficult had Fernando Alonso not rowed himself out of Ferrari and complicated his own career in myriad other ways, or Max had a competitive car sooner. But making yourself the right bed, and interacting positively within teams, is part and parcel of greatness too. And Lewis's manner suggests that he embraces Fangio's mantra.
READ MORE: 'I've achieved everything' – Verstappen says further F1 success will be 'a bonus' after claiming maiden title
Lewis was able to win races right from the start of his career when the car was there to win it, but he could also win in some of the seasons when the car was not the best, such as 2009. And uniquely he has won races in every year he has been competing in F1. With those 103 wins, a contract with Mercedes until at least the end of 2023 and the possibility of continuing beyond that, he could set records which will take decades to beat.
Gone is the last vestige of the unwanted negativity which sometimes characterised his years battling with Nico Rosberg. And while much is made of his interests in music and fashion by those who don't understand the need for a racer to have balance in his life and see all that as potentially debilitating, it's clear that he draws strength and motivation from such adventures. Contrary to having an adverse effect on his driving, they appear to boost it.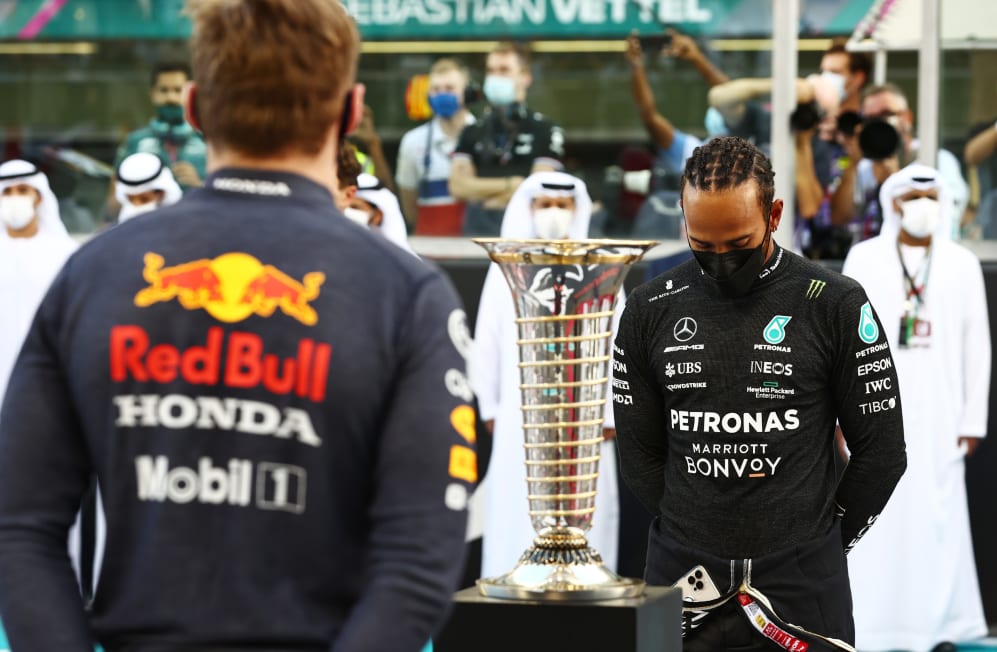 Despite the loss of his crown, he remains a man at peace these days. Gone is the boy within the man, who so often looked like a kicked dog when things weren't going right in his relationship with Nicole Scherzinger. There's a bit less heart on the colourful sleeve these days, too, a new calmness and maturity, while in his press conferences and post-race updates, a considered, eloquent and insightful narrative usually emerges that is natural and comes from a big heart, rather than from any sort of prepared script.
There's a more worldly, philosophical side to him that is engaging and compelling, and confirmation of his global stature as a driver. Like Senna, he has achieved that state of grace which transcends his sport.
READ MORE: Bottas 'proud but sad' to leave Mercedes after being part of F1's most successful team mate pairing with Hamilton
Fifteen years into his remarkable F1 career, his warrior spirit remains stronger than ever. He said many times that he wanted a fight, and for sure he got one. "It's been an incredible year, an amazing battle," he said of 2021. "I'm grateful I've had such a great battle with Max and his team.
"I think they've done an exceptional job and shown true strength, so it's pushed us to the limit in ways that we needed. And we have grown stronger as a team in ways we didn't know we could grow. It's been amazing. I hope that we have many more seasons like this." As do several million entranced F1 fans across the globe…
Sir Lewis Hamilton… As he proved with his grace after the disputatious end to his 2021 campaign, he is exactly what Chaucer described in his General Prologue when he spoke of 'a verray, parfit, gentil knight'.