Verstappen praises 'amazing driver' Hamilton after winning title showdown against 7-time champion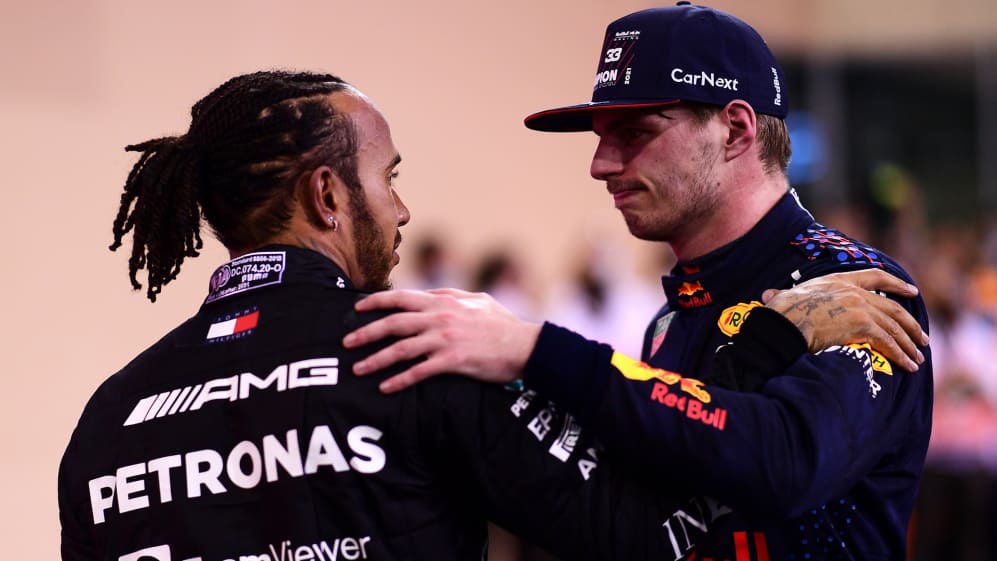 In Abu Dhabi, Formula 1 champion Max Verstappen called competitor Lewis Hamilton an "amazing" driver after winning out in an astonishing season-long battle with the seven-time champion.
Verstappen took pole position, lost the lead, and regained it in a last-lap shootout after a late Safety Car was called in Abu Dhabi. Mercedes, who won a record eighth-consecutive constructors' title on Sunday with Hamilton second and Valtteri Bottas P6 at Yas Marina, protested the outcome but had those protests dismissed – after which the Silver Arrows lodged an intention to appeal the decision.
READ MORE: Stewards dismiss Mercedes' Abu Dhabi Grand Prix protests, as team lodge intention to appeal
The Dutchman remarked afterwards on how it felt to go toe-to-toe against a seven-time champion over this 22-race season.
"I have a lot of respect for Lewis, but you know, I'm just very happy that I won in general because it's been of course a very tough season fighting against Mercedes and Lewis. But I don't want to sound... arrogant or whatever, to say that it's a great satisfaction to win against him," said Verstappen.
"I just have a lot of respect for him, and I know he's an amazing driver in terms of what he's achieved but I'm just very happy that we won it."
Red Bull's second F1 champion – after Sebastian Vettel – added that the bar had been set "very high" by himself and Hamilton this season.
"I think in general, the quality has been very high, I think set by myself and Lewis of course," he added.
READ MORE: 'We knew he'd be world champion one day' – Former team mates and fellow champs on Max Verstappen's maiden title
"We have been pushing each other to the limit every single time. There have been quite some tough races physically because you were just flat-out all the time, there was no lap to rest, and you know, throughout the whole weekend – qualifying, race – it was important to always try and be perfect which is very hard in Formula 1 to always be perfect.
"A little lock-up can make the difference between P1 and P2 so in the championship we had, that was massive, and that's why [the level] was really high."
Reflecting on his ferocious rivalry with Hamilton that has seen the pair go wheel-to-wheel in such epics as Bahrain, Imola, Saudi Arabia and here in Abu Dhabi, Verstappen said: "Of course, in general, I think we have really enjoyed it. Of course, you know, we had our moments, but I think in a championship battle, that's part of it.
READ MORE: Abu Dhabi GP Facts & Stats – A first Dutch champion – and with a record 18 season podiums
"And now that the season is over, I think we can relax a little bit more about it – but it's been tense. The competition, almost every race we have been pushing each other to the limit, within our cars as well. And I think that is just really nice to see."
And how has this titanic campaign changed Verstappen?
"New experiences," are what the Dutchman said he had gained, adding: "and again, I learned more about myself in a positive way, luckily, but luckily you keep on improving, that's for sure."