Opinion
TREMAYNE: Norris' aggressive and determined drive in Bahrain shows he's gone up a gear in 2021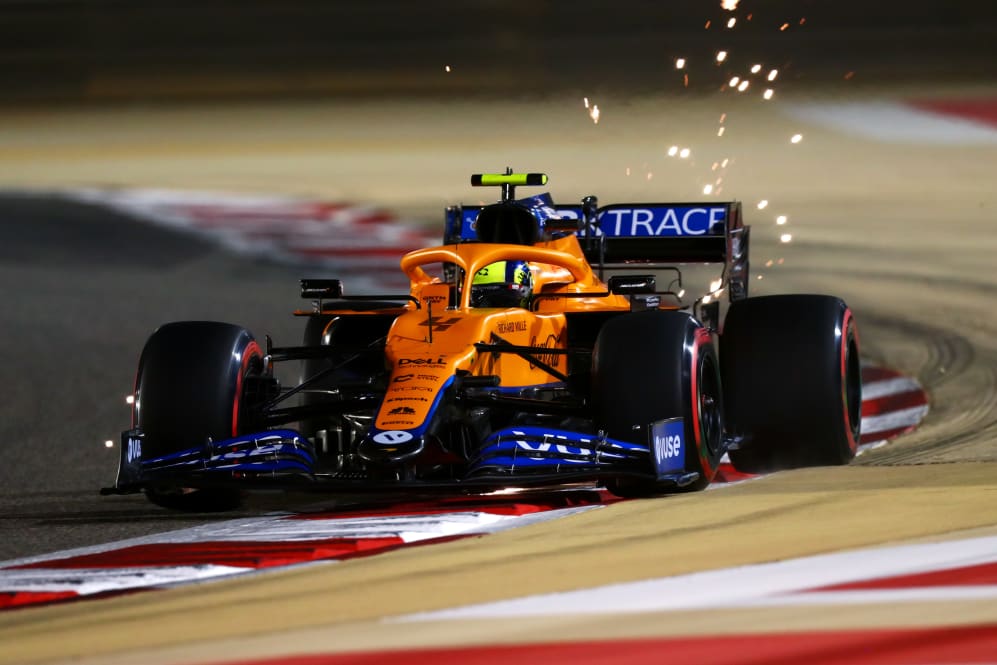 Lewis Hamilton had to dig deep to pull off arguably one of the most hard-fought wins of his career in Bahrain, but it was another British driver who caught the eye of F1 Hall of Fame journalist David Tremayne...
Where did that come from?
While that was my first question when Lewis Hamilton finally crossed the finish line still 0.745s ahead of Max Verstappen, in an inferior car and on a track where overtaking is possible, it was really what I had been thinking right from the first lap about Lando Norris. And 56 laps later when he finished a strong fourth, three places and a whopping 19.538s ahead of his much-respected new team mate Daniel Ricciardo.
READ MORE: Norris had 'flashbacks' to maiden podium as he charged to P4 in Bahrain
I'll be honest, while I had expected it to be close between them, I thought Daniel would have the upper hand right from the start. Lando clearly thought otherwise.
The young Briton was flying on that opening lap. He sliced cleanly past Daniel like he was standing still, and then did the same to Pierre Gasly when the race resumed at the end of lap four after Nikita Mazepin's annoying gaffe. He then engaged immediately in the duel for third with Charles Leclerc and Valtteri Bottas.
This was New Lando, uncompromisingly yet very successfully aggressive and determined, and exuding a hitherto unseen fire. Yes, this was still smiley Lando, the guy with the little kid's grin and the squeaky laugh who delighted in throwing milk at team mate Carlos Sainz in some hilarious off-track moments for Sky TV. But there was a winner's cool calculation as he made his moves. This was no smiley tyro. This was a fast-maturing racer going up another gear, determined to demonstrate his worth and eliminate any tendency to underestimate him.
When the race went green again, then had an immediate Virtual Safety Car after Mick Schumacher's spin in the other Haas, Lando was thrown another chance to demonstrate his newfound aggression.
READ MORE: 6 Winners and 6 Losers from the 2021 Bahrain GP – Who started their season in style?
Valtteri Bottas lost little time in disposing of Charles Leclerc in Turn 1 at the start of the sixth lap. But Charles' counter-attack on the Mercedes exiting Turn 4 gave Lando the opportunity to get closer as they held each other up. He was still on Charles' tail after seven laps, and made his first move in Turn 1 at the start of the eighth. Charles' rebuffed him, costing him a bit of momentum, but he regrouped quickly and they went through Turns Four and Five side-by-side after Charles had squeezed him out wide.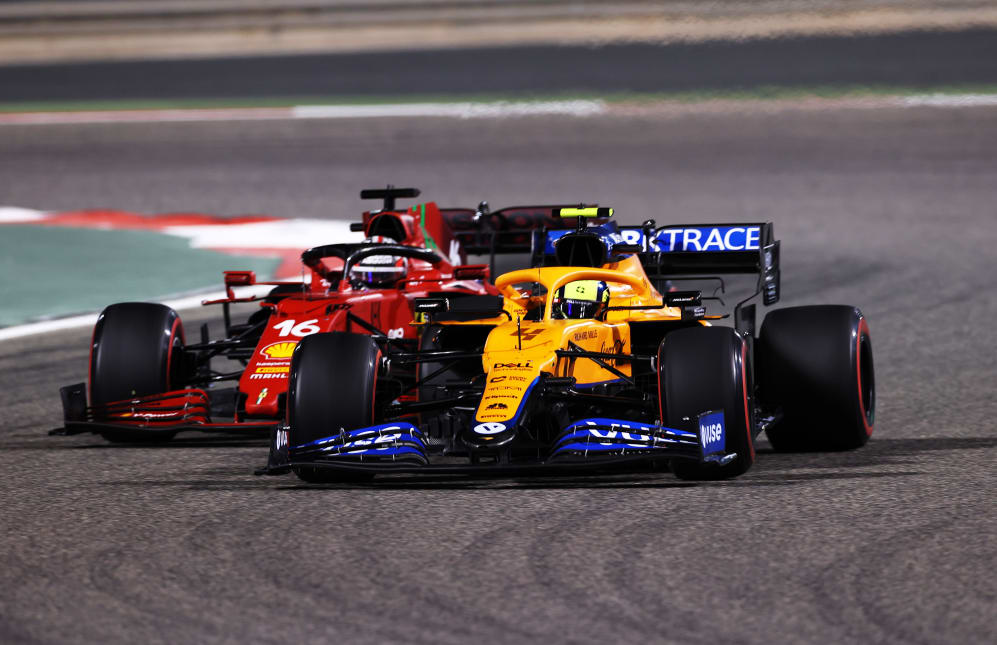 Lando complained over the radio, but kept his cool. While he had put himself in potential jeopardy, you couldn't fault his courageous resolve to sit it out and not be intimidated. Or the neatness of his driving in such an extreme situation.
He closed up with DRS over the rest of that lap, and then towed up nicely on the Ferrari going down to Turn 1 on lap nine. There was no hesitation as he sliced cleanly down the inside in a perfectly executed bit of overtaking, and he kept calm again when Charles attempted to repass in Turn 4. He thoroughly deserved that fourth place.
WATCH: Overtakes, spins and crashes – the top 10 best onboards from the Bahrain GP
In those opening tours Lando demonstrated how effective the case-hardening process of two seasons in F1 has been. He's been a star in all of the categories in which he's competed thus far, and now he had shown that without doubt he can get the job done at a high level in F1.
No wonder Zak Brown is smiling so much these days.
McLaren are very much a team on the rise, and there's a real buzz in the Woking camp right now. Much of that comes from the self-respect they regained last year, as they finished third overall in the constructors' championship behind Mercedes and Red Bull.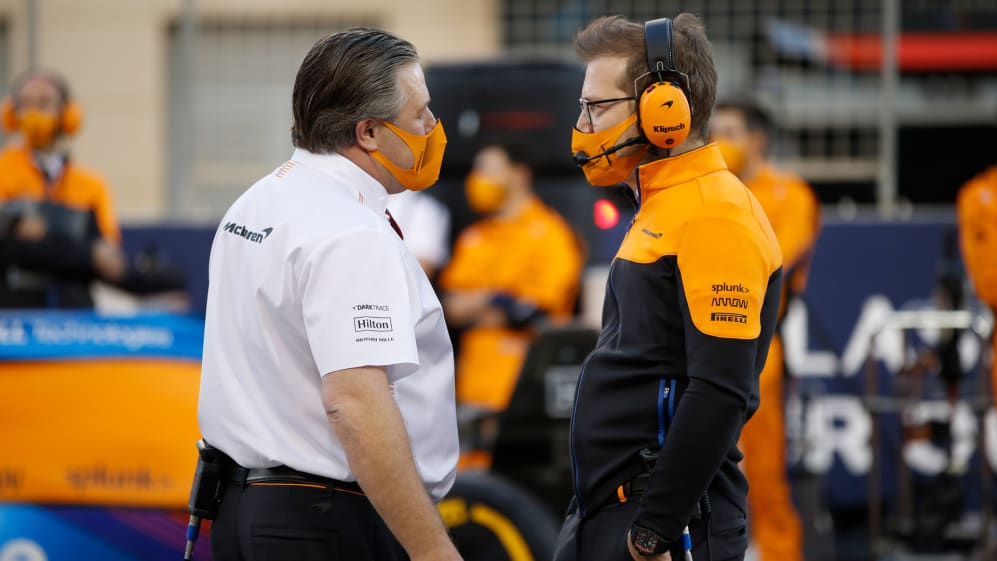 Since Andreas Seidl and James Key joined there is a much greater sense of reality and purpose, as 2019 and 2020 showed, and things are back on an upward trajectory. The bruises sustained between 2015 and 2017 in the hugely disappointing re-alliance with past title-winning partner, Honda, have finally faded, and a leaner McLaren move forwards in a new re-alliance with another past partner, and Mercedes' M12 power unit behind their drivers' shoulders.
Lando started 2020 well, too, but his Bahrain performance was slightly different thanks to the sharpness, confidence and lack of compromise in his moves. And that has been there right from testing at the start of the season.
READ MORE: The hopes and fears for every McLaren fan in 2021
While Daniel was ninth in FP1, Lando was third, in the 1m 31s with Verstappen, Bottas, Hamilton and Leclerc. He went one better in FP2, second to Verstappen as the only pair in the 1m 30s, while Daniel improved to sixth. In FP3 the McLaren duo were 10th and 16th, Daniel ahead, clearly focusing more on race work.
Daniel was then fifth in Q1 compared to Lando's eighth, though only 0.107s separated them. Lando reversed that in Q2 with fourth to Daniel's sixth, now separated by 0.123s. In the end, the Australian 'won' the qualifying battle, with 1m 29.927s for sixth compared to Lando's 1m 29.974s for seventh – just 0.047 degrees of separation. Ever one to put his hand up when he doesn't think he's done the best job, Lando admitted that he hadn't been as smooth on his second Q3 run as he should have been.
He's always been fast, but for me he demonstrated a new, Ricciardo level of aggression on those opening laps. Daniel's race was comprised by Pierre Gasly hitting the rear of his McLaren on the restart, and thus the significant loss of downforce should be factored in. But it should be remembered that Lando had overtaken him before it happened.
READ MORE: McLaren reveal floor damage from Lap 4 contact with Gasly slowed Ricciardo in Bahrain
McLaren's situation reminds me a little of March's at the end of 1971. They went testing with Ronnie Peterson and the under-rated Niki Lauda at Thruxton, and after one set a time, the other would go out and beat it, and vice versa. Watching all this, Robin Herd said, "Oh boy, that's all we need. We've got two superstars, not one!"
This is a crucial year for Lando. In 2019 he showed very well against Carlos Sainz, and even better in 2020. Now he's partnered with a driver recognised to be in the top five. But on the strength of his Bahrain GP performance, he's taken a very important step towards achieving the goal of matching or beating him, adding ruthless precision to an already impressive range of skills.