Feature
5 key moments on 2022 Alfa Romeo driver Guanyu Zhou's Road to F1
Growing up in China with ambitions of being a Formula 1 driver, there was no obvious candidate from Guanyu Zhou's homeland whose pathway he could follow. But after being announced as the country's first full-time F1 racer, Zhou now has the opportunity to be that guiding voice for the next generation of Chinese talent.
After Zhou was announced as part of Alfa Romeo's 2022 line-up – alongside Valtteri Bottas – we look at five pivotal moments on his journey from F2.
ANALYSIS: Why Alfa Romeo went for Zhou, how the deal came together – and who else was in contention for the seat
1. Making a name for himself at an F1 Grand Prix
After moving from Shanghai in China to Sheffield in the north of England to chase his F1 dream before he was even a teenager, little was likely to unsettle Zhou – but racing on a Grand Prix weekend in Formula 2 certainly had the potential.
Yet the Chinese star seemed utterly unfazed by it. Stepping up on the back of a solid but unassuming 2018 European F3 campaign with PREMA Racing – where he finished eighth – his style of racing seemed much more suited to the faster, more powerful F2 machinery. 
READ MORE: F2 and F3 calendars confirmed for 2022 with biggest-ever seasons for both F1 support championships
One of just two rookies to take points in both races of the opening weekend of the 2019 Formula 2 season – the other being current Haas racer Mick Schumacher – Zhou only had to wait until Round 3 to secure his first podium, taking third in the Spanish Sprint Race. 
Two more P3s followed before a superb pole at Silverstone, which was made all the more impressive by Zhou's admission that it was "the one time I didn't expect to be on pole", due to the number of high-speed corners at the track – a weakness that he's worked hard to get on top of.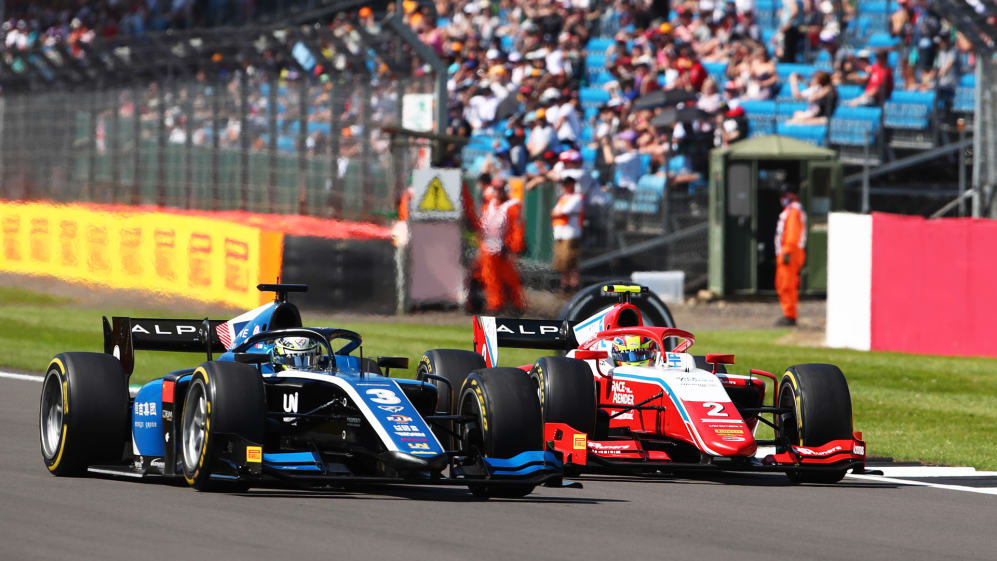 2. Winning the Anthoine Hubert award
That Zhou eventually finished in seventh in the 2019 F2 standings does something of a disservice to his rookie season. He spent the majority of the year holding his own as part of an experienced top five.
Taking one pole and five podiums, Zhou was a more consistent points scorer than four of the six drivers above him, missing out on points just four times in total. Only champion Nyck de Vries and runner-up Nicholas Latifi boasted a better record. 
READ MORE: Anthoine Hubert, 1996-2019
His rich consistency made him a worthy first recipient of the Anthoine Hubert award for best rookie. The trophy was created to honour the late Frenchman, a fellow Renault Academy member and close friend of Zhou.
Beating the likes of Mick Schumacher, Callum Ilott and Nikita Mazepin to the award, a title challenge was expected to follow in 2020… 
3. His first F2 victory
Like his start to life in F2, Zhou initially seemed to take the 'favourite' tag in his stride, securing pole in the season opener at Sakhir in 2020, but mechanical issues in the Feature Race robbed him of points in both races and he departed Round 1 with a zero next to his name.
It didn't get much better either….
Apart from P3 in the Round 2 Feature Race, his start to the season was trying. By the time the grid arrived in Silverstone, he was in eighth, 50 points adrift of then-leader Robert Shwartzman. Things weren't going to plan.
He suffered more point-less finishes than podiums in the following six rounds and was still searching for his first win in Round 10 at Sochi. It's no surprise that he's since labelled the period as "one of the toughest" of his racing career so far.
READ MORE: Zhou has everything to be successful in F1, says Alfa Romeo boss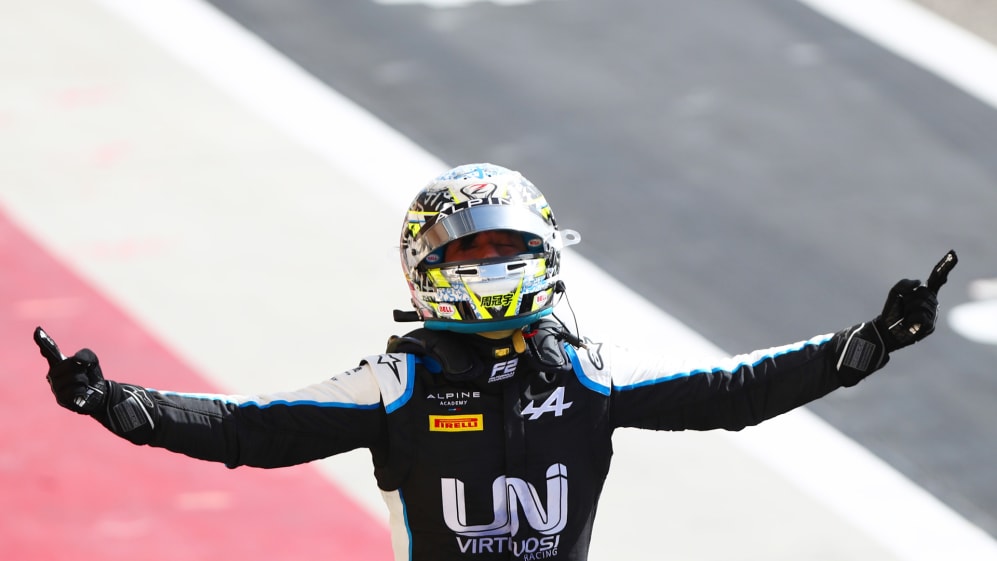 Something just wasn't clicking and the fact he was still without a win was clearly weighing heavily on his mind.
It may not have happened as he envisaged, but with three rounds to go, Zhou was finally relieved of that burden in the Sochi Sprint Race. A nasty collision, while Zhou was leading, between Luca Ghiotto and Jack Aitken ended the race early and meant that, although the Chinese driver only came away with half points, he was now an F2 winner. He was determined to use it as a springboard.
Hailing the victory as a "huge release," ahead of a two-month break, the Chinese driver went away, switched off, and started fresh in the final two rounds.
4. Leading the Formula 2 championship
Three top-five finishes from the last four races on 2020, including P2 in the final Feature Race of the season, suggested Zhou had turned a corner and meant he ended the campaign on a much more positive note than he begun it.
Zhou felt he'd gotten enough of a break during the gap between Rounds 10 and 11 and so used the off-season as a chance to retain the momentum he'd gained, entering and winning the Asian F3 Championship. It appeared to pay off as he started the 2021 F2 season in sensational form, taking pole, his first Feature Race win and a further podium in the second Sprint. 
READ MORE: New points system revealed for Formula 2 and Formula 3
As much as his first win in Sochi had released the pressure valve, winning the Feature Race in Bahrain – and securing full points – meant a whole lot more. The Chinese racer departed the opening round of 2021 first in the championship, bursting with confidence. 
A second win followed in the next race, as did a fourth podium in Round 3. He was entering race weekends with an air of authority that hadn't previously been seen in him.
A run of four point-less races appeared to do little to dent his confidence, nor did losing the championship lead to Oscar Piastri. Since then, he's taken five top-10 finishes in a row, including a win and two podiums. 
He's currently 36 points off his fellow Alpine Academy driver entering the business end of the season. And with his immediate future in F1 wrapped up, he can go into the final two rounds with his focus fully on the title fight.
READ MORE: Australian F2 racer Oscar Piastri named as Alpine's reserve driver for 2022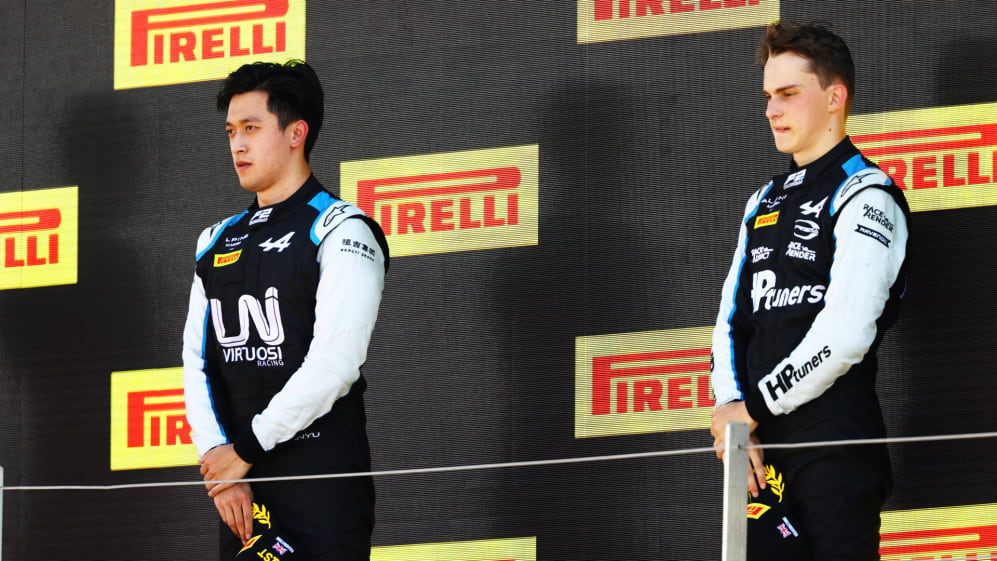 5. Making his FP1 debut with Alpine
Guanyu Zhou's FP1 debut at the 2021 Austrian Grand Prix was a sizeable moment for both the driver and the sport, with the 22-year-old becoming the first Chinese driver to run in an official F1 session for eight years, and only the second from mainland China.
For Zhou, as significant a milestone as it was, it was one big tick off a much bigger checklist. 
Finishing 14th in Fernando Alonso's car, he impressed Alpine with not just his speed, but his input as well. He also made a fan of the two-time world champion, who hailed that the junior "executed FP1 perfectly."
That Alonso was his childhood hero made the outing that bit more special. Ahead of the session, Zhou shared a poignant image on social media of himself waving an Alonso flag at the 2005 Chinese Grand Prix.
Oops! Error retrieving Twitter post
READ MORE: F1 extends Chinese Grand Prix contract to 2025
In the future, he will hope that young drivers from his homeland are brandishing Guanyu Zhou flags at the Shanghai International Circuit. So excited was the motorsport contingent of China to see Zhou in an F1 car, he claimed that many were sat there purely watching his onboard for the entirety of the session. 
And now, with a full-time seat confirmed, they'll get to soak up a whole lot more cockpit action from him…