Report
Verstappen beats Leclerc by just 0.5s in epic Saudi Arabian Grand Prix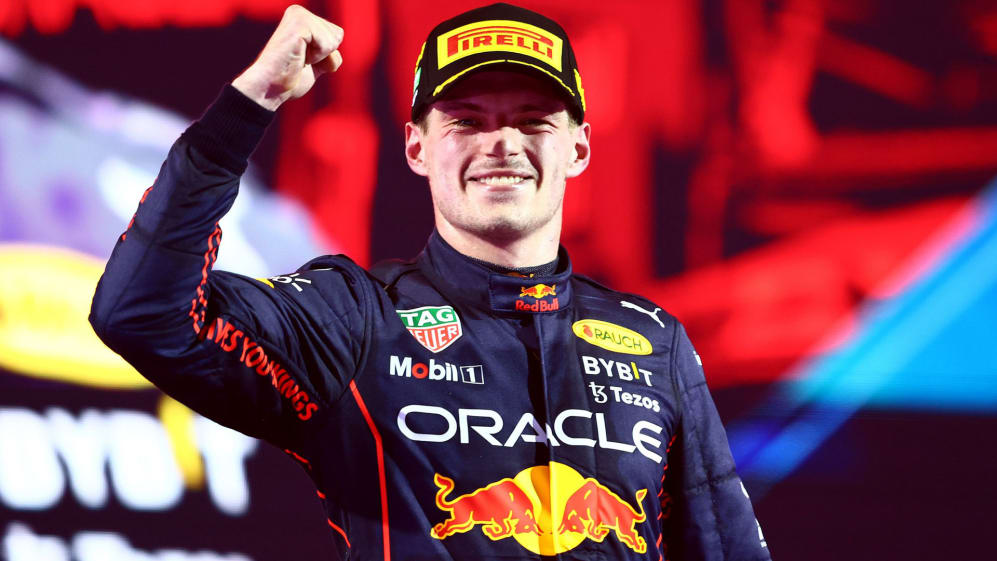 Red Bull's Max Verstappen won an epic battle over Charles Leclerc in Saudi Arabia with Carlos Sainz completing the podium behind his Ferrari team mate – as pole-sitter Sergio Perez had to settle for fourth after pitting just before a pivotal Safety Car.
Perez led until Lap 16, when a flash of Ferrari mechanics perhaps triggered Red Bull into an early pit stop. That proved to be unfortunate; Williams' Nicholas Latifi crashed at the final corner on the next lap and triggered a VSC then Safety Car, with Leclerc, Verstappen and Sainz capitalising.
The Mexican was set to restart third on Lap 21 when the Safety Car retreated but was found to have passed Sainz as the Spaniard exited the pits alongside the Red Bull during the caution period, leaving the pole-sitter fourth.
READ MORE: Verstappen 'really happy to kickstart the season' after winning out over Leclerc in sensational Saudi race
Another VSC emerged on Lap 38 when McLaren's Daniel Ricciardo crawled to a halt at the pit exit, Alpine's Fernando Alonso slowing with a problem a lap earlier – and then stopping around the same place as Ricciardo. When the VSC finished on Lap 41, Verstappen was within a second of leader Leclerc – and now came round two of their brilliant 2022 rivalry.
With DRS, the Dutchman took the lead on the back straight on Lap 42, but Leclerc came back with DRS and held onto the lead. Again on Lap 43, Verstappen attempted a move but locked up in unison with the Ferrari into the final corner, the Ferrari keeping P1.
A brief lull followed and at the start of Lap 47, before Verstappen made sure he had DRS and prised the lead off Leclerc, the championship leader unable to close him off this time.
Leclerc put in the fastest lap with a second wind in the closing staged – but Verstappen narrowly kept him at bay, shrugging off the scare of a late Sector 1 yellow flag (for a Lance Stroll-Alex Albon coming-together) to win by just 0.549s.
READ MORE: Leclerc says 'every race should be like this' despite losing stunning Saudi Arabian GP to Verstappen
FORMULA 1 STC SAUDI ARABIAN GRAND PRIX 2022
Saudi Arabia
2022
Race results
POSITION
TIME
POINTS

1

Max

Verstappen VER

Red Bull Racing

1:24:19.293

25

2

Charles

Leclerc LEC

Ferrari

+0.549s

19

3

Carlos

Sainz SAI

Ferrari

+8.097s

15

4

Sergio

Perez PER

Red Bull Racing

+10.800s

12

5

George

Russell RUS

Mercedes

+32.732s

10
George Russell took P5 at Esteban Ocon's expense, the Alpine driver having lost out to the Mercedes on Lap 3 and then battled with his team mate Alonso (DNF) in an exciting early-race battle. Ocon, out-dragged here for P3 in 2021, kept McLaren's Lando Norris at bay by a tenth of a second on the line in a drag race for P6.
Pierre Gasly made up one place to P8 for AlphaTauri, with the Haas of Kevin Magnussen ninth from 10th on the grid, and Lewis Hamilton – who was unfortunate not to be able to pit during the second VSC – taking the final point from his P15 start for Mercedes.
DRIVER OF THE DAY: Leclerc gets your vote with stirring Saudi showing
Alfa Romeo's Zhou Guanyu missed out on a second consecutive points finish, receiving two penalties, the first for cutting a corner in an early scrap with Albon and the second for failing to serve that penalty correctly when he pitted.
Albon, Valtteri Bottas, Alonso and Ricciardo, were the five drivers not to make the flag – with Stroll classified 13th, one lap down.
Neither Mick Schumacher, who crashed out of qualifying, nor Yuki Tsunoda, whose AlphaTauri stopped with a technical issue on his lap to the grid, started the race.
As it happened
The second-ever Saudi Arabian Grand Prix was never going to be a straightforward affair, given the tight confines and high speeds of this demanding new city circuit. After Mick Schumacher's 33G qualifying crash, the paddock was relieved to have him back – even if he wouldn't be able to take part in the Grand Prix.
Yuki Tsunoda, who missed out on qualifying and was set to start 19th, stopped on his laps to the grid with a suspected drivetrain issue and climbed out to prematurely end his participation.
So, 18 cars lined up on the grid, Sergio Perez on pole position for the first time ahead of Charles Leclerc, Carlos Sainz (an electrical part in his car, thought to be a wiring loom, needing replacing pre-race) and Max Verstappen sharing the second row, and Esteban Ocon leading George Russell off the third row.
For the Scuderia, a lack of long-run practice over the weekend had them racing into unknown territory. Kevin Magnussen (P10), Lewis Hamilton (P15) and Nico Hulkenberg (P17) were the only three drivers to begin on hard tyres, the rest on mediums.
Lights out at 2000 local time, and round two of the bout between Red Bull and Ferrari was under way. Perez led Leclerc off the line, Verstappen scything ahead of Sainz for P3 out of Turn 2 – while Ocon kept Russell behind until a final corner bout going into Lap 3.
WATCH: Check out the Saudi Arabian Grand Prix race start as Perez leads away from pole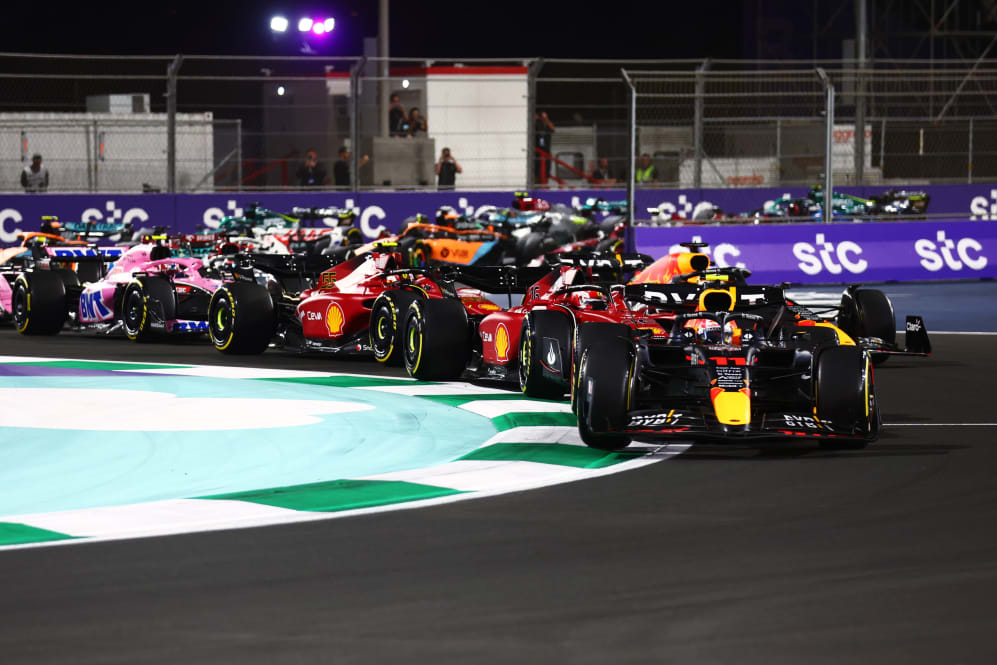 Further back, Kevin Magnussen took P9 off Pierre Gasly, who then lost another place to Lando Norris, and Zhou Guanyu fell to 17th ahead of only Nicholas Latifi, with Lewis Hamilton up to 14th – but complaining of "no grip" on his hard compound. Ocon had a dicey moment on the main straight, almost forcing team mate Fernando Alonso into the barriers at the start of Lap 5.
That triggered an intra-team battle for P6 between the Alpines, Alonso raring to get by while the 2021 Hungarian Grand Prix winner put his elbows out until the start of Lap 7, when he finally conceded out of Turn 2. Ocon came back at the start of Lap 8, passing Alonso off-track and giving the place back – allowing Valtteri Bottas and Kevin Magnussen to join the train from P9-P6, Bottas eventually making it to P7 when Ocon was told to back off his team mate.
MUST-SEE: The Alpine drivers enjoy heart-in-mouth battle in Jeddah
Sainz, meanwhile, began to lose touch with the top three, Perez building a gap in the lead, while Verstappen stayed steady in third as he lurked in Leclerc's wake. Who would trigger the undercut and pry open the pit window?
Despite the sea of red in the pits, Red Bull took the plunge first on Lap 16 and put Perez in to box – changing from mediums to hards – with the Mexican emerging fifth behind Russell. Fortune was not on Perez's side as Nicholas Latifi, in P18, then crashed exiting the final corner and brought out a Virtual Safety Car – triggering rivals to pit. The Safety Car soon emerged, Leclerc leading Verstappen, Perez, Sainz and Russell in the train.
Hamilton had made a steady climb, taking P12 off Stroll on Lap 10 and then P11 off Norris, with Gasly next as he made it into the points by Lap 15 without much trouble. The seven-time champion did not pit during the Safety Car, promoting him to seventh behind Magnussen (also declining to pit then) for the restart – which took place on Lap 21 – with everyone now on the hard compound.
On Lap 21, Safety Car in, Leclerc crawled out of the final corner then sped away from Verstappen while Perez conceded P3 to Sainz to avoid a penalty, the Mexican having illegally passed a Sainz (who was exiting the pits) during the caution period.
FACTS AND STATS: Zero to hero for Red Bull, and a rare achievement for Hamilton
Hamilton tried to take P6 off Magnussen at the final corner at the start of Lap 24 but the Haas driver retook the place with DRS, and with ease. The Briton didn't make the same mistake next time around, retaining DRS to pass Magnussen into Turn 1.
Back at the front, Leclerc was just out of DRS range as the ticker neared Lap 30 of 50 but Verstappen began to turn up the pace – the Ferrari driver responding with his own turn of speed to keep the top four as they were since the restart.
Magnussen still hadn't pitted on Lap 35, and lost P7 to Alonso as a result, but soon after that pass the Alpine driver slowed. Had his car sprung an issue? "No power," answered his radio message, as an instruction to "cool the car" was delivered on the dashboard.
Immediately after Alonso's issue became apparent, Ricciardo was next to come a cropper, the McLaren driver crawling to a halt right at the pit entrance – then Bottas was hauled into the pits with a problem for Alfa Romeo. The resulting VSC thrust Norris and Gasly into the top 10 and prompted hard-tyred starters Magnussen and Hulkenberg to pit. Hamilton too was called in but the call came too late; Alonso prompted the pit lane to be closed as he too crawled to a halt at the entrance.
"Are we in trouble or not?" asked Hamilton, circulating in P6 on Lap 39. He had a 13-second advantage on Ocon but couldn't capitalise on that with the pit lane closed. The VSC ended on Lap 41, Hamilton coming in right afterwards for a new set of mediums – with a slow stop – to emerge 12th.
READ MORE: 'We've got a lot work to do' says Hamilton after scraping solitary point in Saudi Arabian Grand Prix
Verstappen did pounce under VSC, his hard compounds right in the window, and the Dutchman closing to within a second of Leclerc when Lap 41 began – and taking the lead on the back straight. But Leclerc hit back, going deep into Turn 1 with DRS and holding on to the lead of the race – the pair continuing their battle from Bahrain.
With DRS again on Lap 43, Verstappen attempted another move for the lead but this time locked up in unison with the Ferrari going into the final hairpin. The champion was convinced that Leclerc had crossed the pit lane entry line coming out of that corner but was swiftly told to "calm down" on the radio. Leclerc had the measure of Verstappen so far. Behind, Perez was closing in on Sainz.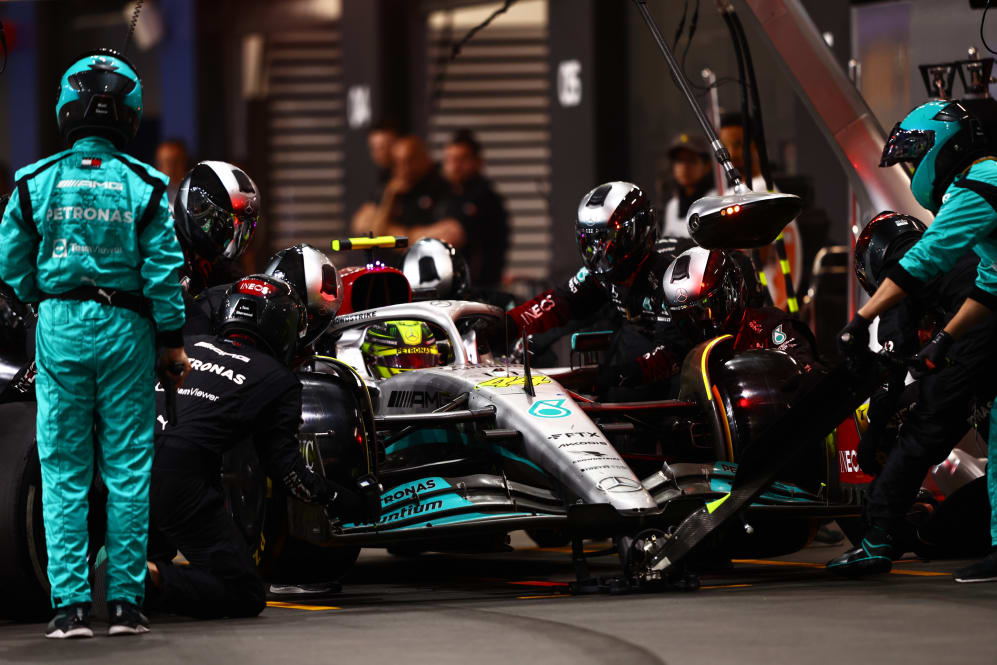 The battle for the lead continued after a very brief lull, tyres and drivers at their limit. On the start of Lap 47, Verstappen closed in once again and this time made sure he had DRS and a good run into Turn 1. Leclerc couldn't close him off this time and now the hunted had become the hunter.
Leclerc put in fastest lap and was soon right on the Red Bull's tail and, even though a collision between Stroll and Albon had triggered a double yellow flag, continued to track him down. They were pushing hard, respectful, and providing us with another captivating display – and in a blink of an eye came the chequered flag. The margin of victory: 0.549s.
Sainz took the final podium place over Perez by just 2.7s (both under investigation along with Magnussen for allegedly not slowing sufficiently under yellows late on) – while Russell rounded out the top five. Ocon, meanwhile, fended off McLaren's Lando Norris for P6 by just 0.107s. Norris had started 11th but found solid race pace to finish ahead of AlphaTauri's Pierre Gasly – and two of the hard-tyred starters, Magnussen (P9) and Hamilton (P10).
READ MORE: How Verstappen solved the tyre puzzle to win in Saudi Arabia
Missing out on points in P11 was Zhou Guanyu, who bounced back after anti-stall compromised his start. The Chinese driver was soon found to have passed Albon off track early on and served his five-second penalty under the Safety Car, an infringement for which he was forced to serve a subsequent drive-through penalty.
Nico Hulkenberg was 12th having started on hards and pitted in the second VSC period, but was swiftly passed by a number of drivers. He finished ahead of Aston Martin team mate Lance Stroll (P13, one lap down), whose car was hit by the Williams of Alex Albon moments from the end.
Along with Albon, there were five other DNFs: Bottas retired on Lap 36 during the second VSC, Alonso a lap earlier along with Ricciardo, while neither Schumacher nor Tsunoda were able to start the 2022 Saudi Arabian Grand Prix with their respective issues for Haas and AlphaTauri.
READ MORE: 6 Winners and 5 Losers from the 2022 Saudi Arabian Grand Prix – Who left Jeddah on a high?
Key quote
"I know it was really tough, but a good race, we were battling hard at the front, but we just tried to play the long game. They were really quick through corners; we were quick on the straights," said Red Bull's winner Max Verstappen.
"The tyres were wearing out quite quick. You could see in the end we had a little bit more pace so we tried to get by. It wasn't easy, playing smart tricks in the last corner, but eventually I managed to get ahead, but even after that he was constantly in the DRS and then with the yellow flags in the last lap, just knowing how much you should lift, what is allowed or not, it was tough.
"But just really happy to finally kick start the season."
What's next?
The Australian Grand Prix returns for the first time since 2019, set to take place on April 08-10 at a new-look Albert Park circuit – with Max Verstappen and Red Bull now on the scoresheet but Charles Leclerc in the lead of the championship.