Report
Verstappen eases to Styrian Grand Prix victory over title rival Hamilton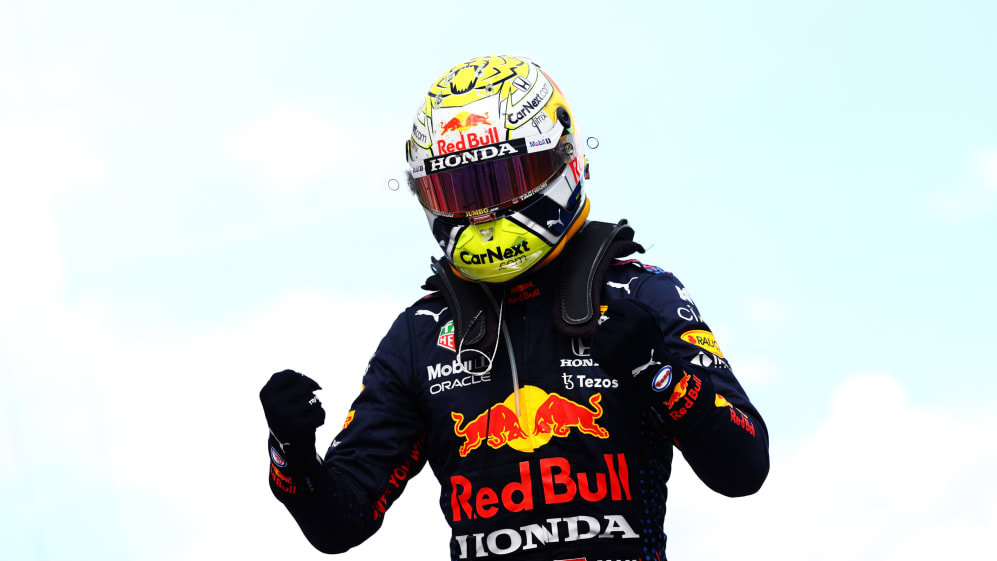 Max Verstappen claimed a second win in seven days with victory at the Styrian Grand Prix, enjoying a dominant lights-to-flag performance at the Red Bull Ring over the Mercedes of title rival Lewis Hamilton, as Valtteri Bottas claimed third ahead of Sergio Perez.
Following on from his win in the French Grand Prix, Verstappen led away from pole position at a dry Red Bull Ring, leading every lap of the race to claim his 14th career win, and his third at his team's Red Bull Ring home track.
The Dutchman duly stretched his lead over Hamilton to 18 points in the drivers' standings, after the Mercedes driver was unable to offer any serious answer to Verstappen's pace on race day, although he was at least able to limit the damage after taking the bonus point for fastest lap thanks to a late pit stop.
Having started P5 after his grid drop for spinning in the pit lane on Friday, Bottas was able to claim third, holding off a late charge by the second Red Bull of Perez for the Finn's first podium since the Spanish Grand Prix.
FORMULA 1 BWT GROSSER PREIS DER STEIERMARK 2021
Austria
2021
Race results
POSITION
TIME
POINTS

1

Max

Verstappen VER

Red Bull Racing

1:22:18.925

25

2

Lewis

Hamilton HAM

Mercedes

+35.743s

19

3

Valtteri

Bottas BOT

Mercedes

+46.907s

15

4

Sergio

Perez PER

Red Bull Racing

+47.434s

12

5

Lando

Norris NOR

McLaren

+1 lap

10
Behind, a fine race from McLaren's Lando Norris saw him follow up his P5 from last year's Styrian Grand Prix with the same result this weekend, having not been able to lap on the pace of the Red Bulls and Mercedes on Sunday. He was ahead of the Ferrari pair of Carlos Sainz and Charles Leclerc, who after a nightmare, point-less French Grand Prix, had a much better race in Austria.
Lance Stroll finished eighth for Aston Martin, while Fernando Alonso and Yuki Tsunoda rounded out the top 10. Kimi Raikkonen took 11th, ahead of the Aston Martin of Sebastian Vettel and the McLaren of Daniel Ricciardo – who'd climbed up the order on Lap 1 but fell back to his starting position after losing power briefly – while Esteban Ocon took P14.
P15 was Antonio Giovinazzi, ahead of the Haas of Mick Schumacher, Nicholas Latifi's Williams and the second Haas of Nikita Mazepin.
One of the early stars of the race George Russell had been cruelly forced to retire with a power unit issue, having run comfortably in P8 for the majority of the Grand Prix – while Pierre Gasly was out on Lap 1, after contact with Leclerc that damaged his left-rear, and saw him spin the Alfa Romeo of Giovinazzi at Turn 3.
But at the start of a double header of Austrian races, it was Verstappen and Red Bull who fired another shot across Mercedes bows with their fourth consecutive race win.
AS IT HAPPENED
Valtteri Bottas' grid penalty (for his FP2 spin in the pit lane) meant that fate had once again conspired to put title protagonists Verstappen and Hamilton on the front row together for the fourth time this season at the start of the Styrian Grand Prix. And as the five lights went out at the warm, dry start, it was Verstappen who made the perfect getaway, slicing across Hamilton to retain his lead – with Hamilton then having to correct a touch of oversteer at the exit of Turn 1 as he settled into P2.
Behind, Norris was forced to take to the run off at Turn 1, before spending the first lap squabbling with Sergio Perez's Red Bull, Perez passing around the outside of the McLaren at Turn 3 before Norris decisively took the position back – while the big mover at the start was Norris' team mate Daniel Ricciardo, who'd climbed from P13 to P8 by the end of Lap 1.
READ MORE: All the reaction from the Styrian Grand Prix
That was in part thanks to contact between old mates Pierre Gasly and Charles Leclerc, Gasly bumping Leclerc off at Turn 1, with Leclerc then coming back onto the track and tagging the left-rear tyre of the Frenchman. Gasly, with a puncture, was then powerless to prevent himself careering on at Turn 3, tagging Antonio Giovinazzi's Alfa Romeo into a spin, as well as nudging the Williams of Nicholas Latifi.
Gasly's damage from the puncture forced him to retire in the pits, as Leclerc had to change a front wing. Meanwhile, all Ricciardo's hard work to climb up from P13 was then undone a few laps later when he suffered a brief loss of power, the Australian plummeting from P8… back to P13. That provided some respite for the Williams of George Russell, the British driver now running in a lofty P8 after starting 10th.
Perez and Bottas in fourth and fifth were on the move on Lap 10, with Norris putting up little or no defence as the Red Bull and Mercedes went past. Out front, by Lap 15 Verstappen had built his gap over Hamilton to 3s – with Perez a further 12s behind Hamilton, the Mexican 3s clear of Bottas, with those two having quickly gapped Norris.
By Lap 25 of 71, the order was Verstappen, now 5s clear of Hamilton, himself 16s up from Perez, then Bottas, Norris, Lance Stroll (up from P9 to P6 at the start), Fernando Alonso, Russell holding his own excellently in eighth, with Yuki Tsunoda and Carlos Sainz rounding out the top 10. Both Verstappen and Hamilton were complaining of their tyres, though, with Hamilton coming close to losing his car at the exit of Turn 4 on Lap 25.
READ MORE: Gasly 'really disappointed' as promising outing ended on lap 1 after contact with Leclerc
Of the frontrunners, it was Perez who stopped first, taking on hard tyres on Lap 26 of 71. But a slow left-rear change crucially kept him stationary for 4.8s, allowing Bottas to jump him for a net P3 when the Finn stopped a lap later. One lap after that, Hamilton was in, with Verstappen following a lap after. All of those drivers took on hard tyres, with Verstappen able to breeze back into the lead, 5s clear of Hamilton, who himself was 20s up the road from team mate Bottas.
There was heartache for Russell, however, with Williams forced to manage a power unit issue that saw him stopped in his pits for 18s on Lap 25, and forced to stop again a lap later as his pneumatic system was topped up with air – Russell dropping way down to P18, before eventually being retired on Lap 36, points for Williams still continuing to elude both the team and the Briton.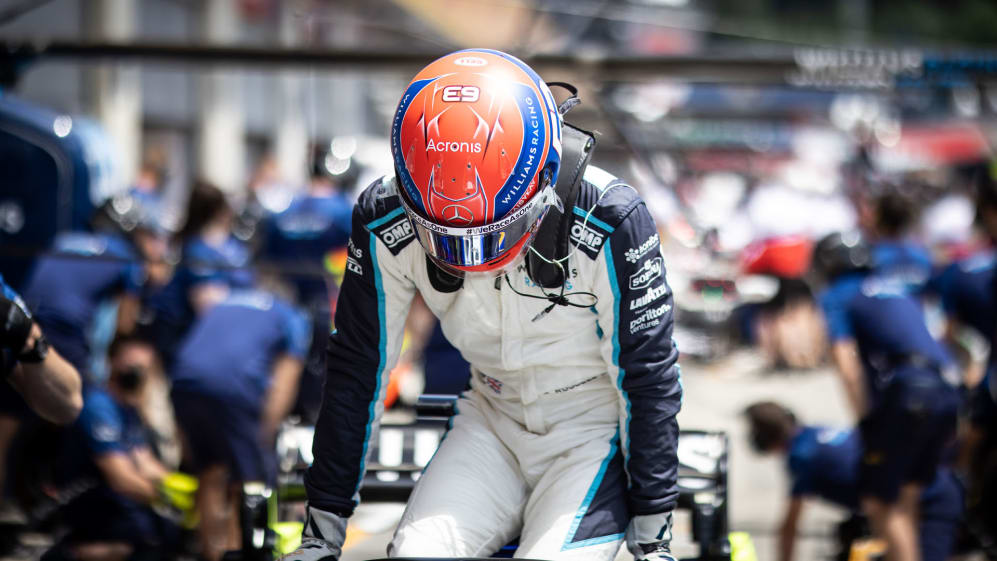 Lap 41 saw the final two non-stopped drivers in the field pit, Carlos Sainz and Daniel Ricciardo coming in from P5 and P7, Sainz re-emerging in a promising P7 (which quickly became P6 as he passed Stroll, the Spaniard having a great race after starting P12), while Ricciardo was less lucky, dropping behind a train of cars to P15 – that train including Kimi Raikkonen and Leclerc, with Leclerc clipping the front wing of the Finn as he passed for P12 a few laps later.
Up front, though, it was most definitely a two-horse race, Verstappen and Hamilton over 20s clear of Bottas with 20 laps of the 71 to go, with Verstappen seemingly able to control the gap to Hamilton, which he'd stretched at this point to around 6.3s, at will
WATCH: Max Verstappen on his battle for the 2021 F1 title
There was nervousness in both cockpits however, Verstappen complaining of brake-by-wire issues – caused, according to race engineer GianPiero Lambiase, by braking on the kerbs on Turn 10 – while Hamilton had spotted blistering starting to appear on his tyres.
Perez, unable to make inroads into Bottas, rolled the dice, coming in for a second stop on Lap 54 for new mediums and holding onto P4. Having been right at the back of the field on Lap 1, meanwhile, Leclerc had come alive in the final third of the race, the Monegasque passing Tsunoda, Alonso and Stroll in quick succession to climb to P7.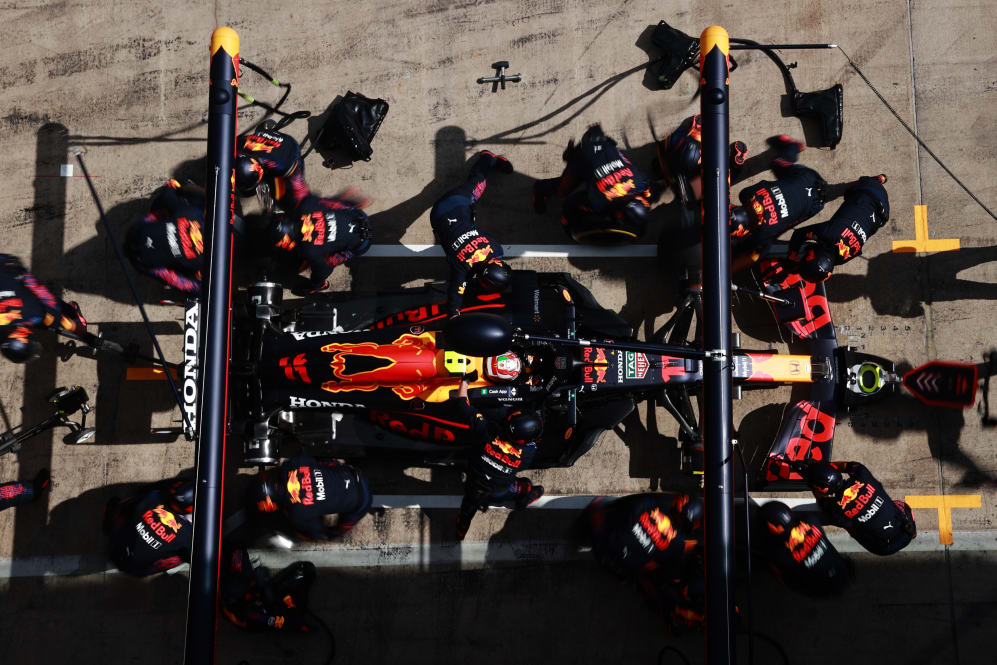 With 10 laps to go, Verstappen had eased the gap to Hamilton up to 10s, the order now the leading pair from Bottas, Perez, Norris, the two Ferraris of Sainz and Leclerc, Stroll, Alonso and Tsunoda.
The edge was still in Verstappen's voice – but as the laps ticked down, Hamilton and Mercedes seemed resigned to their fate, confirming as much when they brought Hamilton in a few laps from the end to switch to soft tyres and go for the fastest lap bonus point, which he duly earned.
But that was of little concern to Verstappen, who crossed the line at the end of 71 well-controlled laps for his fourth win of the year, and his second in succession, as Hamilton had enough in hand to slip back into second after his stop – as behind, Bottas was able to withhold Perez, the pair crossing the line separated by just 0.527s, for Bottas' first return to the podium since Barcelona.
Such was Norris' pace that he was left to drive a lonely race for the main part, but still came home P5 for his seventh top-five finish in eight races this year. Behind, Ferrari will have been cheered by the race day performance of Carlos Sainz and Charles Leclerc, who having had precious little race pace seven days ago in Paul Ricard, were able to battle though for P6 and P7 – Leclerc claiming Driver of the Day for his efforts.
Lance Stroll had done well to climb to P6 early on, but ultimately lacked the speed of the Ferraris on Sunday as he took P8 as the leading Aston Martin, ahead of Alpine's Fernando Alonso and the AlphaTauri of Yuki Tsunoda.
Former Ferrari team mates Raikkonen and Vettel could do no better than 11th and 12th, while after the progress shown by his P6 in France, this was an unfortunate day for Ricciardo, who'd done so well at the start, but ultimately lacked the pace to climb higher than P13 at the flag.
He was ahead of Esteban Ocon after an off-key weekend from the Frenchman, with Giovinazzi, Schumacher, Latifi and Mazepin rounding out the Russell and Gasly-less order.
So, has the momentum in the title battle swung the way of Verstappen and Red Bull? After the team's fourth straight win – and Verstappen's third in four races – it certainly looks that way, as Red Bull celebrated jubilantly at their home race. They'll be hoping for more of the same next week when we return here for the Austrian Grand Prix.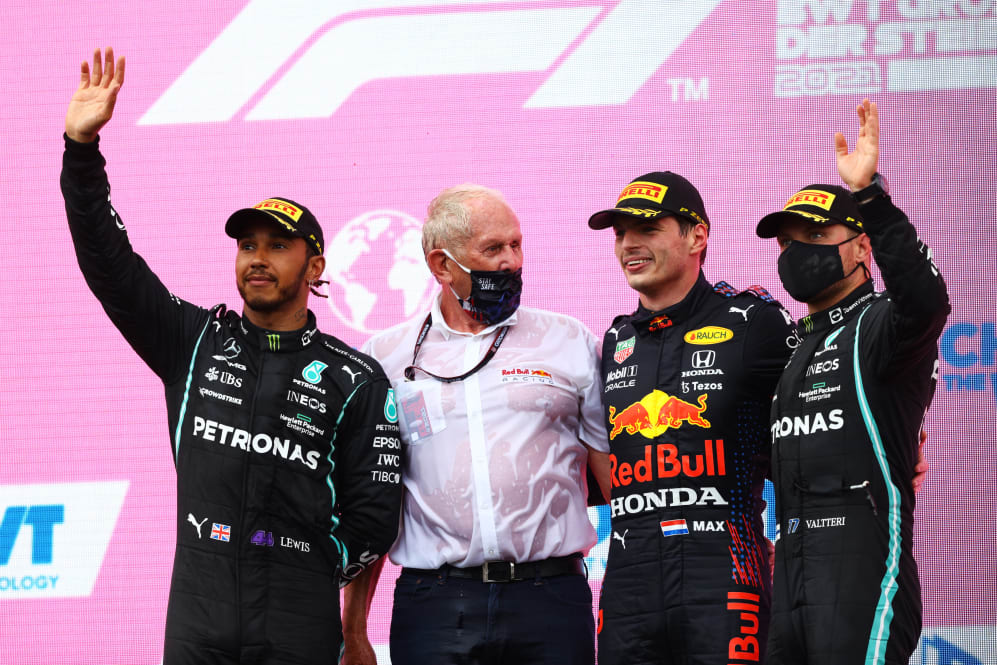 The key quote
"Straight away I felt good balance in the car and it was good to manage the tyres basically from the start. I felt like also until the end I always had tyres left. They pitted one lap earlier than us, we reacted to that and we just kept on going, trying to hit our lap times, and that worked really well today.
"It's very positive but of course we have to show it again next week. We'll definitely have a look at what we can do better, but I'm looking forward to next week" – Max Verstappen, Red Bull
What's next?
The F1 teams and drivers remain on the ground at the Red Bull Ring, with battle set to recommence at the track for the Austrian Grand Prix on July 2-4. Can Red Bull make it a clean sweep of wins at their home track? Tune into F1.com to find out.