Verstappen explains botched start as he endures 'very frustrating' run to P7 at Marina Bay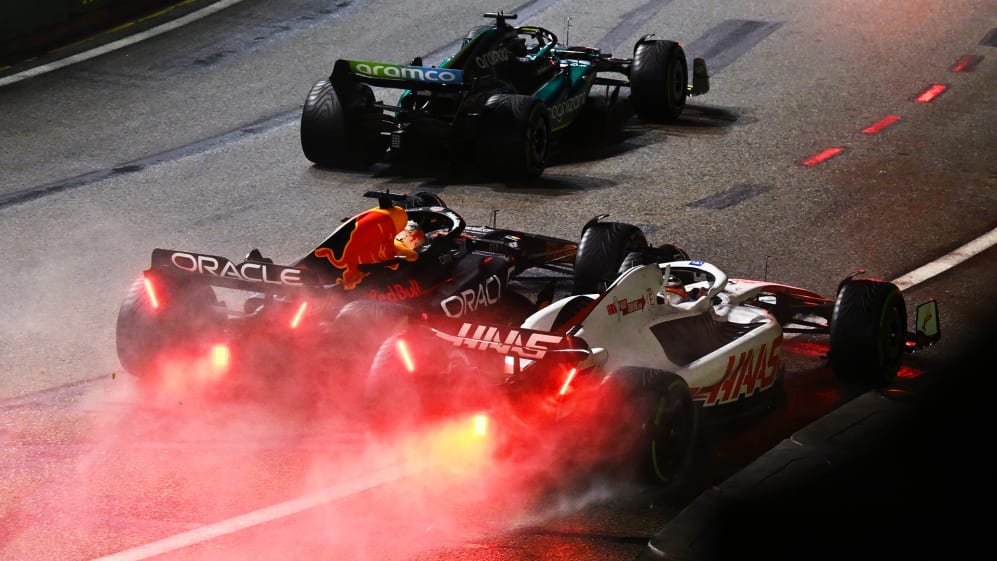 Max Verstappen experienced a difficult evening at the wheel in Singapore as the Red Bull driver took the chequered flag down in seventh position – a gain of just one place from his grid spot.
Verstappen had to settle for eighth in qualifying after being told to abort his rapid final lap due to a lack of fuel, and the reigning world champion's prediction of a "really frustrating race" came true.
Matters were not helped by a slow getaway, which initially dropped him out of the points-paying positions, and his recovery drive included a trip to the escape road after a failed attack on McLaren's Lando Norris.
READ MORE: Perez holds off Leclerc to win rollercoaster 2022 Singapore Grand Prix as Verstappen settles for 7th
Speaking to Sky Sports F1 about how his start and race unfolded, Verstappen said: "I dropped the clutch and [had] anti-stall, so I need to analyse why that happened. Then, of course, you lose a lot of spots. From there onwards I tried to pass a few people, [and] some worked, but then you get stuck in a little bit of a train. Everyone has their tyres quite up to temperature, so it's really hard to follow.
"We were a bit lucky the times when people had a few mistakes. We were in fifth, tried to go for fourth to pass Lando [Norris], [and] as soon as I got alongside him I braked, not even late, but I bottomed out, because I was struggling already a lot there with bottoming.
"I had to box again because of the massive [tyre] vibrations, put new tyres on and came from last back into the points. It's not where we want to be, but that already starts from yesterday. You put yourself in a spot like that, it can either work brilliantly [and] you can drive back to the front, or it's just very frustrating like we had."
Verstappen made up a couple of places in the closing minutes of the time-limited race as he pulled moves on Mercedes rival Lewis Hamilton and Aston Martin's Sebastian Vettel, but said it came as little consolation on a tricky weekend.
READ MORE: Perez hails 'best performance' in F1 in Singapore Grand Prix as he gives his view on Safety Car investigation
He signed off: "Of course, it's better than eighth, but it's not what I'm here for, not with a car like that and not with what we showed in practice. [It was] incredibly messy."
Verstappen now holds a lead of 104 points over Charles Leclerc, with team mate and Singapore GP winner Sergio Perez two points further back – meaning victory and the fastest lap bonus point in Japan would secure him a second world title, regardless of where his rivals finish.