Verstappen says his car 'came alive' in superb Austrian GP fightback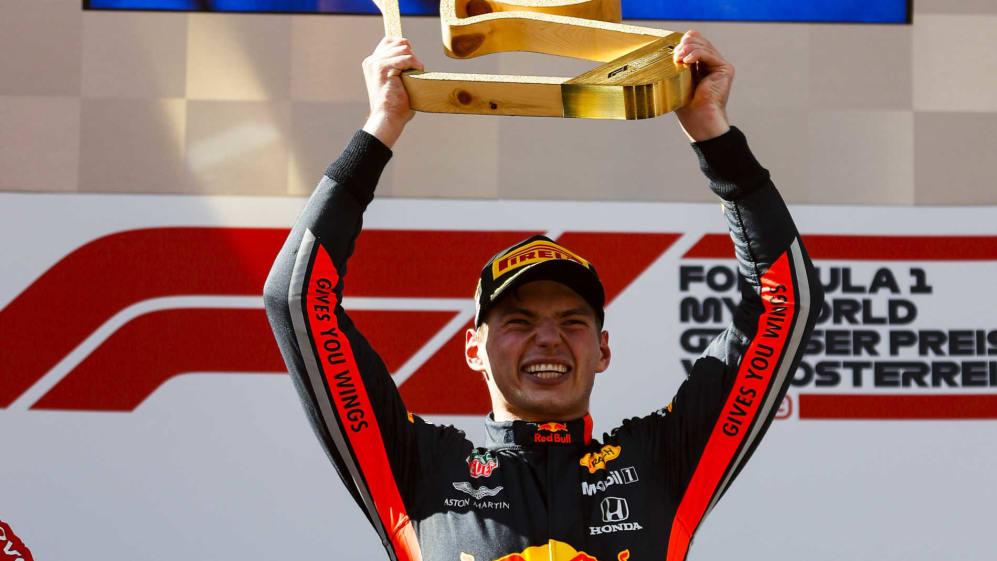 It was the kind of race that Max Verstappen's loyal fanbase, who had travelled in their thousands to Austria, had dreamed off. Replicating his superb victory of 12 months ago looked unlikely when the Red Bull driver fell from second to seventh at the start, but after the pitstops, Verstappen said his car "really came alive" as he delivered a brilliant fightback to take his first victory of the season.
For much of the Austrian Grand Prix, Charles Leclerc looked like he was set to take his first Formula 1 victory, the Ferrari driver barely putting a foot wrong. But as he struggled with his tyres in the closing stages, rival Verstappen - who had pitted later and was on fresher rubber - was simply getting better and better.
The Red Bull driver had recovered from a poor start to run fourth before he pitted for another set of tyres. On rejoining on the hards, the Dutchman looked like another driver.
"At the start I had anti-stall, we set the clutch too aggressive," said Verstappen. "But yeah, from then onwards, my first stint was a little bit limited with a flat-spot I had after lap one, but still we stayed out quite long.
"Once we came out again, we had great pace, we were looking after the tyres a bit, just settling in. One by one we were overtaking the cars ahead. The car really came alive."
Verstappen set about chasing Sebastian Vettel for third, dispatching with the Ferrari driver with ease. Next up was Valtteri Bottas in the Mercedes and it wasn't long before he was on Finn's gearbox. The charge was in doubt briefly, when he said he felt a loss of power, but the team offered him a solution. Within another lap, he was past the Mercedes.
It was then that he believed he could win. "Once I got past Valtteri, I knew that with the pace that we had I could definitely have a go at it," he said. "But you never know, you just keep pushing."
A five-second gap to leader Leclerc was soon eradicated, with Verstappen having a couple of attempts at a pass rebuffed before he sent one up the inside at Turn 3. The two touched, with Verstappen emerging in the lead before going on to win.
"We did it with a few laps to go, so I'm extremely happy," he said. "All weekend we've been working really well. The updates we brought, they worked well. A big thank you to Red Bull Racing themselves, all the boys there, but also to Honda, because it's not been easy for them in the past, but they've been incredible, so I'm really happy.
"At the moment, it's an amazing feeling."
It's not all over yet, though, as the stewards are investigating the incident, with both drivers having been summoned to the stewards. Watch this space...