Report
Verstappen tops dramatic wet-dry Zandvoort qualifying to extend run of Dutch GP poles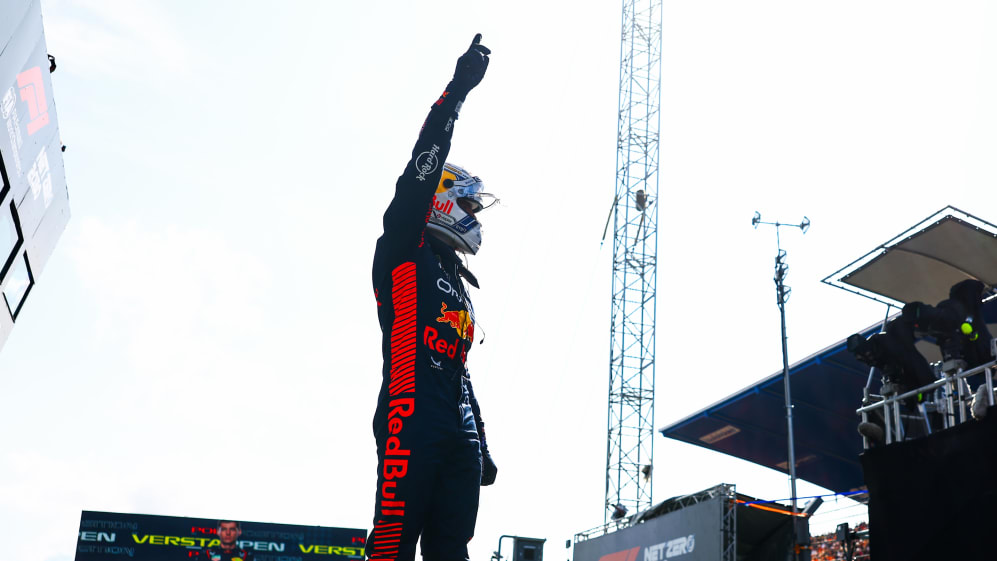 Max Verstappen made it three pole positions in a row at the Dutch Grand Prix with another imperious display during Saturday's qualifying session at Zandvoort, pulling out a stupendous final lap to beat Lando Norris and George Russell at the end of a crash-filled, wet to dry affair.
In the dying moments of a pole shootout that was red-flagged twice due to crashes for Williams rookie Logan Sargeant and Ferrari driver Charles Leclerc, the passionate home crowd were sent wild by Verstappen's ultimate table-topping time of 1m 10.567s.
That put him a whopping half a second clear of his nearest rivals, the McLaren of Norris and Mercedes of Russell, who led the Silver Arrows' charge after team mate Lewis Hamilton suffered a shock Q2 elimination.
Alex Albon was another star of qualifying as he put his Williams up in fourth, ahead of Fernando Alonso's Aston Martin, Carlos Sainz's Ferrari and the other Red Bull of Sergio Perez, who was 1.3 seconds slower than Verstappen.
Oscar Piastri had been in the hunt for a maiden F1 pole but dropped down the timesheets during the final laps, leaving him eighth on the grid in front of Leclerc and Sargeant, who watched the rest of Q3 from the sidelines after their shunts.
FORMULA 1 HEINEKEN DUTCH GRAND PRIX 2023
Netherlands
2023
Qualifying results
POSITION
TIME

1

Max

Verstappen VER

Red Bull Racing

1:10.567

2

Lando

Norris NOR

McLaren

1:11.104

3

George

Russell RUS

Mercedes

1:11.294

4

Alexander

Albon ALB

Williams

1:11.419

5

Fernando

Alonso ALO

Aston Martin

1:11.506
Hamilton had to settle for 13th after his aforementioned Q2 exit, slotting behind Lance Stroll's Aston Martin and the lead Alpine of Pierre Gasly, leaving the seven-time world champion with a challenging recovery drive at the tight, twisty Dutch venue.
Yuki Tsunoda followed in 14th, with stewards set to investigate a potential impeding incident between the AlphaTauri man and Hamilton after the session, while Nico Hulkenberg was the slowest of the Q2 runners en route to 15th.
Alfa Romeo lost both cars at the first qualifying hurdle as Zhou Guanyu, having spun out of FP3 earlier in the day, narrowly missed the cut in 16th via a slide through the penultimate corner, with team mate Bottas all the way back in 19th.
Esteban Ocon was a lowly 17th in the other Alpine, having lost out with the timing of his final run, while Haas driver Kevin Magnussen, who had a crash of his own in final practice, went too deep at Turn 1 on his final run and wound up 18th.
Liam Lawson marked his first qualifying session with 20th and last, a second adrift of the pack, after the young New Zealander was thrown in at the deep end as the replacement for the injured Daniel Ricciardo with just one practice hour in wet conditions.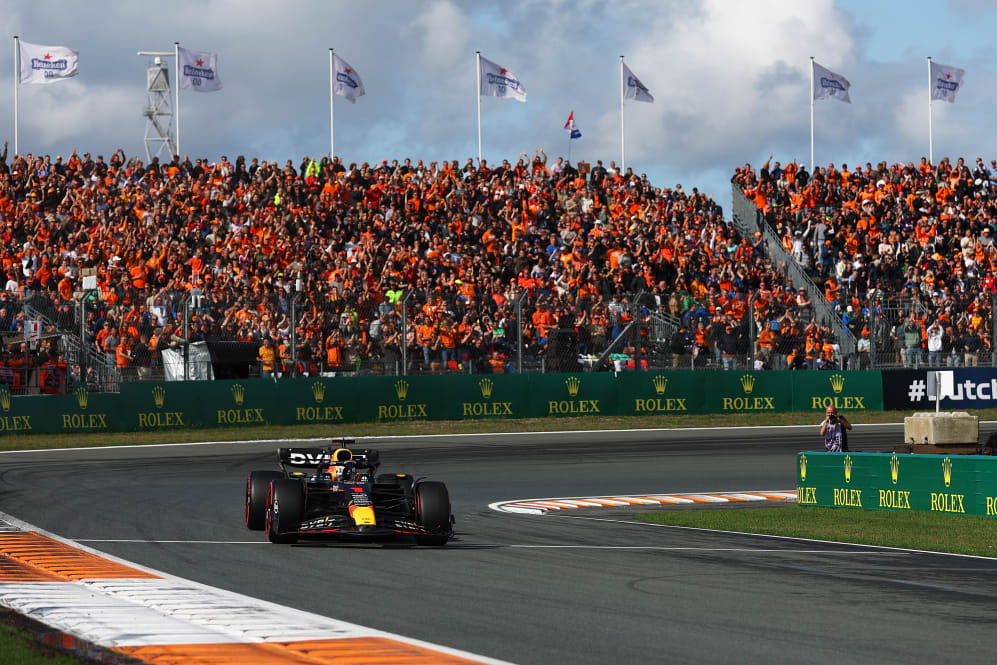 AS IT HAPPENED
Q1 – Albon stars as qualifying begins amid wet conditions
After a dry start to the weekend at Zandvoort, the heavens opened and drenched the circuit on Saturday morning to deliver a wet and wild final practice session, with slippery conditions sticking around for the start of qualifying – albeit the sun now breaking through the clouds.
As Q1 got under way, intermediates were the tyre of choice to deal with the sodden track surface, leading to a flurry of early laps as drivers built up confidence and attempted to post some banker laps in the event of further showers hitting the venue.
Albon, Hulkenberg and home favourite Verstappen all took trips through the gravel early on, prompting the reigning double world champion to send a sweary radio message to engineer Gianpiero Lambiase on the Red Bull pit wall: "Mate, what the **** is going on with the car?"
Once all 20 drivers had got a lap on the board, it was Norris who led the way on a 1m 23.260s, just under half a second clear of team mate Piastri, as McLaren continued to display impressive pace around the tight, twisty layout despite the change from dry to wet weather.
A host of green and purple sector times followed as the session entered its final 10 minutes, with drivers gaining more and more confidence and the track gradually drying up, bringing a host of different pace-setters while the clock ticked down.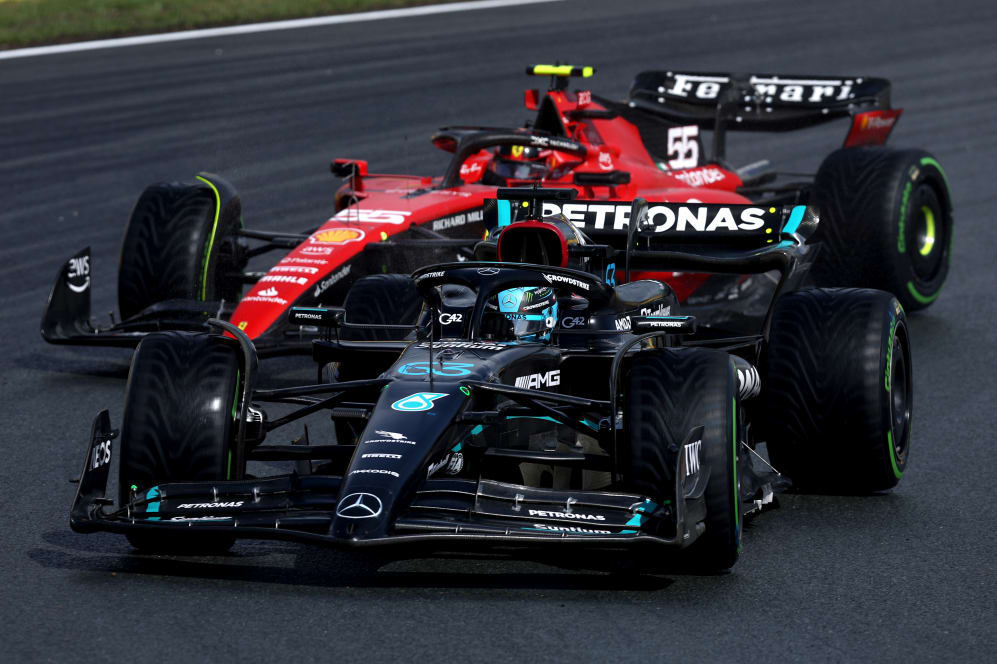 With just over five minutes to run, Verstappen held P1 on a 1m 21.230s, ahead of Piastri, Norris, Russell and Alonso, while at the other end of the timesheets, Hulkenberg, debutant Lawson, Bottas, Magnussen and Sargeant were all in the drop zone – as warnings were sent to drivers that more rain was on the way.
In and around the times being posted, replays showed a couple of close calls, with Hamilton appearing to get baulked by Stroll as he closed out a lap and Piastri having to take to the grass to avoid a collision with Sainz, who had just left the pit lane – both incidents set to be looked at post-qualifying.
A final sequence of laps – Red Bull and Mercedes sticking with their initial sets of intermediates rather than pitting for fresh rubber – brought further changes to the order, at the end of which an inspired Albon topped the times via a 1m 20.939s, followed by Verstappen, Piastri, Norris and Sainz.
Russell was the lead Mercedes driver in sixth, as Stroll, Gasly, Tsunoda and Alonso rounded out the top 10 positions from Hulkenberg, Hamilton and Perez, as Leclerc and Sargeant squeezed through to the second phase of qualifying.
Alfa Romeo suffered a double Q1 exit in the wet conditions, Zhou sliding his way to 16th and Bottas taking a disappointing 19th, with the pair split by Ocon and Magnussen (the latter's efforts hurt by a trip to the run-off at Turn 1), as Lawson brought up the rear in the first qualifying session of his F1 career.
Knocked out: Zhou, Ocon, Magnussen, Bottas, Lawson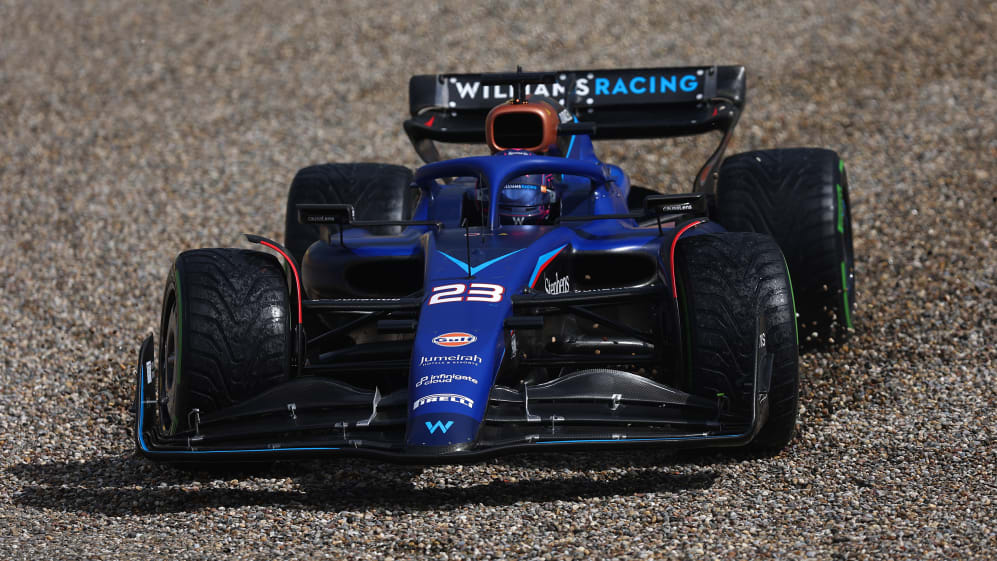 Q2 – Hamilton suffers shock elimination as track dries up
"Is there more rain coming?" Verstappen asked as he lined up at the end of the pit lane for the start of Q2, with a mixture of dark and light clouds still covering the track, to which his engineer responded that another band of rain could hit the track.
Intermediates were still the tyres to be on as the second phase began, with Norris and Verstappen again trading fastest times – the Red Bull driver working his way down to a time of 1m 20.282s to lead the McLaren by 0.347s.
Hamilton held third from Albon, Russell and Leclerc, with Piastri, Stroll, Alonso and Sargeant holding the final Q3 spots, meaning Perez, Tsunoda, Hulkenberg, Gasly and Sainz were in the drop zone, as drivers pondered whether to stay out on their starting intermediates or pit for new ones.
Albon starred once more as Q2 reached its crunch point, clocking a 1m 19.399s to slot into P1, but a final flurry of laps – with most drivers having pitted for fresh intermediates – saw Verstappen take over at the top thanks to his rapid 1m 18.856s.
Third still represented another excellent showing for Albon, as he slotted behind Piastri, with Alonso, Leclerc and Russell rounding out the top six places from Norris, Perez, Sainz and Sargeant, who made it into Q3 for the first time in his F1 career.
That meant a painful Q2 exit for Hamilton, whose early final run on an ever-drying track surface saw him tumble down the order to 13th, behind Stroll and Gasly, and ahead of Tsunoda and Hulkenberg. Stewards are set to look into potential impeding involving Hamilton and Tsunoda post-session.
Knocked out: Stroll, Gasly, Hamilton, Tsunoda, Hulkenberg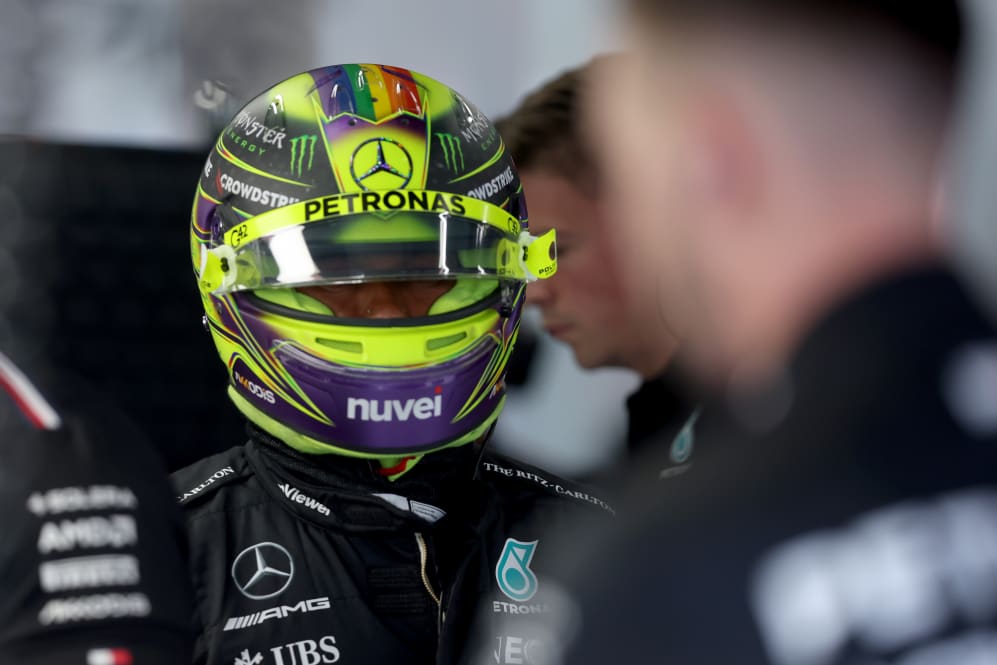 Q3 – Verstappen creates more magic on home soil
All eyes were on the tyre blankets ahead of Q3 getting under way and, when mechanics removed them from the 10 remaining cars, it was revealed that Albon, Russell, Sainz and Sargeant would start the final segment on softs, with everyone else on intermediates.
That slick-tyre gamble would soon backfire for Sargeant, though, with the Williams driver losing control of his car at the still-damp entry to the high-speed Turn 2 and slamming into the barriers, prompting an apology from the American as he confirmed that he was unharmed.
Following a delay for barrier repairs, and with just over eight minutes on the clock, all drivers bar the sidelined Sargeant headed back out on slick tyres, prompting another wave of green and purple sector times in the hunt for pole position.
On a much clearer dry line, Norris pumped in a 1m 12.049s to fly to the top of the order, a couple of tenths up on team mate Piastri, with Verstappen's first lap only good enough for third, just before Leclerc brought out another red flag with a violent off at Turn 9.
That set up a final dash for pole when the session resumed with four minutes remaining and Verstappen used the opportunity masterfully by getting down to a stunning time of 1m 10.567s and moving more than half a second clear of the field.
Norris held on for a spot on the front row, followed by Russell, the charging Albon and Alonso, with Sainz, Perez, Piastri and the sidelined pair of Leclerc and Sargeant rounding out the Q3 order and top 10 grid positions for Sunday's race.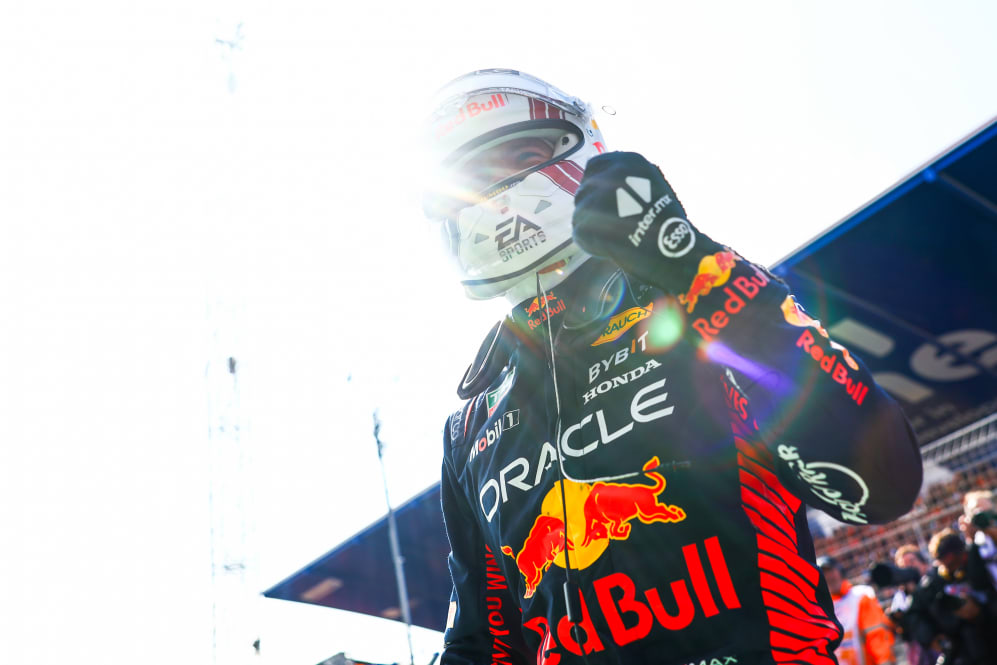 Key quote
"It was a very tricky qualifying, starting of course with the intermediates, but also the track surface was quite slippery, [with] the new tarmac," said pole-sitter Verstappen. "It was all about putting your laps in but also staying out of trouble. I think we managed that quite well, but then also at the end when we could go onto the slick tyres, [where] it was one dry line in some places. We had to risk it a bit but that last lap was very enjoyable."
What's next
The drivers will now debrief with their teams and ready themselves for Sunday's Dutch Grand Prix, which is scheduled to begin at 1500 local time. Head to the RACE HUB for more information.