Verstappen unsure if DRS issue cost him Spanish GP pole, as he looks to long-run pace to topple Leclerc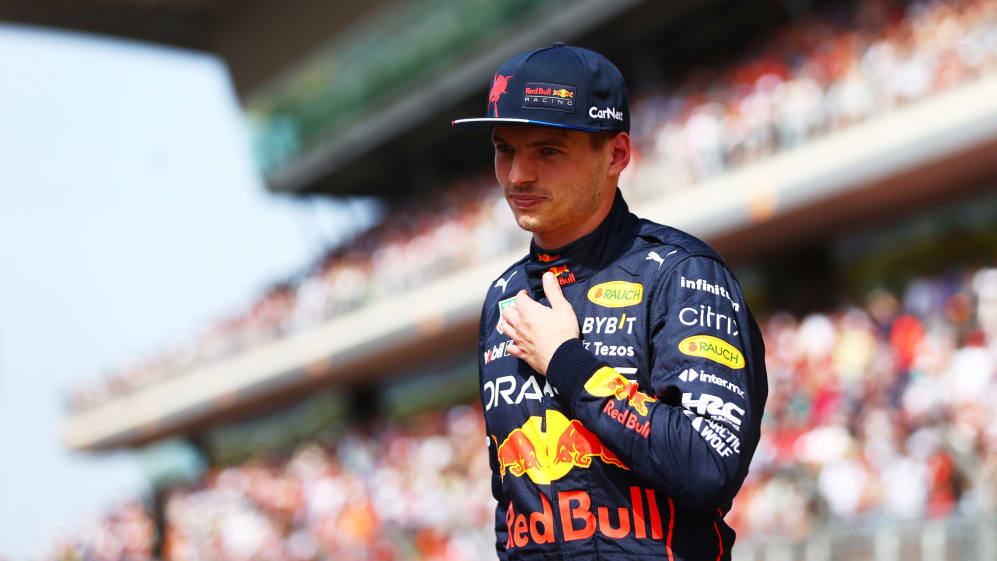 Reigning champion Max Verstappen was held back by a DRS issue in qualifying for the 2022 Spanish Grand Prix. But the Red Bull driver stopped short of saying that that had cost him pole position, adding that he was optimistic he could worry pole-sitter Charles Leclerc starting from second on the grid.
Verstappen ended up 0.323s behind Leclerc in qualifying after a DRS issue – first thought by him to be an engine issue, such was his loss in speed – hampered his final shot at pole position. He was asked whether it was the defining factor on Saturday afternoon.
READ MORE: Leclerc shrugs off Q3 spin to take pole in Spain as technical issue sees Verstappen miss out
"That's difficult to tell," pondered Verstappen. "A lot of people of course improved on the second run, which is quite normal of course, but my DRS didn't open, so it felt of course like a loss of power because of the drag. But yes, it's a shame, otherwise you have at least an opportunity to see what you can do, right?
"But I think overall for us this whole qualifying and weekend, it was a bit more difficult for us to really find a good balance in the car. Probably also [Ferrari] brought updates, that probably helped them a bit on lap time, so for us not really bringing anything it was a bit more tricky. But let's see tomorrow. I think our long runs were quite decent, so hopefully tomorrow we can at least be a bit close."
The Dutchman is clearly confident that he has a shot at winning the Spanish Grand Prix from second on the grid – only accomplished once in the hybrid era, in 2019 – as Red Bull's long-run pace could be enough to overcome Leclerc.
"The last few races, we seemed pretty decent on the tyres. Of course, tomorrow again it will be very hot, very warm, this track will be quite tough to pass on but let's see. Hopefully of course our car will be again a bit kinder on the tyres but a bit difficult to tell at the moment."
READ MORE: Leclerc said last-gasp shot for pole was 'something special' after recovering from spin in Spain
As for team mate Sergio Perez, he will start fifth behind Mercedes' George Russell, and the Mexican explained that he wasn't "very comfortable" in his RB18 having missed FP1 for F2 driver Juri Vips to make his race weekend debut.
"Yes, it didn't feel great. It was a bit more costly missing FP1 than I thought, because in these [hot] conditions, the tyres are working basically just for one lap, for a single lap. The pace was there already in FP3, but just not quite putting it all together.